Use of Ultrasound in the Evaluation and Treatment of Dengue
Melissa Myers, MD and Erin Jacobs, MS
Brooke Army Medical Center, Uniformed Services University School of Medicine & Uniformed Services University School of Medicine
Clinical Presentation
History
An 8-month-old female with no known medical history was brought to an Emergency Department in San Pedro Sula, Honduras with fever and decreased oral intake. The patient was diagnosed with Dengue Fever based on her fever and symptoms in the setting of a local severe Dengue epidemic, admitted and transferred to a pediatric ward. Testing for Dengue Fever was not available. While in the pediatric ward, the patient was noted to have worsening shortness of breath. Monitoring capabilities were limited due to local resources, but her clinical condition appeared to worsen and she developed increased respiratory distress. The physician caring for the patient was concerned about development of pleural effusions or abdominal compartment syndrome but had no access to advanced imaging. Plain films demonstrated possible pleural effusions.
Physical Exam
General: Ill appearing infant withperi-oral cyanosis and lengthened capillary refill.
Cardiovascular: Tachycardia.
Respiratory: Tachypnea with respiratory distress.
Abdomen: Distended.
Neurologic: Appropriate for age.
Skin: Diffuse maculopapular rash over extremities, with confluence over the lower extremities.
Clinical Differential Diagnosis
Pneumonia




Meningococcemia




Severe Dengue




Malaria




Septic shock




Disseminated intravascular coagulation (DIC)




Chikungunya




Yellow fever




Rocky Mountain Spotted fever
Ultrasound Imaging Findings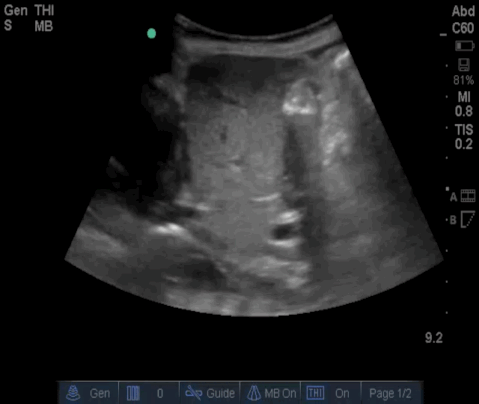 Right Upper Quadrant Free Fluid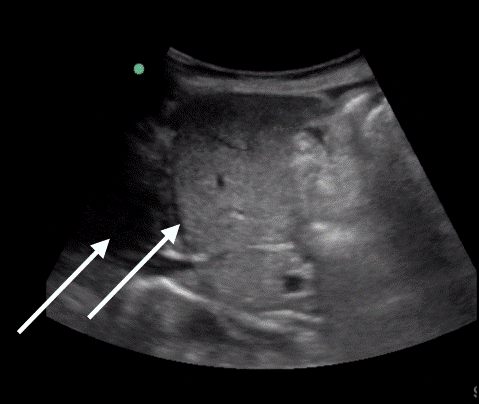 Right pleural effusion with fluid visible above and below the diaphragm.
Left Upper Quadrant Free Fluid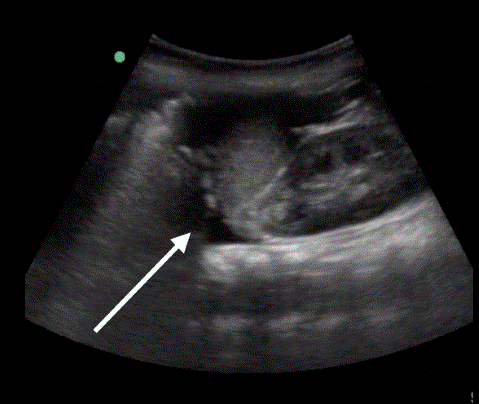 Left pleural effusion with visible spine sign and no mirror image above the diaphragm.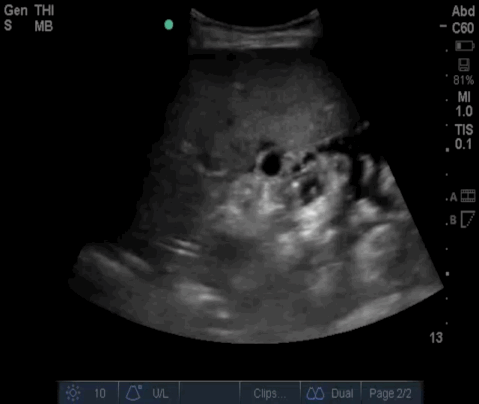 Free fluid in the right upper quadrant, visible below the liver and with peri-cholecystic free fluid.
Free fluid in the right upper quadrant, visible below the liver and with peri-cholecystic free fluid.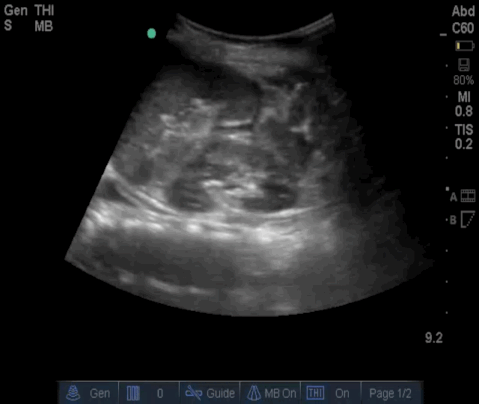 Large Left Pleural Effusion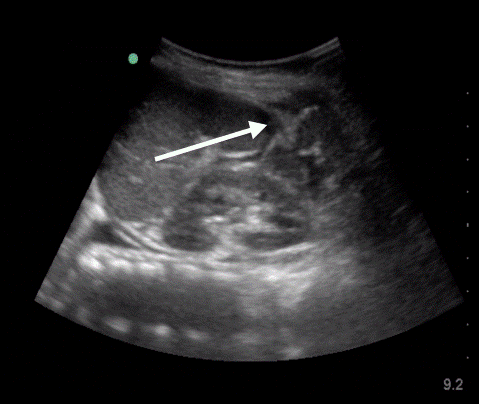 Free fluid in the left upper quadrant at the inferior tip of the liver. Free fluid also visible above the diaphragm.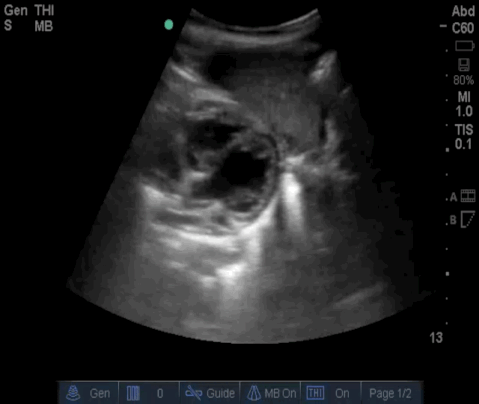 Small Pericardial Effusion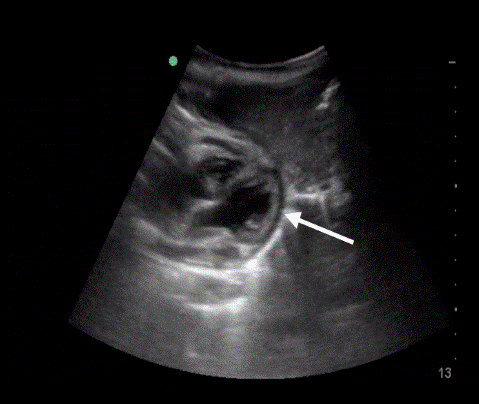 Small Pericardial Effusion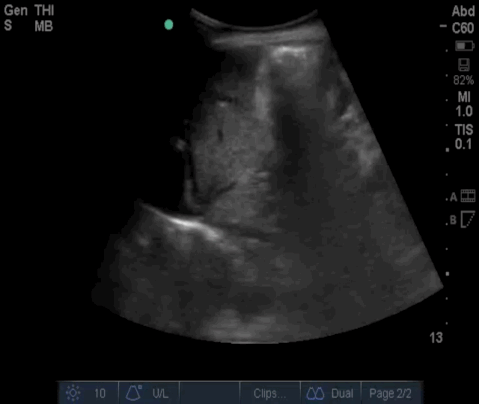 Complete Collapse of the IVC with Respiration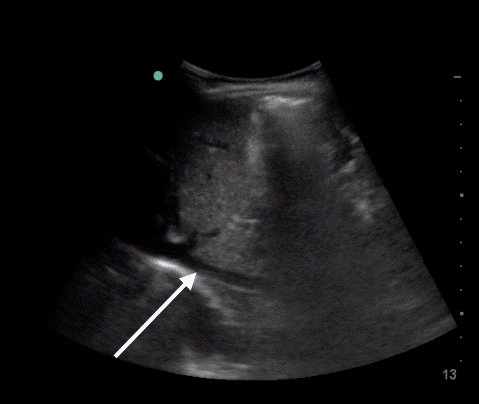 Visualization of the IVC. Video imaging showed complete collapse with normal respirations.
Differential Diagnosis Based on Imaging
Dengue Fever, severe




Third-Spacing of Fluid




Intravascular Volume Depletion
Clinical Course and/or Management
On point of care ultrasound (POCUS), the patient was noted to have large bilateral pleural effusions and a significant amount of intra-abdominal free fluid, which had not been fully demonstrated with plain films. Ultimately, she decompensated and required admission to the pediatric intensive care unit for further care including respiratory support.
Diagnosis
Severe Dengue Fever
Discussion
Dengue Fever is an endemic infection caused by several strains of Flavavirus in South American countries with seasonal outbreaks. In the mild form it is associated with high fever, headache and muscle aches which have led to a common name of "break-bone fever" for this infection. In the severe form, it is known as Dengue Hemorrhagic Fever and is associated with bleeding diathesis, thrombocytopenia, abdominal pain and increased interstitial fluid leakage leading to pleural effusions and ascites.
Over the summer of 2019, Honduras and several surrounding countries experienced a severe outbreak of Dengue. This strain of Dengue was noted to be particularly severe among the pediatric population and was associated with significant third-spacing causing large pleural effusions and intra-abdominal free fluid leading to abdominal compartment syndrome.
Point of care ultrasound can be used for the diagnosis and management of third-spacing associated with Dengue. It is used to identify key signs of hemorrhagic dengue, including intra-abdominal free fluid and pleural effusion as well as providing the ability to obtain quantitative measurements of each. Ultrasonographic images taken with the phased array probe along the midaxillary line between the 8th-11th intercostal spaces quickly identify fluid at the hepatorenal and splenorenal pouches. Pleural effusions can also be identified at these spaces by observing lack of a mirror artifact, or the reflection of the liver above the diaphragm, which is lost when fluid accumulates in the pleural space. Pericardial effusions can be used be evaluation the heart in a subcostal or parasternal long view with the same probe. Additionally, images can be obtained at the entrance of the inferior vena cava to the right atrium to qualitatively assess blood pressure and plasma volume.
Ultrasound provides the benefit of being quick and portable, as well as minimizing exposure to radiation. In the case described above, it had the added advantage of better visualizing pleural effusions and intra-abdominal free fluid that were not identified on plain films. This gave physicians insight into the cause for her decompensation, allowing for more rapid and accurate diagnosis and treatment.
The views expressed herein are those of the authors and do not reflect the official policy or position of the Brooke Army Medical Center, the U.S. Army Medical Department, The U.S. Army Office of the Surgeon General, the Department of the Army, the Department of the Air Force, or the Department of Defense, or the U.S. Government.
References
Zambrano, L. I., Rodriguez, E., Espinoza-Salvado, I. A., Fuentes-Barahona, I. C., de Oliveira, T. L., da Veiga, G. L., ... & Rodríguez-Morales, A. J. (2019). Spatial distribution of dengue in Honduras during 2016–2019 using a geographic information systems (GIS)–Dengue epidemic implications for public health and travel medicine.

Travel medicine and infectious disease

,

32

, 101517.




Setiawan MW, Samsi TK, Wulur H, Sugianto D, Pool TN. Dengue haemorrhagic fever: Ultrasound as an aid to predict the severity of the disease.

Pediatr Radiol

. 1998. doi:10.1007/s002470050281




Srikiatkhachorn A, Krautrachue A, Ratanaprakarn W, et al. Natural history of plasma leakage in dengue hemorrhagic fever: A serial ultrasonographic study.

Pediatr Infect Dis J

. 2007. doi:10.1097/01.inf.0000258612.26743.10