Undifferentiated Dyspnea in the Era of COVID
Rio Beardsley MS4, Peter Weimersheimer MD, Katie Wells MD, MPH
Department of Emergency Medicine, Larner College of Medicine at the University of Vermont
Clinical Presentation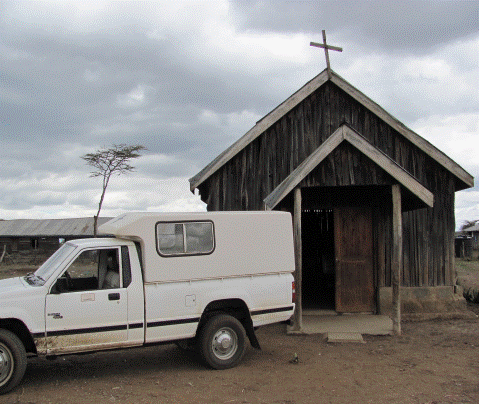 Walking into the Cottage Hospital Community Clinic in Naibor, Kenya (Photo: R. Beardsley)
History
A 45-year-old male arrives to our mobile clinic after walking from his village 20km away with three days of a worsening fever, myalgias, and fatigue. He has not eaten in 48 hours. The walk from his village proved extremely difficult for him and he noted also feeling mildly dyspneic during his journey; he is diaphoretic and describes feeling lightheaded on arrival. He otherwise denies chest pain, palpitations, nausea, vomiting, abdominal pain, or diarrhea.
The patient has never experienced symptoms like these before. He lives with his wife and four children in the same one-room home, and he works as a handyman at a nearby flower farm. No one in his family or village has similar symptoms, but he recalls a few of his coworkers having coughs recently. He is anxious that he will not be able to make the return journey in time for work tomorrow. He discloses that his employer terminates employees who are absent due to illness.
Family medical history is unknown. The patient is an active smoker with an estimated 20 pack year history. He drinks homemade fermented wine occasionally and reports a remote history of recreational glue inhalation as a teenager. He also frequently chews khat root while working. He is unsure about allergies.
The patient's past medical history is unknown, and he denies taking any regular medications. He has never been hospitalized or had any surgeries. He cannot confirm any vaccinations after those he received as a child.
Physical exam
| Blood pressure | Pulse | Respiratory Rate | Pulse Oximetry | Temperature |
| --- | --- | --- | --- | --- |
| 122/89 | 102 | 24 | 93% on RA | 38.1C |
General: The patient is an anxious, malnourished, ill-appearing male now lying on a makeshift bed in an empty church pew adjacent to the mobile clinic.
HEENT: Moist mucous membranes, normal conjunctiva and EOM, and pupils are equal, round, and reactive to light.
Cardiovascular: Tachycardic, regular rhythm, and no murmurs present.
Respiratory: Tachypnea, bilateral rhonchi, and wheezing are present. Decreased breath sounds are present at the lung bases.
Abdomen: Soft with normal bowel sounds.
Skin: Patient is diaphoretic.
Imaging and Laboratory Information
Further investigation is limited to supplies available at the mobile clinic. No laboratory testing is available. We have a portable EKG, a pulse oximeter, and a handheld portable ultrasound machine. Immediate EKG was diagnostic only for sinus tachycardia.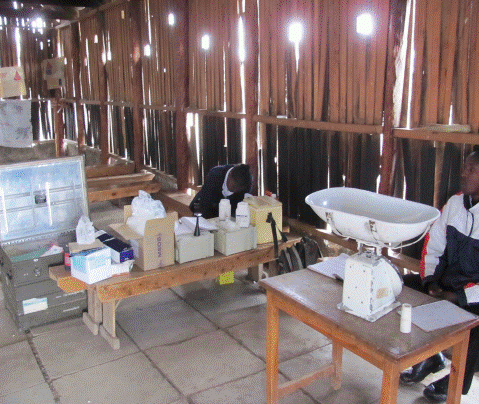 Setting up limited clinic supplies inside a community church in Naibor, Kenya (Photo: R. Beardsley)
Clinical Differential Diagnosis
Viral Pneumonia




Bacterial Pneumonia




COPD Exacerbation




CHF




Active Tuberculosis




SARS-CoV-2 Pulmonary Disease




Interstitial Lung Disease secondary to recreational drug use and/or occupational exposure




Pleural Effusion
Ultrasound Imaging Findings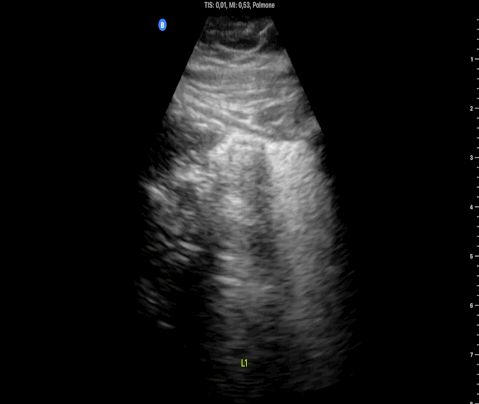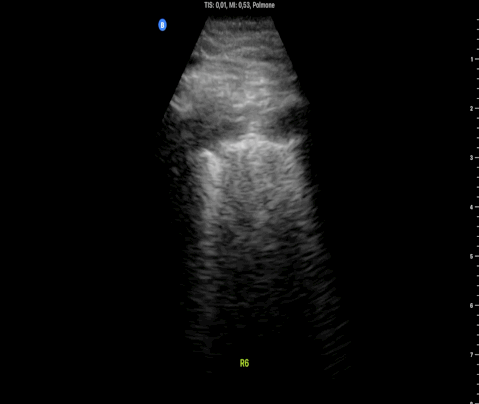 low frequency curvilinear transducer was used to examine the patient's pleura. The transducer is held in a sagittal orientation to frame the pleura between rib spaces. The operator systematically looks at bilateral views of the anterior, lateral, and posterior chest. Of note, rotating the transducer in a rib space facilitates a better view of the pleura.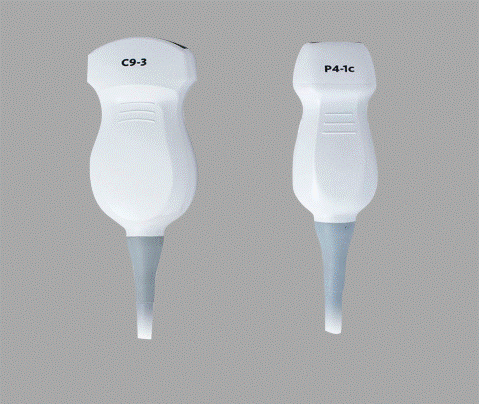 Low frequency transducers (curvilinear and phased array)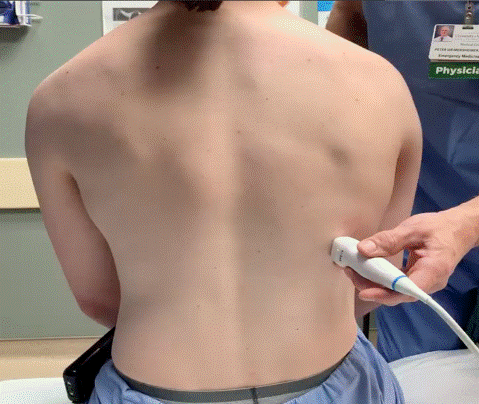 Transducer on posterior chest in sagittal view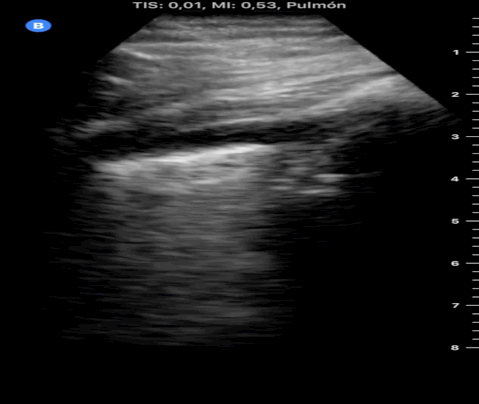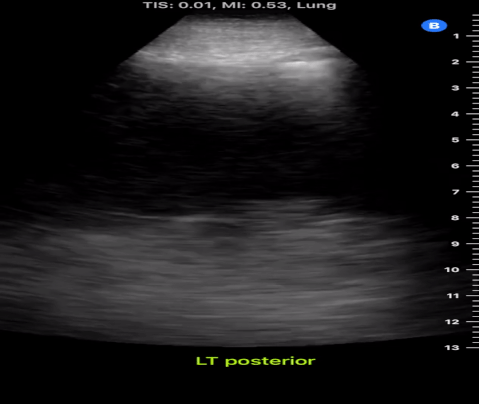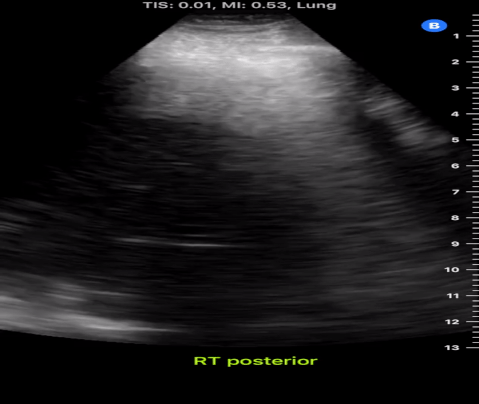 The provider observes diffuse irregular/thickened bilateral pleural lines in almost all the lung fields. Additionally , scattered, and confluent B-lines (see discussion below), sub-pleural consolidations, and localized pleural effusions are observed.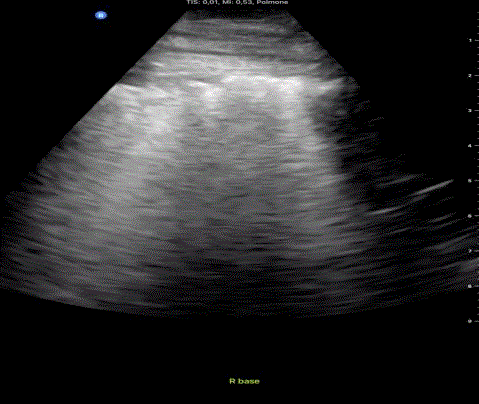 Sub-pleural consolidations on lung ultrasound in patient with acute COVID infection
Differential Diagnosis Based on Imaging
Observation of "A-lines" and "B-lines" on Lung Ultrasound (LUS) helps guide our diagnostic workup and refine our differential. If an "A-pattern" is present with no cardiac dysfunction, then the patient likely has a viral, inflammatory, or central process. If a "B-pattern" is present, the anatomical pattern of b-lines, i.e. focal or diffuse, will help frame a diagnosis such as focal pneumonia, tuberculosis, or interstitial lung disease. Finally, likely respiratory infection with evident bilateral pleural involvement on LUS is highly suggestive of acute SARS-CoV-2 infection.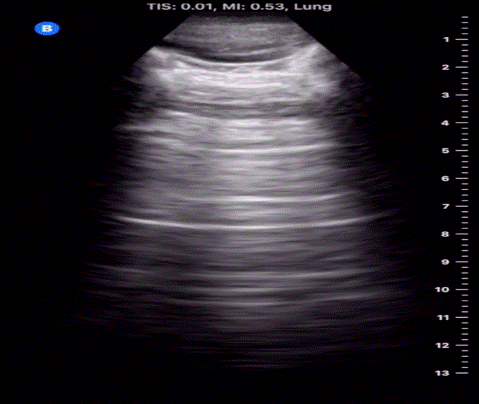 "A-lines" on LUS – not suggestive of COVID disease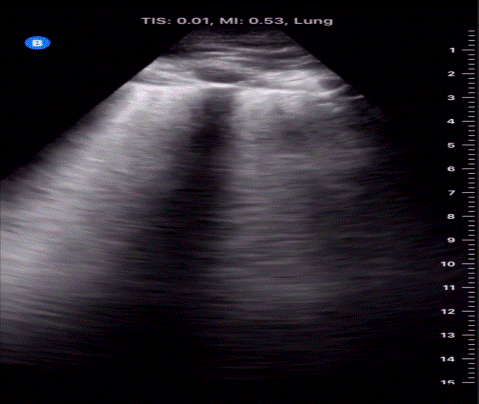 "B-lines" on LUS in patient with acute COVID infection
Clinical Course and Management
The patient had LUS findings concerning for acute SARS-CoV-2 infection. He remained on observation with periodic assessment of his SpO2 while the clinic continued with its monthly open-door hours for reproductive and preventative health visits. When the patient's SpO2 decreased to 89%, supplemental oxygen was started. Our oxygen supplies were two half-empty 150-Liter O2 tanks – one tank provided oxygen support to the patient via nasal cannula. Other than a single CPR mask, we had no rescue airway devices or ventilatory support available. Despite supplemental O2, the patient's SpO2 continued to trend downward to 87-88%. His cough also continued to become more remarkable and violent. In the background of a finite and insufficient O2 supply, the patient's deteriorating status demanded urgent transport to the regional hospital center about 40km away. The patient understood he would not survive the return 20km journey home on foot in his current state.
Management was targeted at mitigating the patient's acute respiratory distress via noninvasive ventilatory support. The pleural involvement observed on LUS, the patient's initial clinical presentation, and especially the precipitous onset of hypoxia – together these findings are nearly pathognomonic for acute COVID-19 pulmonary disease. The patient's infection likely belonged to a disease cluster later traced to the overflowing commuter minibus shared by employees at the flower farm.
Diagnosis
Acute COVID-19 Respiratory Infection
Discussion
The SARS-CoV-2 pandemic continues to unfold in devastating waves across communities worldwide. Particularly in resource-limited regions such as sub-Saharan Africa, the virus remains highly contagious, prevalent, and lethal. Among infected individuals, there can be wide variations in how the disease first presents and its course and progression. Patients present having only mild symptoms, while others can rapidly develop severe hypoxia, often without any prior subjective respiratory symptoms. Management is aimed at improving patient hypoxia early in the disease course; this approach is thought to overall help prevent a worsening disease progression. Unfortunately, any effort towards early intervention are frustrated by a continued shortage of COVID infection testing kits. And even when available, however, the most common test (the PCR viral antigen test) only correctly identifies a positive infection 7 out of 10 times.
Lung ultrasound (LUS) has become an essential tool in resource-limited settings to help risk stratify patients presenting with undifferentiated dyspnea. When performed with limited cardiac and IVC evaluation, LUS is more sensitive than clinical exam, laboratory studies, and Chest XR (CXR) in helping the caregiver diagnose the specific cause of a patient's dyspnea. LUS also has better sensitivity than CXR and clinical exam to detect alternative causes of dyspnea including pleural effusions/CHF, pneumonia, and pneumothorax. Finally, LUS has been shown to be nearly as sensitive as chest CT in diagnosing patients with SARS-CoV-2 infections, sometimes even before a patient has respiratory symptoms or their PCR test is positive.
Most critically,LUS can find and identify pleural changes and pathology characteristic of COVID. A provider who is skilled at LUS has a better chance of making the correct diagnosis and thereby also directing optimal management for the patient. Importantly, if a patient has "COVID-like" LUS findings, even if stable, he or she remains particularly vulnerable to progressive hypoxia and thus requires continuous monitoring. This is especially relevant to providing care in resource limited settings – in this environment, patients likely have a tenuous, unreliable means of transport (if any) to utilize in an emergent situation or if acutely getting sicker. Any patient with presumed COVID infection, regardless of symptoms, requires a reliable infrastructure of monitoring and transportation prior to discharge. This is particularly difficult and likely impractical to orchestrate in the resource-limited setting. Ultrasound, then, is an incomplete remedy in the backdrop of this pandemic; it can identify who is at the greatest risk and who most urgently needs help, but without other tools and support, these patients won't survive the journey home.
References
Kucirka LM, Lauer SA, Laeyendecker O, Boon D, Lessler J.

Variation in False-Negative Rate of Reverse Transcriptase Polymerase Chain Reaction–Based SARS-CoV-2 Tests by Time Since Exposure

. Annals of Internal Medicine. 2020 May 13.




Fiala, M. J. (2020).

Ultrasound in COVID-19: a timeline of ultrasound findings in relation to CT

. Clinical Radiology. https://doi.org/10.1016/j.crad.2020.04.003




Bush, K, Lai King, L, Ekambaram, K.

Rapid Review 6: SARS-CoV-2 Diagnostics

. African Federation of Emergency Medicine COVID-19 Response Guidelines. 2020 April 22.