Ultrasound-guided Reduction of Intussusception
Jennifer LaRoy, MD & Rebecca Stein-Wexler, MD
Department of Radiology, University of California Davis
Clinical Presentation
History
A 2-year-old male with no significant past medical history presented with abdominal pain. Pain was episodic and had increased in frequency over the course of a day. Approximately 2 weeks earlier, he had a URI that resolved. He had a painful, non-bloody, normally formed bowel movement the day before presentation. No fevers, chills, vomiting, diarrhea, constipation, or trauma.
Physical exam
| Blood pressure | Pulse | Respiratory Rate | Pulse Oximetry | Temperature |
| --- | --- | --- | --- | --- |
| 96/64 | 98 | 22 | 99% room air | afebrile |
General: Well developed, active, in no acute distress.
Abdominal: Soft, non-distended, non-tender. No rebound or guarding. Normal bowel sounds.
Imaging and Laboratory Information
Abdominal radiograph: Moderate fecal content throughout the colon. No pathological bowel dilation or intra-abdominal free air. No organomegaly, soft tissue mass, or abnormal calcification.
No labs obtained.
Clinical Differential Diagnosis
Gastroenteritis




Appendicitis




Volvulus




Hernia




Intussusception




Meckel diverticulum




Pancreatitis




Testicular torsion




Constipation
Ultrasound Imaging Findings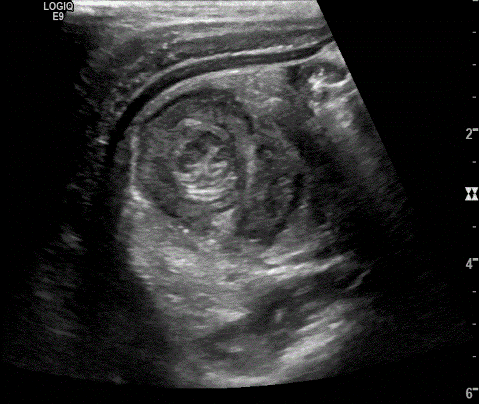 Transverse image shows telescoping bowel loops in the right lower quadrant of the abdomen, creating a target appearance that was 2.7 cm in diameter. There was no free fluid or inter-loop fluid.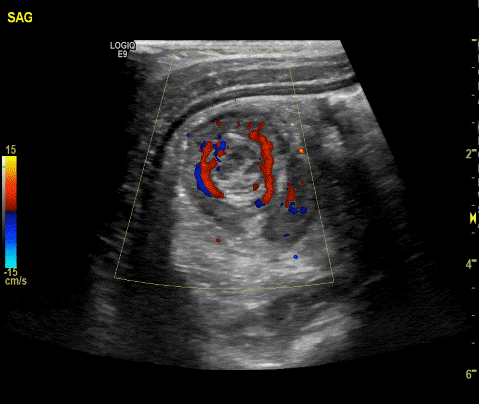 Application of color Doppler shows blood flow was present in the bowel wall.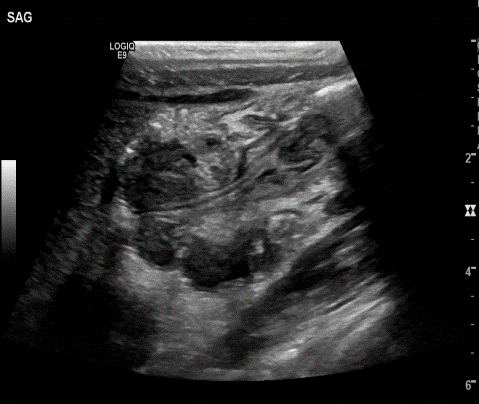 Longitudinal image shows the mass was approximately 3 cm in length.
During ultrasound-guided reduction, the cecum is filled with fluid; a small residual intussusceptum mass is still present.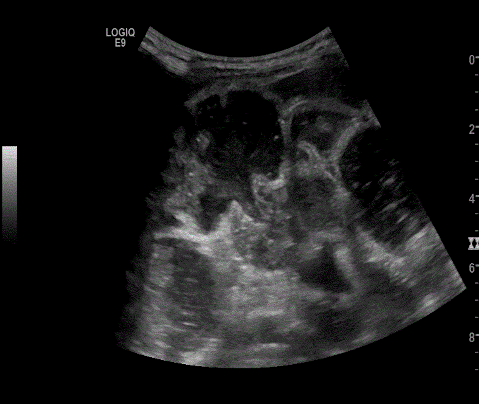 After reduction, the intussusception mass is no longer evident. Fluid separates the leaves of the ileocecal valve and fills distal small bowel loops.
Differential Diagnosis Based on Imaging
Intussusception, likely ileocolic.




Ilioiliocolic intussusception would typically be larger.




Ilioileal intussusception would be smaller.
Clinical Course and/or Management
A 24-French rectal catheter was inserted and the balloon inflated with 15mL of air. Normal saline was administered via gravity drip with the enema bag about 5 feet above the bed. There was progressive reduction of the intussusception until fluid filled the cecum except for a mass at the ileocecal valve (Figure 4). The intussusception then reduced completely, and the ileocecal valve was outlined with fluid as fluid flowed freely into small bowel (Figure 5). No lead points were seen. During the procedure, intermittent US of the pelvis did not show increasing fluid to suggest bowel perforation. The patient was discharged home after several hours of observation, during which time he tolerated oral intake and was pain free.
Diagnosis
Iliocolic intussusception and ultrasound-guided reduction
Discussion
Intussusception is a common cause of bowel obstruction that typically occurs in children 3 months to 3 years of age. The etiology is often "idiopathic" and associated with recent viral infection, frequently adenovirus, resulting in reactive lymphoid hyperplasia. Less commonly (5-10% of cases), lead points may be pathologic, such as a Meckel diverticulum, duplication cyst, polyp, or lymphoma.
Prompt diagnosis is important to make successful enema reduction more likely and minimize risk of bowel ischemia. Ultrasound has a high sensitivity (98-100%) and specificity (88-100%). The classic finding on ultrasound is alternating hyperechoic and hypoechoic layers of bowel wall. On transverse views, the "target" or "donut" appearance is caused be three overlapping mucosal and muscular layers of the intussusceptum (distal bowel) telescoped into the intussuscepiens (proximal bowel). On longitudinal view, the "pseudokidney" sign is so named because the mesenteric fat and mesenteric vessels pulled into the intussusceptum resemble the renal hilum.
The average diameter for an ileocolic intussusception, which requires reduction, is 2.6 cm. This distinguishes it from transient small bowel-small bowel intussusception (1.5 cm), which does not require reduction. Ultrasound is also helpful to predict success of reduction. Lack of blood flow and the presence of fluid trapped between bowel loops are associated with increased likelihood of bowel necrosis and need for bowel resection at surgery. However, most agree that reduction should still be attempted if these findings are present.
Ultrasound is used not only to diagnose intussusception, but also as an effective method to guide hydrostatic intussusception reduction. Fluoroscopic guidance must be performed intermittently to reduce radiation exposure. Ultrasound, however, allows continuous monitoring of the reduction process as well as post-reduction evaluation for residual intussusception or lead points.
References
Applegate K. Intussusception in children: evidence-based diagnosis and treatment. Pediatr Radiol. 2009;39 (Suppl 2):S140–S143.




Hertzberg B, Middleton W, et al. Ultrasound: The Requisites. 2004. St. Louis, Mo: Mosby.




Ogundoyin O, Atalabi O, Lawal T, Olulana D. Experience with Sonogram-guided hydrostatic reduction of Intussusception in Children in South-West Nigeria. J West Afr Coll Surg. 2013 Apr-Jun; 3(2): 76–88.