Typhoid Intestinal Perforation
Kevin Xerxes Durgun, MD & Michael Schick, DO
Department of Emergency Medicine, University of California, Davis
Clinical Presentation
History
A 14-year-old male who lives in rural Uganda, presented to Masaka Regional Referral Hospital with 3 days of high-grade fever, constipation, and severe abdominal pain. His abdominal pain is poorly localized, constant and progressive. His family reported mild subjective fevers and abdominal cramping in the week prior. There is no reported trauma, ingestions, and no one else is sick at home. He has no significant past medical or surgical history and is partially vaccinated.
Physical exam
| Blood pressure | Pulse | Respiratory Rate | Pulse Oximetry | Temperature |
| --- | --- | --- | --- | --- |
| 84/52 | 114 | 28 | 96 | 38.4 |
General: Appears ill, toxic, but not in acute respiratory distress.
HEENT: Dry mucous membranes, slight pallor of the conjunctiva.
Cardiac: Tachycardia, regular rhythm, no murmurs/rubs/gallops.
Pulmonary: Mild tachypnea. Lungs are clear to auscultation bilaterally.
Abdomen: Diffuse abdominal tenderness and guarding, with mild distention.
GU: Normal exam.
Neuro: Alert and oriented x 3, GCS 15.
Labs
Positive Widal test for Salmonella typhi
Negative rapid malaria test
Negative rapid HIV test
Clinical Differential Diagnosis
Enteric fever

Intestinal perforation

Gastric perforation

Appendicitis

Colitis

Sepsis

Intrabdominal abscess

Inflammatory bowel disease

Mechanical bowel obstruction

Disseminated tuberculosis

Traumatic intraabdominal hemorrhage
Ultrasound Imaging Findings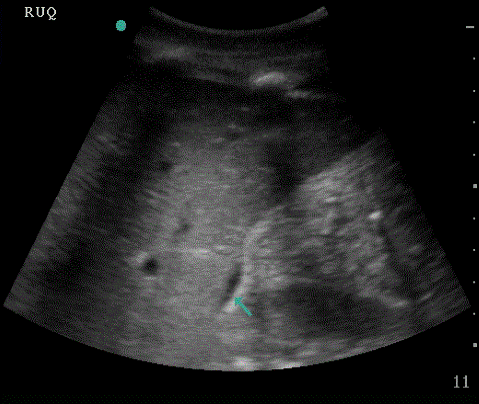 Subtle free fluid in Morrison's pouch in the right upper quadrant of the abdomen.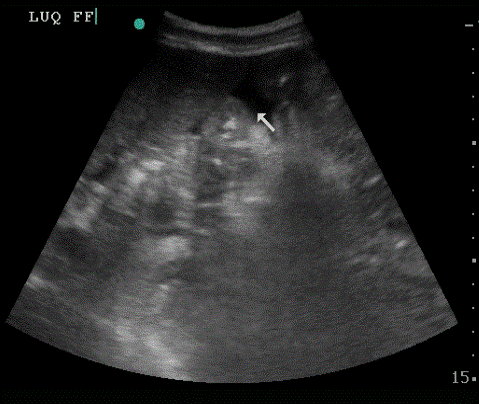 Larger free fluid collection subsequently found near the inferior pole of the spleen in the left upper quadrant of the abdomen.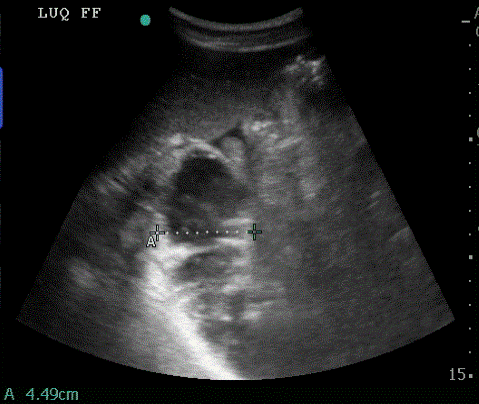 Dilated bowel noted in the left upper quadrant measuring 4.49cm. The bowel wall appears thickened and there is adjacent free fluid along splenic edge.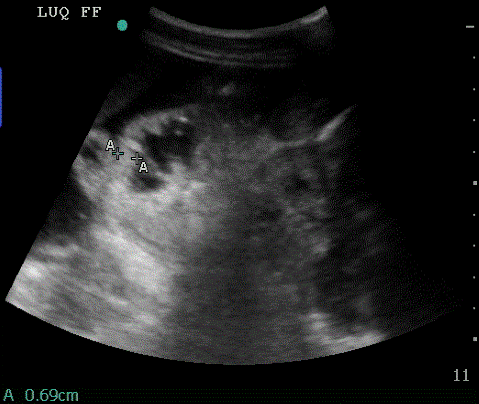 Free fluid in the splenorenal recess with dilated bowel wall measuring 0.69cm.
Differential Diagnosis Based on Imaging
Enteric fever

Intestinal perforation

Gastric perforation

Traumatic injury

Extrapulmonary tuberculosis
Clinical Course and/or Management
The patient was started on intravenous fluids, intravenous antibiotics, and was taken to the operating theater. During the laparotomy, the patient was found to have a 1 centimeter perforation 2 centimeters from the proximal cecum with gross stool contamination into the peritoneum. The perforation was repaired primarily, and the peritoneum was irrigated and then closed. The patient completed a week of intravenous antibiotics and was discharged home in stable condition.
Diagnosis
Typhoid fever with intestinal perforation
Discussion
Typhoid fever and paratyphoid fever, caused by bacteria S. typhi and S. paratyphi respectively, are the two most prominent types of enteric fever. There are roughly 27 million enumerated cases of enteric fever a year, with 200,000 deaths. It disproportionally affects low- and middle-income countries—nearly 12 million annual cases, including 129,000 deaths. Incidence of developing intestinal perforation ranges from 0.8% to 39%, with higher incidence in lower- income to middle-income countries. Depending on surgical and medical constraints, 5% to 80% of afflicted patients with intestinal perforation are likely to die.
S. typhi and S. paratyphi transmit through human populations via fecal-oral spread. The bacteria enter the intestinal submucosa through M cells of the mucosal associated lymphoid tissue and colonic epithelial cells. Intestinal perforation is a consequence of the proliferation of the bacteria in the submucosa, which causes hyperplasia of the Peyer's patches and bowel wall necrosis. Dissemination of the bacteria through the bloodstream and lymphatics results in high fevers, abdominal pain, stupor, and either constipation or diarrhea.
Diagnosis of typhoid is largely driven by clinical suspicion and endemicity in a region. Ultrasound (US) can be utilized to evaluate for typhoid intestinal perforation. The windows of a FAST exam are commonly used to evaluate for free fluid. If free fluid is seen in the abdomen, perforation should strongly be considered. The fluid may have a mixed echogenicity to it, ranging from hypoechoic to anechoic, reflecting blood or intestinal contents. In evaluating the colon, thickened bowel walls may also be seen, reflecting the previously mentioned inflammatory hyperplasia and bacterial submucosal proliferation.
References
Als D, Radhakrishnan A, Arora P, et al. Global trends in typhoidal salmonellosis: A systematic review.

American Journal of Tropical Medicine and Hygiene

. 2018;99(3):10-19. doi:10.4269/ajtmh.18-0034

Contini S. Typhoid intestinal perforation in developing countries: Still unavoidable deaths?

World Journal of Gastroenterology

. 2017;23(11):1925-1931. doi:10.3748/wjg.v23.i11.1925

Chalya PL, Mabula JB, Koy M, et al. Typhoid intestinal perforations at a University teaching hospital in Northwestern Tanzania: A surgical experience of 104 cases in a resource-limited setting.

World Journal of Emergency Surgery

. 2012;7(1):4. doi:10.1186/1749-7922-7-4