Tuberculosis Pericarditis
R. Wahome, MD & D. Mirsch, DO
Mbarara University of Science and Technology & University of Buffalo
Clinical Presentation:
History:
A 61-year-old male presents for difficulty breathing. His current illness began with a low grade, non-productive cough associated with mild chest pain, night sweats and significant weight loss over the past two months. Initially, he was being managed as an outpatient for presumed pulmonary edema in the setting of renal failure. His symptoms progressed to difficulty breathing with tachypnea, palpitations and fatigability over the past three days. His dialysis frequency was increased from two times per week to three times per week, but his symptoms worsened.
He has a five-year history of HIV, but stopped using antiretroviral therapy for the past two years, ever since being diagnosed with diabetes. He notes good adherence with his diabetic medications. He has combined HIV associated/diabetic nephropathy with end stage renal failure, currently on dialysis.
Physical exam
| Blood pressure | Pulse | Respiratory Rate | Pulse Oximetry | Temperature |
| --- | --- | --- | --- | --- |
| 78/40 | 103 | 28 | 98% on 5L O2 | 34.7 |
General: Severely pale, with anasarca. No jaundice or lymphadenopathy. Grade 1 finger clubbing.
Neck : Distended neck veins and raised jugular venous pressure.
Cardiovascular: Cold peripheries, cap-refill > 3 seconds, precordium hyperactive but apex beat is diffuse, heart sounds are muffled.
Respiratory: Use of accessory muscles for breathing, trachea is central, reduced chest expansion on the right, stony dull percussion notes in bilateral lower zones, reduced breath sounds in the lower zones markedly on the right side.
Abdomen: Abdominal distension, non-tender, positive shifting dullness and fluid thrill.
Neurologic: GCS 14 (confused), no focal deficits.
Skin: Scattered bruising, petechiae and ecchymosis noted especially around the cannulation sites.
Imaging and Laboratory Information
Random Blood Sugar : 13.8 mmol/l (248mg/dl)
Complete blood count : Normal white count and differential, normocytic normochromic anemia of 4gm/dl, thrombocytopenia of 30 x 109/L
Renal function test : Normal electrolytes, creatinine of 3 mg/dl, BUN of 187 mg/dl
Chest X-ray : Cardiomegaly, bilateral pleural effusions
Clinical Differential Diagnosis
Pericardial effusion with tamponade

Massive pleural effusions

Heart failure with pulmonary edema

Community acquired pneumonia/sepsis leading to decompensated heart failure

End stage renal disease with fluid overload

Extrapulmonary TB

Non-Hodgkin's lymphoma

AIDS
Ultrasound Imaging Findings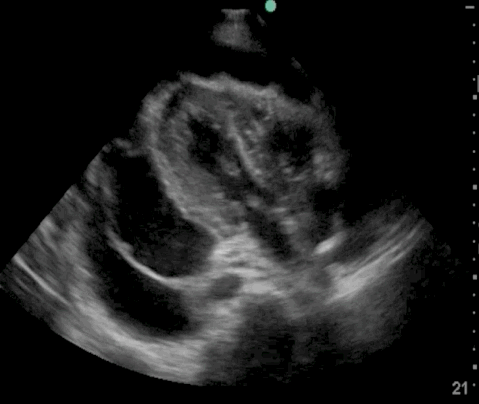 Subxiphoid view of the heart demonstrating a large circumferential pericardial effusion, eccentric left ventricular hypertrophy, normal left ventricular ejection fraction, and pleural effusion noted posterior to the descending aorta. There is a fibrous strand at the 10 o'clock position within the pericardial effusion concerning for TB pericarditis. Within the right ventricular there appears to be a tricuspid valve vegetation and/or thrombus.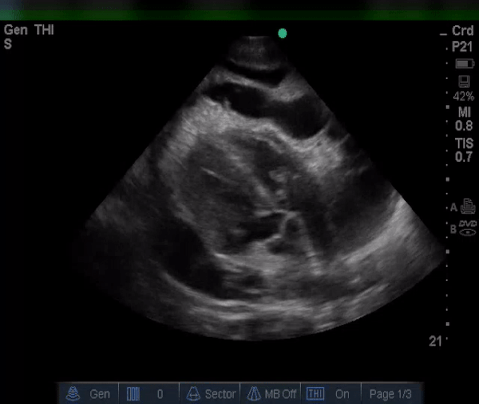 Subxiphoid view of the heart with improved visualization of the large circumferential pericardial effusion demonstrating multiple fibrinous strands. There is also intra-abdominal free fluid noted at the anterior portion of the image.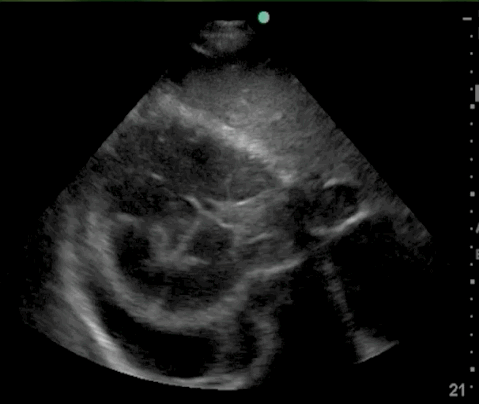 Fanning through the subxiphoid cardiac window better demonstrates the complexity of the pericardial fluid collection with multiple fibrinous strands.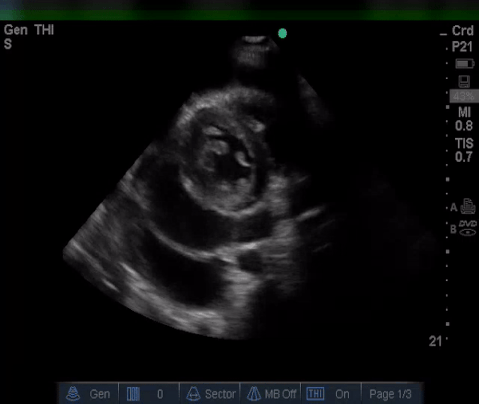 Parasternal short view of the heart demonstrating a large circumferential pericardial effusion with fibrous strands. A posterior pleural effusion is also visualized. The left ventricular cavity volume is low and there is intermittent interventricular deviation of the septum concerning for elevated right ventricular pressures.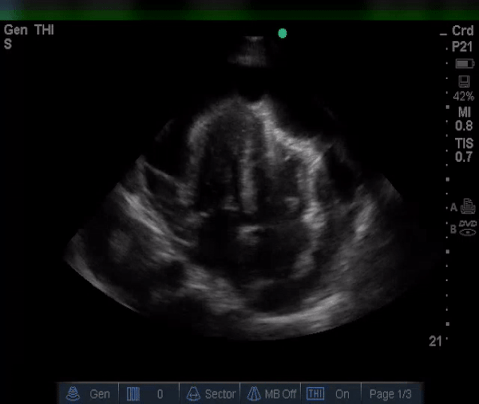 Apical four chamber view of the heart demonstrating large circumferential pericardial effusion with fibrous strands. Within the right ventricular there appears to be a tricuspid valve abnormality or vegetation.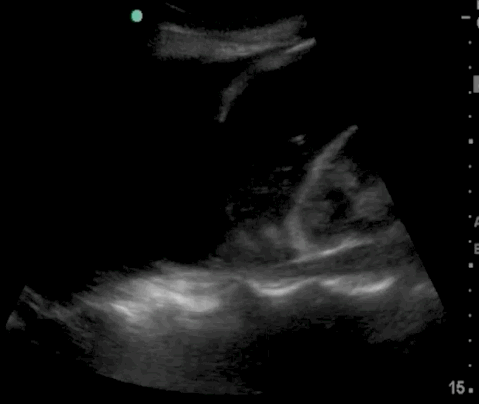 Right upper quadrant view of the abdomen and lower thorax demonstrating a large pleural effusion and positive "spine sign".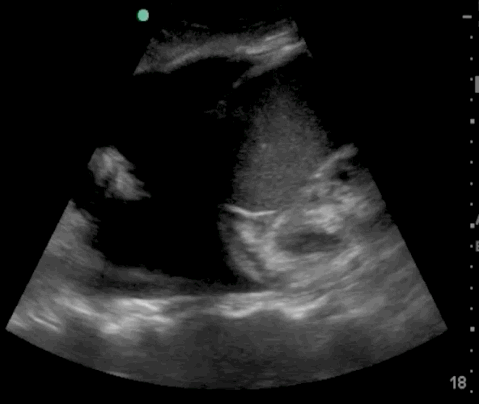 Left upper quadrant view of the abdomen and lower thorax demonstrating a large pleural effusion, positive "spine sign", and small amount of free intra-abdominal fluid.
Differential Diagnosis Based on Imaging
Extra pulmonary tuberculosis (TB) with large pericardial and pleural effusion + ascites (positive focused assessment with sonography for HIV-associated TB)




Non-Hodgkin's lymphoma




Endocarditis



Clinical Course and/or Management
The patient received bilateral tube thoracostomies which drained > 3 L of blood tinged fluid. Fluid was taken for cytology/microscopy and Gene Xpert with centrifuge. A sputum sample was collected to supplement the pleural aspirate. Urgent dialysis was done while simultaneously receiving blood transfusions. Gene Xpert was positive for TB, while sputum was negative. The patient was started on anti-tuberculosis medications and underwent dialysis three times per week for a month as well as daily thoracenteses for three days. His pleural effusions cleared. Dialysis and diuresis helped reduce the patient's symptoms, but a pericardiocentesis was not performed. Antiretroviral therapy was started after three weeks. One month into his hospital stay the patient developed a nosocomial pneumonia, deteriorated and died within a 24-hour period.
Diagnosis
Extra pulmonary tuberculosis & tuberculosis pericarditis
Discussion
Extra pulmonary tuberculosis (EPTB) is defined per the WHO classification criteria as an infection by Mycobacterium Tuberculosis which affects tissues and organs outside the pulmonary parenchyma. EPTB involving multiple sites is seen in populations of patients less capable of containing TB such as infants, immunocompromised persons and the elderly. Among HIV infected patients, it becomes more common as CD4 count falls. 30% of HIV infected patients may present with EPTB occurring without pulmonary involvement. Primary tuberculous pericarditis usually results from direct extension of infection from the tracheobronchial tree, mediastinal or hilar lymph nodes, sternum, or spine. Pericardial involvement also may result from hematogenous spread secondary to acute miliary TB or from another focus elsewhere in the body.
Tuberculous pericarditis is the most common cause of pericarditis in Africa, and usually progresses in 4 stages: (1) fibrinous exudation, (2) serosanguinous effusion, (3) absorption of effusion with organization of granulomatous caseation and pericardial thickening, (4) constrictive scarring. Tuberculous pericarditis presents clinically in three forms: pericardial effusion, constrictive pericarditis, and a combination of effusion and constriction. Each of these have their own presentation, but the hallmark is usually slow progression of symptoms over weeks or even months. Patients typically present with dyspnea, chest pain, signs of heart failure and constitutional symptoms of weight loss and night sweats.Cardiac tamponade is the most severe clinical presentation of TB pericarditis and constitutes a life-threatening event that requires immediate drainage.
Ultrasound can rapidly identify signs suggestive of EPTB in high prevalence settings.Short protocols have been successfully established in emergency medicine such as the focused assessment with sonography for HIV-associated TB (FASH).The FASH assessment is meant to identify secondary signs of EPTB in the form of pathological effusions in the body's potential spaces (thorax, pericardium, peritoneum) and intra-abdominal lymph nodes. Other supportive investigations include chest radiographs, sputum microscopy, culture of aspirates, and PCR methods such as Gene Xpert. Treatment includes initiation of anti-tuberculous drug regiments based on local patterns of resistance, continuation or re-starting of antiretroviral therapy (most commonly after initial treatment of opportunistic infections), and drainage of symptomatic effusions.
References
HELLER, T., WALLRAUCH, C., GOBLIRSCH, S. & BRUNETTI, E. 2012. Focused assessment with sonography for HIV-associated tuberculosis (FASH): a short protocol and a pictorial review.

Critical Ultrasound Journal,

4

,

21.

MARX, J. A., HOCKBERGER, R. S. & WALLS, R. M. 2014.

Rosen's Emergency Medicine Concepts and Clinical Practice,

Philadelphia, Elsevier Saunders.

MIGUEL, P. J., ARONOW, W. S. & FROM:, A. M. A. 2019. Tuberculous Pericarditis.

N Engl J Med

.

RAMIREZ-LAPAUSA, M., MENENDEZ-SALDANA, A. & NOGUERADO-ASENSIO, A. 2015. Extrapulmonary tuberculosis.

Rev Esp Sanid Penit,

17, 3-11.