Tropical Pyomyositis
Navneet Dhillon, BS and Michael Schick, DO
Department of Emergency Medicine, University of California, Davis
Clinical Presentation
History
A 6-year-old boy presents to an emergency department in Northern Laos with a 2-week history of right leg pain. The pain started as a cramp, but has progressively worsened, and he is now unable to bear weight on his right leg. He has also had subjective fevers and chills for the past 2 days. 4 weeks ago, he had a fever and cough and was prescribed a medication by a local pharmacy, which his father administered via intramuscular injection.
Physical exam
| Blood pressure | Pulse | Respiratory Rate | Pulse Oximetry | Temperature |
| --- | --- | --- | --- | --- |
| 116/78 | 130 | 22 | 99% | 101˚ F |
Musculoskeletal: Muscular pain with ROM of right extremity. No joint pain.
Extremity: Right mid-thigh and calf have fullness and tenderness with palpation.
Skin: No skin changes visible.
Imaging and Laboratory Information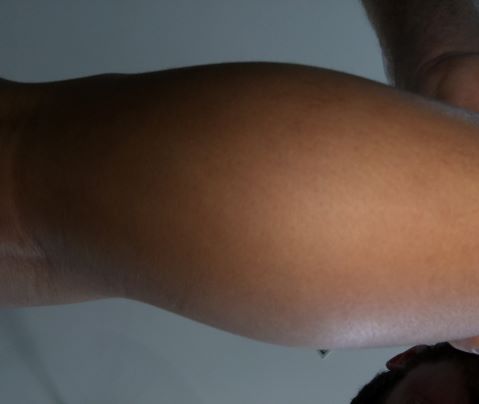 Photograph of the right calf.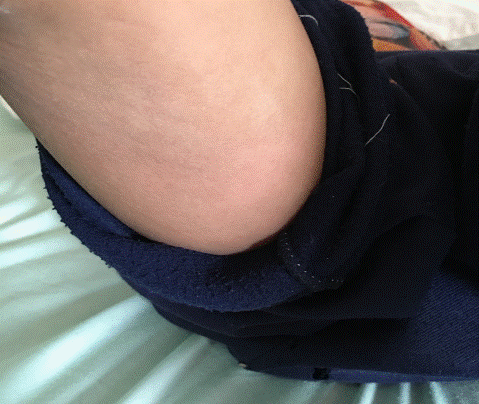 Photograph of the posterior right thigh.
Clinical Differential Diagnosis
Cellulitis

Pyomyositis

Necrotizing Fasciitis

Compartment Syndrome

Abscess

Trauma

Septic Arthritis

Bony Mass

Toxic Synovitis

Hematoma
Ultrasound Imaging Findings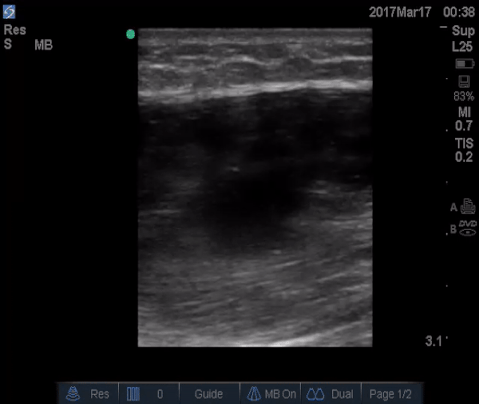 This clip shows the gastrocnemius muscle in the long axis. Here we see anechoic regions surrounded by hypoechoic regions of the gastrocnemius that display decreased striated muscle pattern, which is consistent with muscle edema and inflammation surrounding a fluid collection. No signs of superficial edema.
A still image of the right gastrocnemius in the short axis shows a well-defined anechoic region within a larger hypoechoic region of the gastrocnemius that is surrounded by normal appearing muscle tissue.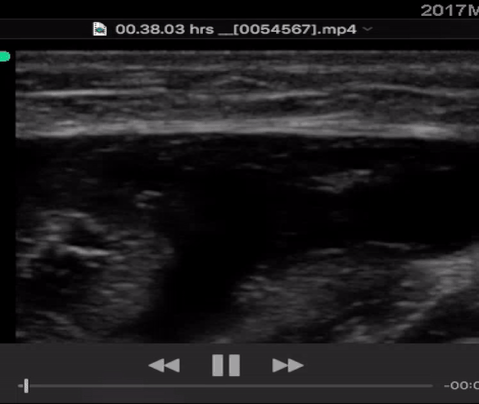 A clip captured from the posterior thigh demonstrating a hypoechoic an anechoic region within the hamstring muscle.
Differential Diagnosis Based on Imaging
Pyomyositis
Clinical Course and/or Management
This patient was treated with IV ampicillin for presumed methicillin susceptible Staphylococcus aureus. Incision and drainage was considered given hypoechoic pockets within the muscle, however the patient showed gradual improvement and was discharged home with oral antibiotics 5 days later.
Diagnosis
Tropical pyomyositis, 2nd Stage
Discussion
Pyomyositis involves infection and/or abscess formation within the muscle. In tropical pyomyositis, patients are typically healthy and have little to no comorbidities. It is theorized that most cases are due to hematogenous spread. Because of this, the disease process can be isolated to the muscles making it difficult to diagnose. Infections occurring in tropical regions are typically associated with methicillin-sensitive Staphylococcus aureus, while those occurring in high resource settings are associated with methicillin-resistant Staphylococcus aureus. In diabetic patients, E. coli may be isolated as well.
Pyomyositis is often mistaken for hematomas or DVTs, making ultrasound a very useful initial imaging modality. Ultrasound allows for quick and cost-effective visualization of deeper tissue layers, aiding in the initial diagnosis of pyomyositis.
There are two ultrasound findings associated with pyomyositis. Pyomyositis in the 1st stage is represented by ill-defined hypoechoic areas and localized muscle edema. In the 2nd stage, the fluid collections become more defined as intramuscular abscess formations, which is similar to what we saw in this case. Ultrasound is also very useful in guiding the drainage of larger abscesses that are unlikely to resolve with antibiotic therapy alone.
References
Bureau, N. J., Chhem, R. K., & Cardinal, É. (1999). Musculoskeletal infections: US manifestations.

Radiographics

,

19

(6), 1585-1592.

Farrell, G., Berona, K., & Kang, T. (2018). Point-of-care ultrasound in pyomyositis: A case series.

The American journal of emergency medicine

,

36

(5), 881-884.

Nainan, A., Shagali, H., Srinivasan, B., & Tarik, A. (2017). Think pyomyositis!.

Practical Diabetes

,

34

(9), 323-325.