Tropical Endomyocardial Fibrosis
Nikolai Schnittke, MD, PhD, Sarah Eragu, MBChB & Rosalia Holzman, MD
Oregon Health & Science University, Mbale Regional Referral Hospital, & Ohio State University
Clinical Presentation
History
A 23-year-old man with a long-standing history of difficulty in breathing for eight years presented to Mbale Regional Referral Hospital with worsening difficulty in breathing, which is associated with abdominal distension and weight loss. He has no lower limb swelling or yellowing of eyes and is hepatitis B negative. He develops facial puffiness occasionally but notices progressive reduction in the amount of urine passed. Childhood malnutrition history is unclear.
Physical exam
| Blood pressure | Pulse | Respiratory Rate | Pulse Oximetry | Temperature |
| --- | --- | --- | --- | --- |
| 90/60 | 120 | 30 | Not done | Not done |
General: Wasted, small for age male, no edema, in distress.
HEENT: Silky brown hair, sparsely distributed, normal eyes, nose and throat exam.
Neck: No lymphadenopathy.
Cardiovascular: Tachycardic, JVP is distended, apex is diffused, muffled heart sounds.
Respiratory: Tachypneic. Clear to auscultation bilaterally.
Abdomen: Distended with moderate hepatomegaly and splenomegaly.
Musculoskeletal: Short stature.
Imaging and Laboratory Information
The patient has previously been diagnosed with pericardial effusion based on clinical exam and had undergone landmark directed pericardiocentesis 20 times in the past year. Gram stain and genexpert for M. Tuberculosis were negative. Due to poverty, the family is unable to afford further testing (ECG, labs, imaging) or transfer for definitive care. However, with the initiation of a train-the-trainer program at MRRH, bedside echocardiography became an alternate investigative option.
Clinical Differential Diagnosis
Recurrent pericarditis




Endomyocardial fibrosis




Tuberculosis (ruled out by genexpert)
Ultrasound Imaging Findings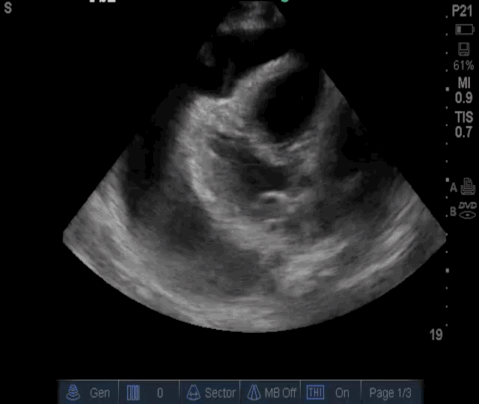 Parasternal Long Axis showing large circumferential pericardial effusion without evidence of right ventricular collapse. Right ventricle and atrium appear dilated. Note hyperechoic myocardium with hypoechoic areas of fibrotic plaque.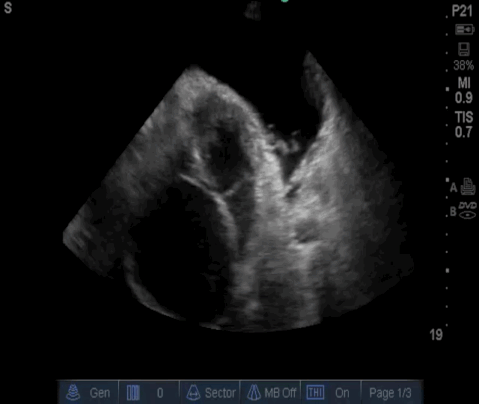 Apical view showing loculation of the pericardial effusion and severe right atrial enlargement with compression of left atrium.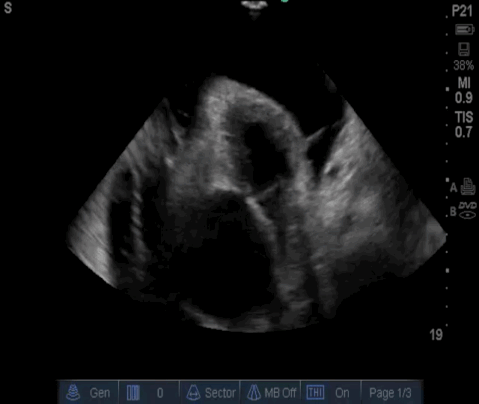 Apical view showing loculation of the pericardial effusion and severe right atrial enlargement with compression of left atrium. Fanning demonstrates the extent of the loculated pericardial effusion.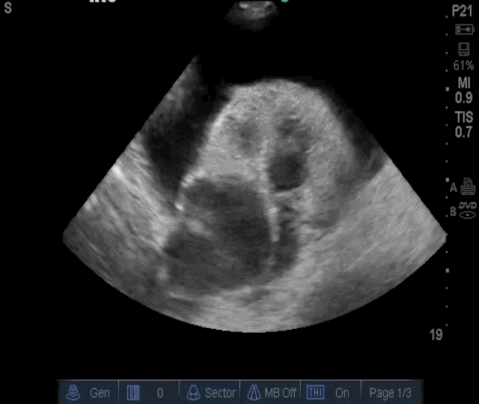 Apical view with severe fibrosis of the apex, infundibulum and ballooning of the right ventricular outflow tract and right atrium. Circumferential pericardial effusion.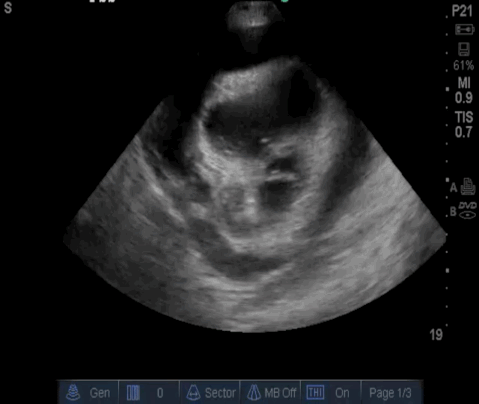 Parasternal short axis near the base of the heart showing ballooning of the right ventricular outflow tract.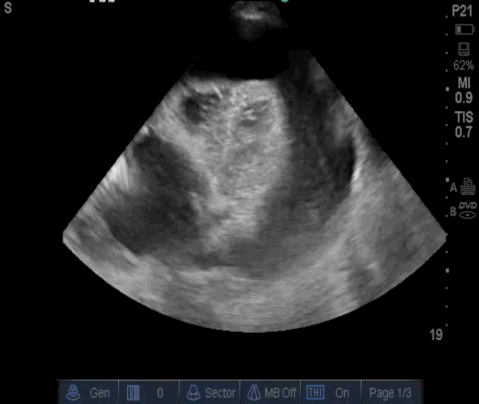 Subxiphoid view showing a large circumferential pericardial effusion, no right ventricular collapse during diastole, normal appearing left ventricular function, and a severely dilated right atrium.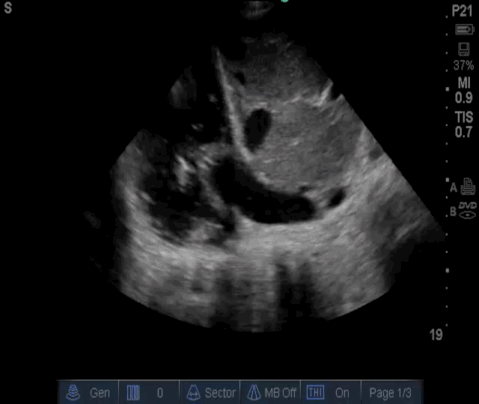 Subxiphoid sagittal view showing dilated IVC and hepatic vein without respiratory collapse.
Differential Diagnosis Based on Imaging
Tropical endomyocardial fibrosis




Recurrent pericardial effusion/pericarditis




Right ventricular failure with increased central venous pressures
Clinical Course and/or Management
The patient continues to receive serial pericardiocenteses. Due to cost limitations, he is unable to receive definitive diagnostics (myocardial biopsy or MRI) or transfer for pericardial window or cardiac transplantation.
Diagnosis
Tropical endomyocardial fibrosis
Discussion
Tropical Endomyocardial Fibrosis (EMF) is a poorly understood progressive disease of cardiac failure due to fibrotic restrictive cardiomyopathy. The pathophysiology of this disease is thought to be multifactorial with parasitic infections and eosinophilia, childhood malnutrition, and genetic factors playing key roles in the development of fibrosis.
The natural history of EMF has a bimodal age distribution at ages 10 and 30. The initial acute inflammatory phase is characterized by shortness of breath, chest pain, and pericardial effusions. As the disease progresses to the chronic phase, echocardiography demonstrates heart failure with fibrosis (as in the case described here). Echocardiography is the mainstay of diagnosis and a TTE scoring system for definitive diagnosis and severity is utilized.
EMF is a disease most commonly encountered in limited resource settings where diagnostic options are severely limited. Institution of POCUS training and maintenance in these settings creates critical ability to make the definitive diagnosis. POCUS in these environments is also essential for safe guidance of procedures (e.g. pericardiocentesis) and medical management of resultant heart failure.
References
Grimaldi A, Mocumbi AO, Freers J, et al. Tropical Endomyocardial Fibrosis: Natural History, Challenges, and Perspectives.

Circulation

2016; 133(24):2503-15.




Mocumbi AO, Ferreira MB, Sidi D, et al. A population study of endomyocardial fibrosis in a rural area of Mozambique.

N Engl J Med

2008; 359(1):43-9.