Subperiosteal Abscess
Kristopher de Ga, MD & Rebecca Stein-Wexler, MD
Department of Radiology, University of California, Davis
Clinical Presentation
History
15-year-old male with sickle cell disease presents with acute-onset severe pain in his lower back and bilateral lower extremities. He has noticed swelling of his extremities for the past few days and has experienced fatigue and subjective fever for 1 week. His pain is worse with motion and is not relieved by his typical home pain regimen. The pain is more severe than prior pain crises. Past surgical history includes appendectomy and cholecystectomy.
Physical exam
| Blood pressure | Pulse | Respiratory Rate | Pulse Oximetry | Temperature |
| --- | --- | --- | --- | --- |
| 128/72 | 98 | 16 | 97% | 37.8 °C |
General: Awake, alert, in moderate discomfort.
Musculoskeletal: Pain with flexion/extension of the knees but preserved range of motion.
Extremities: Erythema and warmth over the bilateral tibias. Tender nodular lesions overlying bilateral anterior tibias.
Neurologic: Symmetric upper and lower extremity reflexes.
Laboratory Information

CRP- 25.7 mg/dL
ESR- 67
Clinical Differential Diagnosis
Acute vaso-occlusive crisis




Osteomyelitis




Septic




Viral infection




Malignancy- Ewing sarcoma, leukemia




Accidental trauma




Non-accidental trauma
Ultrasound Imaging Findings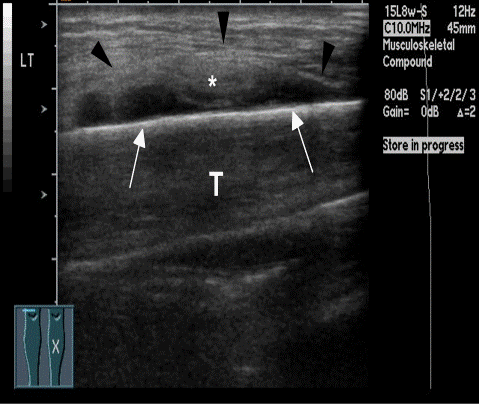 Longitudinal greyscale ultrasound of the left tibia (T) shows a heterogeneous fluid collection (*) between the tibial cortex (white arrows) and elevated periosteum (black arrowheads).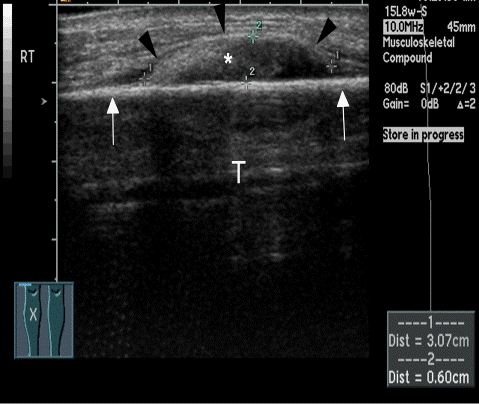 Longitudinal greyscale ultrasound of the right tibia (T) demonstrates a similar 3.1 x 0.6 cm heterogeneous fluid collection (*) between the tibial cortex (white arrows) and periosteum (black arrowheads). Note the "V-shaped" configuration of the periosteum and cortex at the margins of the fluid collection.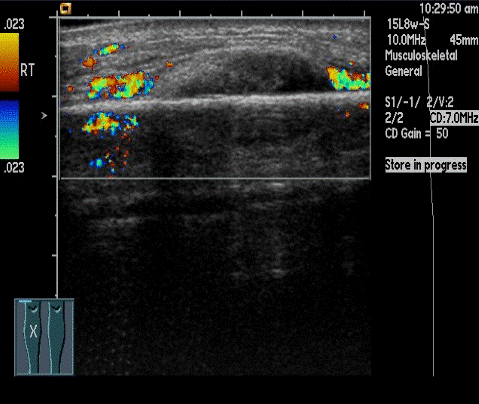 Color doppler ultrasound of the right tibia shows no vascular flow within the subperiosteal collection. Note the mirror image artifact.
Differential Diagnosis Based on Imaging
Multifocal osteomyelitis with subperiosteal abscesses

Vaso-occlusive crisis with subperiosteal collections
Clinical Course and/or Management
The patient was admitted for intravenous pain medications and antibiotics. He underwent incision and drainage of the bilateral subperiosteal tibial collections with samples of the fluid demonstrating numerous inflammatory cells. However, cultures yielded no bacterial growth. Based on high clinical suspicion of infection, the patient completed one week of intravenous antibiotics and eventually returned to his baseline status.
Diagnosis
Multifocal osteomyelitis with subperiosteal abscesses
Discussion
Subperiosteal abscess is a well-known complication of acute osteomyelitis in children. Acute osteomyelitis has an incidence of 1 in 500 to 2300 children in developing countries, with complications such as subperiosteal abscess occurring in approximately 9% of cases. Staphylococcus aureus is the most common infecting organism, while Salmonella species is common in patients with sickle cell disease and Pseudomonas aeruginosa infection is seen with puncture wounds. Osteomyelitis in children typically results from hematogenous spread of bacteria to the metaphysis, and seeding of multiple sites is not uncommon. Infection can quickly spread to the subperiosteal space and surrounding soft tissues. A subperiosteal abscess forms when pus collects between the fibrous layer of the periosteum and the underlying cortex.
Although the sensitivity and specificity of ultrasound is limited for uncomplicated osteomyelitis, it may show periosteal thickening and deep soft tissue swelling while radiographs are still normal. It may also demonstrate complications of osteomyelitis. Subperiosteal abscess is suggested when the echogenic periosteum is separated from the echogenic cortex by a fluid collection of low or mixed echogenicity. A "V-shaped" configuration of the periosteum and cortex at the margins of the collection helps differentiate subperiosteal from soft tissue abscess.
Non-infectious subperiosteal fluid collections have also been reported in vaso-occlusive crisis of sickle cell anemia and may be sonographically indistinguishable from subperiosteal abscesses. Some studies suggest that collections ≥4 mm in diameter are more likely to represent subperiosteal abscess. However, the patient's clinical and laboratory findings must also be considered. Ultrasound-guided aspiration may be beneficial for diagnostic and therapeutic purposes, although identification of the infecting organism is often unsuccessful.
References
Inusa BPD, Oyewo A, Brokke F, Santhikumaran G, Jogeesvaran KH. Dilemma in Differentiating between Acute Osteomyelitis and Bone Infarction in Children with Sickle Cell Disease: The Role of Ultrasound.

PLOS ONE

. 2013;8(6):e65001. doi:10.1371/journal.pone.0065001




Jaramillo D, Dormans JP, Delgado J, Laor T, St Geme JW. Hematogenous Osteomyelitis in Infants and Children: Imaging of a Changing Disease.

Radiology

. 2017;283(3):629-643. doi:10.1148/radiol.2017151929




Kaiser S, Rosenborg M. Early detection of subperiosteal abscesses by ultrasonography.

Pediatr Radiol

. 1994;24(5):336-339. doi:10.1007/BF02012120