Small Bowel Obstruction Secondary to Strangulated Umbilical Hernia
James Ford, MD & Michael Schick, DO
Department of Emergency Medicine, University of California Davis
Clinical Presentation
History
A 22-year-old male presents with abdominal pain to a district hospital in rural Uganda. The pain began this morning at the site of an unrepaired umbilical hernia, which has gradually worsened and has now spread to his whole abdomen. He endorses nausea without vomiting. His last bowel movement was last night and has not passed stool or gas today. He denies fever and review of systems is otherwise negative. He has not had any surgeries in the past.
Physical exam
| Blood pressure | Pulse | Respiratory Rate | Pulse Oximetry | Temperature |
| --- | --- | --- | --- | --- |
| 132/86 | 105 | 18 | 100% | 99°F |
General: Uncomfortable appearing young man, lying still in bed with his hands on his abdomen.
Abdomen: Mildly distended abdomen, but otherwise soft with tenderness to palpation in all four quadrants, no rebound, with mild guarding. Umbilical hernia present with extreme tenderness to palpation, unreducible, with mild overlying duskiness compared to surrounding skin.
Clinical Differential Diagnosis
Incarcerated umbilical hernia +/- small bowel obstruction (SBO)

Strangulated umbilical hernia +/- SBO

Bowel perforation

Acute appendicitis

Extra pulmonary tuberculosis
Ultrasound Imaging Findings
Ultrasound of umbilical hernia site demonstrating bowel with intraluminal stool contents. There is bowel wall thickening, no visualized peristalsis and no apparent free fluid.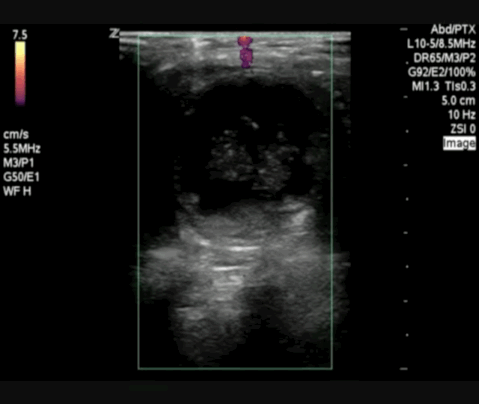 The umbilical hernia site utilizing power doppler, which shows no color flow, edematous bowel wall, and lack of peristalsis concerning for strangulation.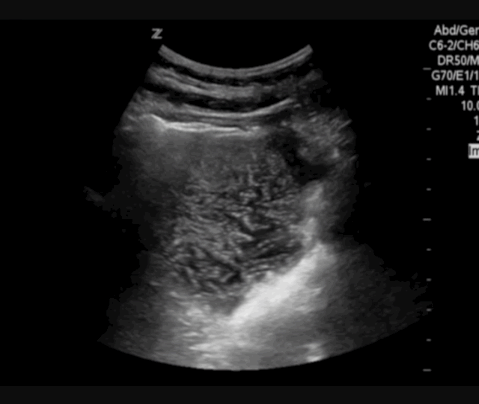 Dilated fluid filled small bowel demonstrates a stool and air filled stomach, with transmitted cardiac and aortic pulsations.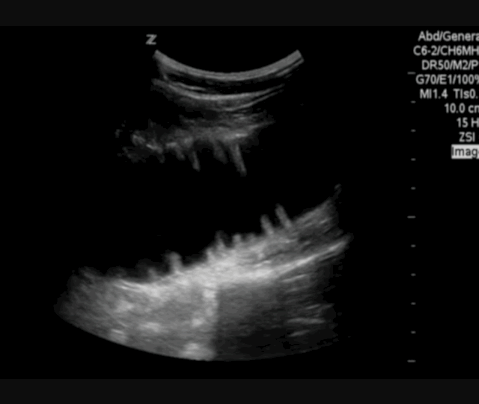 Dilated fluid filled small bowel with clearly visualized plicae circularis. Consistent with a small bowel obstruction.
Differential Diagnosis Based on Imaging
Incarcerated vs strangulated umbilical hernia +/- SBO
Clinical Course and/or Management
A nasogastric tube was placed for gastric decompression and the patient was hydrated with IV fluids. General surgery was consulted, who saw the patient and took him urgently to the operating theater where he underwent successful reduction and hernia repair and was discharged from the hospital two days later. Per the surgeon the bowel within the hernia appeared strangulated, but improved with intra-operative reduction and no bowel was resected.
Diagnosis
Strangulated umbilical hernia with small bowel obstruction
Discussion
Incarcerated hernias are a leading cause of SBO globally. In resource-limited settings, elective repair of abdominal hernias may occur less often, placing individuals at risk for future complications. When evaluating the acute abdomen in these settings, it is important to ask if the patient has a history of any abdominal hernias, and to perform a thorough examination of the ventral abdominal wall and groin to assess for possible hernias.
Compared to the computed tomography (CT), one study found that ultrasound (US) had a sensitivity of 92% and a specificity of 94% in the diagnosis of SBO, making it especially useful in settings without access to CT. To our knowledge, similar studies demonstrating the diagnostic accuracy of US in the diagnosis of strangulated hernias have not been published. Nonetheless, ultrasound findings suggestive of hernia strangulation include thickening of the hernial sac, presence of hyperechoic fat, fluid within the sac, dilated bowel within the sac, edematous bowel wall (>3mm) and loss of peristalsis at the site of bowel strangulation.
If a strangulated hernia is found, with or without the presence of SBO, initial management should include gastric decompression with a nasogastric tube, IV fluids and emergent surgical consultation.
References
Tamburrini S, Lugarà M, Iaselli F, et al. Diagnostic Accuracy of Ultrasound in the Diagnosis of Small Bowel Obstruction.

Diagnostics (Basel)

. 2019;9(3):88. Published 2019 Aug 6. doi:10.3390/diagnostics9030088

Stavros AT, Rapp C. Dynamic ultrasound of hernias of the groin and anterior abdominal wall.

Ultrasound Q

. 2010;26(3):135‐169. doi:10.1097/RUQ.0b013e3181f0b23f