Small Bowel Obstruction due to Intestinal Tuberculosis
Jonathan F Swanson, MD, Akinniyi E Fadipe, MCS (ECSA), and Samuel L Burleson, MD
Department of Emergency Medicine, University of Alabama at Birmingham Hospital, Birmingham, AL, USA & Department of Surgery, Tenwek Hospital, Bomet, Kenya
Clinical Presentation
History
A 37-year old male on intensive phase tuberculosis (TB) treatment presents with 3-day history of generalized moderate abdominal pain and loss of appetite. Reported passage of small amounts of stool. No history of fever.
Physical exam
| Blood pressure | Pulse | Respiratory Rate | Pulse Oximetry | Temperature |
| --- | --- | --- | --- | --- |
| 91/62 | 119 | 24 | 96 | Afebrile |
General: The patient is ill-appearing, in distress from pain, and moderately dehydrated.
Neurologic: No gross abnormality: GCS 15, neck is supple.
Abdomen: Distended, reduced movement with respiration, general tenderness with guarding and rebound. No obvious external hernia. Bowel sounds reduced. Digital rectal exam revealed minimal normal stool in the rectal vault.
Imaging and Laboratory Information
Hb: 13g/dl, WBC: 11.6/mm3, PMNs: 86.2% K: 4.16 mEq/L, Na 134 mEq/L, Cr 0.62 mg/dl lipase/amylase normal. HIV negative.
Clinical Differential Diagnosis
Small bowel obstruction




Bowel perforation




Mesenteric adenitis from TB




Mesenteric ischemia
Ultrasound Imaging Findings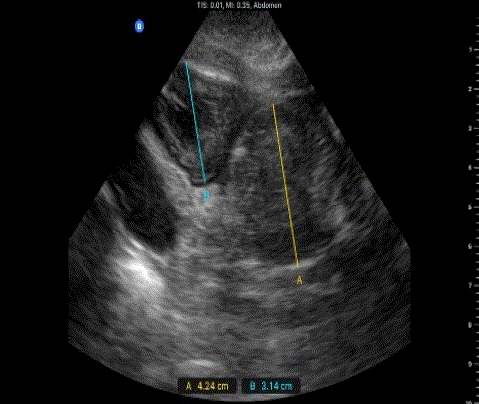 Dilated small bowel loops in short axis, which are normally <2.5 cm in diameter.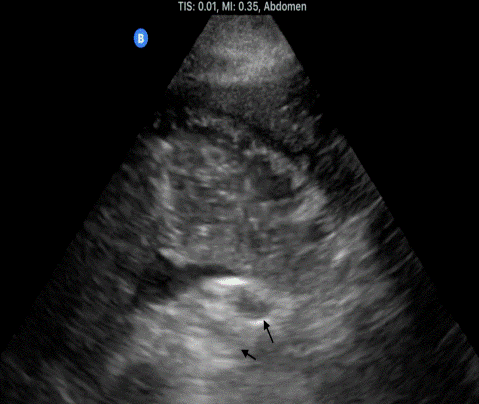 A long-axis view of dilated small bowel along with surrounding free fluid, as well as mesenteric lymphadenopathy (black arrows); hyperechoic thickened mesentery.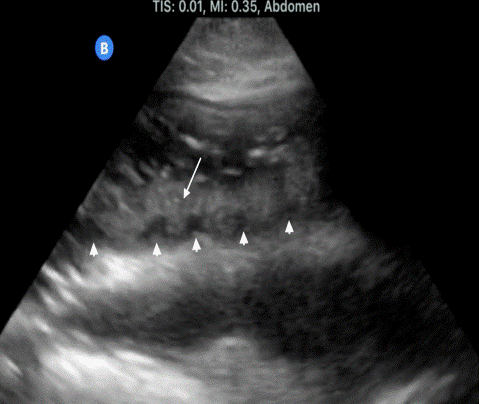 Dilated jejunal segment with circumferential bowel wall thickening (arrow), as well as several submucosal nodules (arrowheads).
"To-and-fro" peristalsis in real time, indicative of small bowel obstruction.
Differential Diagnosis Based on Imaging
Small bowel obstruction with possible perforation
Clinical Course and/or Management
The patient was fluid resuscitated, started on antibiotics, and taken for exploratory laparotomy. Surgery revealed dilated edematous small bowel with a 4mm perforation at the antimesenteric border of distal jejunum with gross contamination of the peritoneal cavity. Multiple mural nodular patches covered the whole small bowel length and mesentery, suspicious for peritoneal TB. After primary repair of the perforation and an uncomplicated post-operative course including four days of antibiotics, he was discharged home.
Diagnosis
Small bowel obstruction and perforation, likely secondary to TB
Discussion
Abdominal TB is a relatively uncommon manifestation of mycobacterium infection. However, considering the global disease burden of TB, this condition may frequently be encountered in resource-limited areas. The variable presentation of abdominal TB makes it a challenging diagnosis. The peritoneum, mesentery, and lymph nodes are primarily involved, though the gastrointestinal (GI) tract and solid organs are often affected. Most cases of intestinal TB involve the terminal ileum and ileocecal junction, followed by the ascending colon. Bowel obstruction is a common complication, due to stricture or adhesions, and can progress to perforation and abscess formation.
CT or MRI is the modality of choice for diagnosing intestinal TB and differentiating this disorder from other inflammatory bowel diseases. However US can reliably demonstrate findings typical of TB and suggest the diagnosis. Lim et al. found that US depicted findings characteristic of intestinal TB in 96% of known cases of ileocecal TB. This may be due to the often emaciated state of the patients, whose intestines are therefore especially well visualized with US. US findings include regional mesenteric lymphadenopathy (LAD) and circumferential bowel wall thickening (>3mm). At the ileocecal junction, thickened bowel, mesenteric LAD, and mesenteric thickening may form a heterogeneous soft tissue mass highly suggestive of TB.
Sonographic signs of bowel obstruction are described in detail elsewhere in this text (link to SBO+pneumatosis case). Briefly, multiple (3+) dilated (>2.5cm) loops of non-compressible small bowel with to-and-fro peristalsis may be seen. US is a reliable tool for demonstrating the presence of SBO, with sensitivity of 92-100%. Signs of perforation will be a positive FAST, or as in this case localized free fluid with mixed echogenicity surrounding the loops of bowel.
References
Pereira JM, Madureira AJ, Vieira A, Ramos I. Abdominal tuberculosis: imaging features. Eur J Radiolo 2005(55):173-180.




Lim JH, Ko YT, Lee DH, Lim JW, Kim TH. Sonography of inflammatory bowel disease: findings and value in differential diagnosis. AJR Am J Roentgenol. 1994;163:343–7.




Batra A, Gulati MS, Sarma D, Paul SB. Sonographic appearances in abdominal tuberculosis. J Clin Ultrasound. 2000 Jun;28(5):233-45. doi: 10.1002/(sici)1097-0096(200006)28:5<233::aid-jcu5>3.0.co;2-c. PMID: 10800002.




Gottlieb M, Peksa GD, Pandurangadu AV et al. Utilization of ultrasound for the evaluation of small bowel obstruction: a systematic review and meta-analysis.

Am J Emerg Med

2018;31:324-242.
ADDITIONAL IMAGES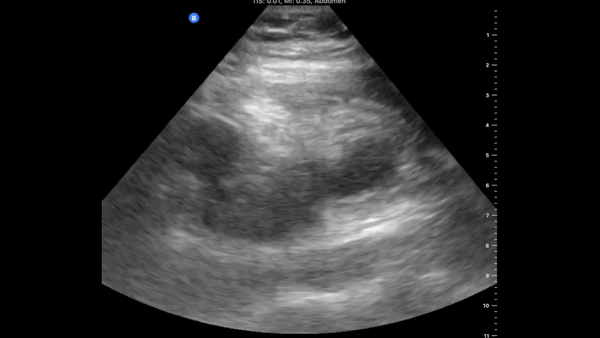 A different patient with intestinal TB involving the ileocecal junction.