Shortness of Breath at the South Pole
Ellen Asselin and John Rose, MD
Department of Emergency Medicine, University of California Davis
Clinical Presentation
History
23-year-old male with no significant medical history presents with severe shortness of breath at rest. He arrived at the Amundsen-Scott South Pole station three days prior to presentation and began strenuous physical labor as a fuel worker. Over the next few days, he develops a dry cough, shortness of breath, and wheezing at night. He takes no medications and denied trauma, fevers or chills.
Physical exam
| Blood pressure | Pulse | Respiratory Rate | Pulse Oximetry | Temperature |
| --- | --- | --- | --- | --- |
| 154/90 | 120 | 36 | 49% | 36.6 C |
General: The patient was ill-appearing and visibly short of breath during the exam.
Respiratory: Wheezing and crackles appreciated in the right lung fields.
Imaging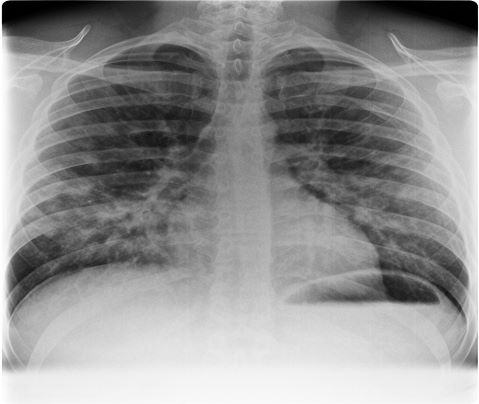 Patchy interstitial infiltrates in R middle lobe.
Clinical Differential Diagnosis
Pneumothorax

High altitude pulmonary edema

Pneumonia

Pulmonary embolism

Acute decompensated heart failure

Acute coronary syndrome

Bronchitis

Reactive airway disease

Exercise-associated hyponatremia
Ultrasound Imaging Findings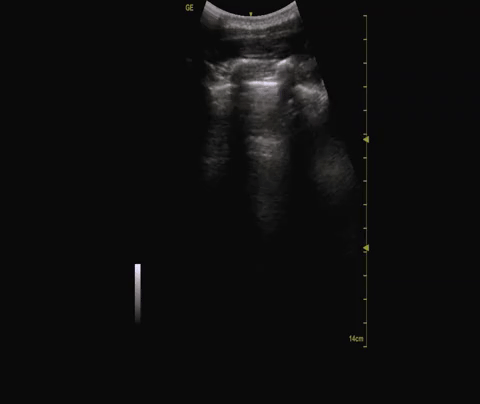 Sagittal imaging of anterior chest wall with curved probe shows pleural line with good lung sliding throughout, no evidence of transition point. Multiple focal B lines appreciated.
Differential Diagnosis Based on Imaging
High altitude pulmonary edema versus pneumonia.
Clinical Course and/or Management
Ultrasound and chest x-ray findings are consistent with High Altitude Pulmonary Edema. The patient was placed on high flow oxygen, and was administered 10mg oral nifedipine and 250mg acetazolamide. Prior to his medevac to McMurdo hospital at sea level the next morning, his oxygen saturation improved to 90% and he had been weaned to 6L via nasal cannula. He was asymptomatic in 24 hours and resumed work the following week.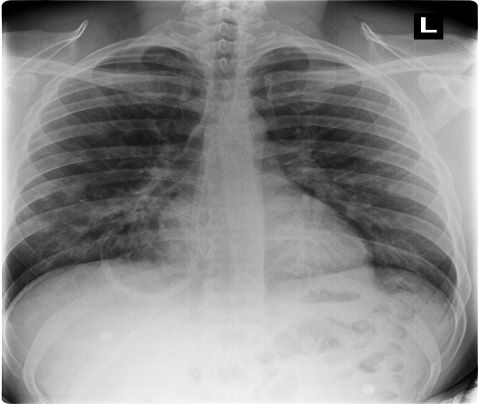 Day 2 after presentation.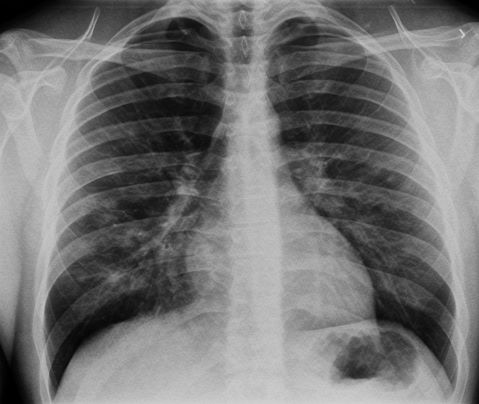 Day 3 after presentation.
Diagnosis
High Altitude Pulmonary Edema
Discussion
High Altitude Pulmonary Edema (HAPE) is characterized by abnormal accumulation of fluid in the lungs. It is the most commonly lethal altitude-related illness, and thus high risk populations include mountaineers, rescue workers, and other individuals quickly ascending to high altitudes. The pathophysiology of this illness involves hypoxia-induced elevated pulmonary arterial pressure with ventilation perfusion mismatch, coupled with a breakdown of the blood-gas barrier leading to elevated levels of plasma and red blood cells within the lung interstitium. While circumstantial factors such as vigorous exercise and cold ambient temperatures pose greater risk for contracting the illness, there are also many gene regulation pathways positioned to be involved in altitude acclimatization and the development of this disease, including nitric oxide production, the renin-angiotensin-aldosterone pathway, and hypoxia-inducible factor.
Presenting symptoms of HAPE include a nonproductive cough and shortness of breath with exertion. The diagnosis of HAPE is based on clinical findings and is supported by ultrasound imaging, which is highly sensitive to extravascular lung water. HAPE infiltrates have a predilection for initially developing in the mid-zone lung fields, and particularly the right middle lobe. Ultrasound performed in the acute phase may demonstrate B-lines, or ultrasound lung rockets. While there is no threshold for the number of B-lines to quantitatively indicate a diagnosis of HAPE, rapid symptomatic improvement with supplemental oxygen and descent to baseline elevation strongly supports this diagnosis in characteristic populations.
References
Hultgren, H. N., Honigman, B., Theis, K., & Nicholas, D. (1996). High-altitude pulmonary edema at a ski resort. Western journal of medicine, 164(3), 222.

Fagenholz, P. J., Gutman, J. A., Murray, A. F., Noble, V. E., Thomas, S. H., & Harris, N. S. (2007). Chest ultrasonography for the diagnosis and monitoring of high-altitude pulmonary edema. Chest, 131(4), 1013-1018.

Hackett, P. H., & Roach, R. C. (1990). High altitude pulmonary edema. Journal of Wilderness Medicine, 1(1), 3-26.