Ruptured Ectopic Pregnancy
Freshta Sahak, MD
Department of Emergency Medicine, University of California, Davis
Clinical Presentation
History
A 25-year-old female with no significant past medical history presents to a regional referral emergency department in Uganda with one day of sudden onset diffuse abdominal pain, worse in the lower abdomen. The patient reported associated nausea and weakness. She denied vomiting, diarrhea, or constipation. There was no fever, chills, cough or shortness of breath. Her last menstrual period was two to three months ago. She denied dysuria or vaginal bleeding. She denied history of pelvic inflammatory disease, sexually transmitted disease, surgical operations or allergies. She has an unknown HIV status.
Physical exam
| Blood pressure | Pulse | Respiratory Rate | Pulse Oximetry | Temperature |
| --- | --- | --- | --- | --- |
| 101/68 | 108 | 22 | 99% | 37.4 ° C |
General: The patient appeared to be in mild distress.
Cardiovascular: Mild tachycardia, regular rhythm, no murmurs appreciated.
Abdomen: Diffuse tenderness to palpation of the abdomen, mild distension, no rebound or guarding noted.
Laboratory Information
Laboratory testing including pregnancy tests were unavailable.
Clinical Differential Diagnosis
Pregnancy




Ruptured ectopic pregnancy




Urinary calculus




Pyelonephritis




Acute appendicitis




Ovarian Torsion




Ruptured ovarian cyst




Pelvic inflammatory disease




Trauma
Bedside Ultrasound Imaging Findings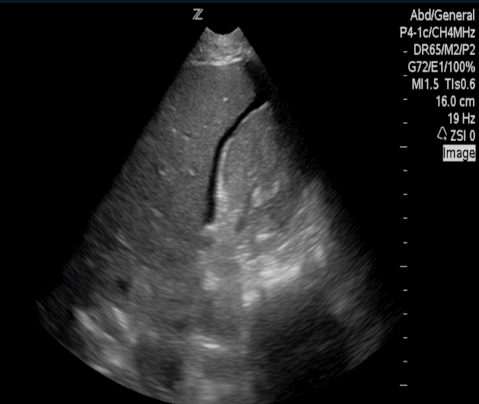 Figure 1: A bedside ultrasound examination using a curvilinear transducer demonstrated free fluid in the Morrison's pouch (hepatorenal recess) on the right upper quadrant view.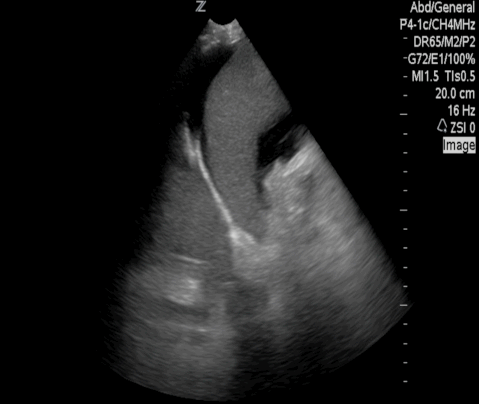 Figure 2: Left upper quadrant view was positive for free fluid above and below the spleen.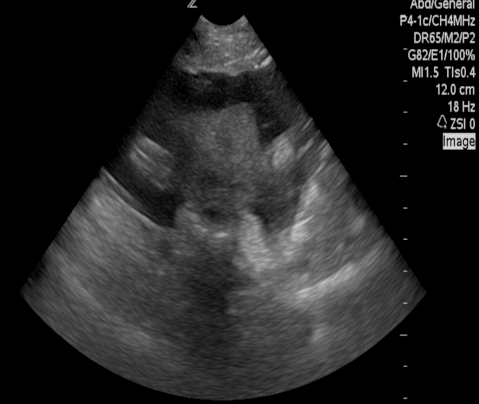 Figure 3: Pelvis ultrasound demonstrating an empty uterus with free fluid in the pelvis.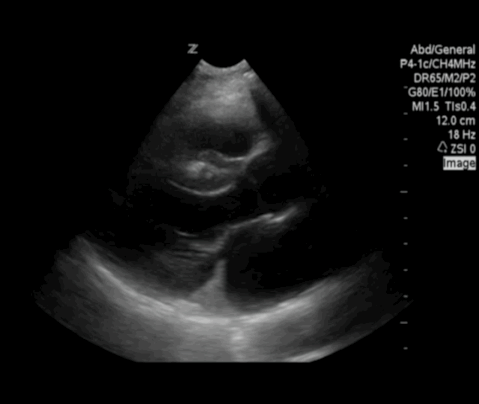 Figure 4: A subxiphoid view showed no pericardial effusion and normal appearing left ventricular ejection fraction.
Differential Diagnosis Based on Imaging
Ruptured ectopic pregnancy




Ruptured acute appendicitis




Ruptured ovarian cyst




Trauma




Extra-pulmonary tuberculosis
Clinical Course and/or Management
Surgery service was consulted, but they were reluctant to take the patient to the operating theater without a positive pregnancy test. An outpatient pregnancy test was obtained from a local pharmacy and the patient tested positive. The intra-operative diagnosis was ruptured ectopic pregnancy and large hemoperitoneum, with two liters of blood evacuated. She was observed in the hospital overnight and discharged the following day without any complications.
Diagnosis
Ruptured ectopic pregnancy
Discussion
Ectopic pregnancy is a leading cause of maternal morbidity and mortality in the first trimester of pregnancy. It occurs when a fertilized egg is implanted outside of the uterine cavity, most frequently in the fallopian tube. Lack of sex education and high incidence of sexually transmitted infections increase the rates of ectopic pregnancy in low resource settings. Maternal deaths are ten times higher in these settings due to delay in diagnosis and definitive care, leading to rupture and further complications.
The FAST (Focused Assessment with Sonography in Trauma) exam was initially developed for assessment of trauma patients. In many scenarios, especially in low resource settings with little access to computer tomography, the FAST examination can positively impact care of non-trauma patients. It can provide quick, safe, non-invasive imaging to reduce the potential differential diagnoses, avoid unnecessary interventions, and allow for timely disposition of patients. In a patient with a ruptured ectopic pregnancy, a FAST exam may show free fluid and absence of an intrauterine gestational sac. Additionally, the FAST exam can identify ascites due to congestive heart failure, renal failure, liver failure, malignancy, as well as prevalent intra-abdominal infections such as dengue, tuberculosis, and ruptured viscous from typhoid fever.
Reference
Buowari, Dabota Yvonne. (2011). Management and Outcome of Ectopic Pregnancy in Developing Countries. 10.5772/18883.