Pulmonary Embolism
Ideen Zeinali, MD and Matthew Edwards
Department of Emergency Medicine, Baylor College of Medicine & Case Western Reserve University School of Medicine
Clinical Presentation
History
A 58-year-old African female presented to Komfo Anoyke Teach Hospital in Kumasi, Ghana for evaluation of recent right lower extremity swelling, sudden onset breathlessness, and easy fatigability. She further reported chest pain and productive cough with intermittent episodes of hemoptysis, noting that she experienced a similar presentation nearly ten years ago. She denied fever, chills, weight loss, or any other symptoms.
Her past medical history was significant for uterine fibroids, hypertension, and a previous right iliofemoral-popliteal deep vein thrombosis (DVT) with bilateral pulmonary emboli and small infarct of the left upper pulmonary lobe in December 2009. She was fully anti-coagulated at that time, but treatment was discontinued after ten months when a repeat lower extremity ultrasound showed resolution of the DVT.
Physical exam
| Blood pressure | Pulse | Respiratory Rate | Pulse Oximetry | Temperature |
| --- | --- | --- | --- | --- |
| 142/98 | 110 | 32 | 92% | Afebrile |
General: The patient is an obese woman who appeared uncomfortable.
Cardiovascular: Tachycardic, with normal S1 and S2 and jugular venous distension noted.
Respiratory: Tachypneic, with use of intercostal muscles. Breath sounds were clear, with no wheezes, crackles, or rhonchi.
Abdomen: Firm, with a non-tender mass noted in the mid lower abdomen and extending to the umbilicus (known to patient as her uterine fibroid).
Extremity: Right lower extremity wrapped with Kerlix gauze and had 2+ edema compared to the left. No signs of trauma. Palpable dorsalis pedis pulses bilaterally.
Clinical Differential Diagnosis
Deep Venous Thrombosis




Pulmonary embolism




Pulmonary tuberculosis




Congestive heart failure




Peripheral Arterial Thrombus




Pneumonia




Granulomatosis with polyangiitis




Sepsis




Lung cancer
Ultrasound Imaging Findings
Parasternal long axis shows an enlarged right ventricle with signs of interventricular septum bowing and a small pericardial effusion.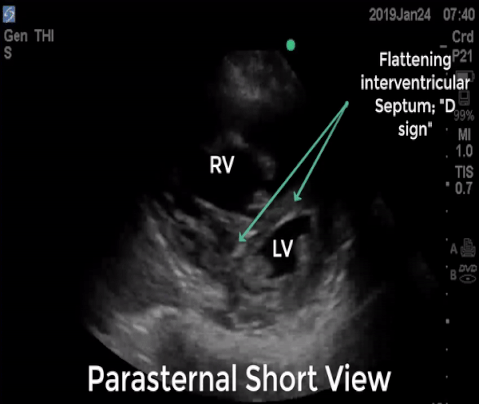 Parasternal short axis ultrasound shows an enlarged right ventricle and flattening of the interventricular septum ("D-Sign").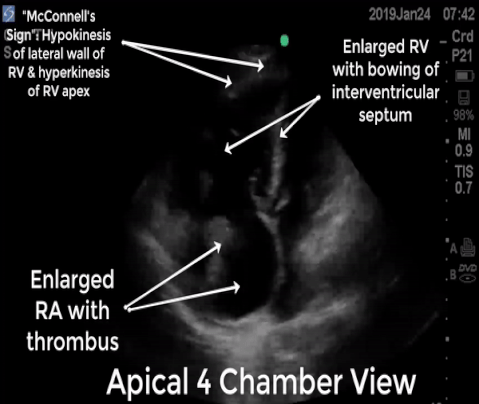 Apical four chamber view demonstrates an enlarged right ventricle with bowing of the interventricular septum. An enlarged right atrium with thrombus is seen as well as McConnell's sign (hypokinesis of lateral wall of right ventricle and hyperkinesis of apex of right ventricle).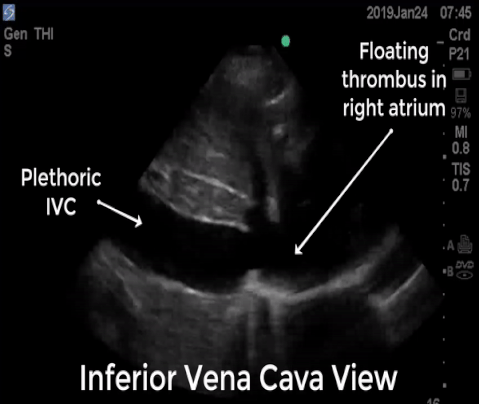 Subcostal inferior vena cava (IVC) long axis view shows a plethoric IVC and free-floating thrombus in the right atrium.
Differential Diagnosis Based on Imaging
Pulmonary Embolus with free-floating right atrial thrombus
Clinical Course and/or Management
The patient was immediately placed on nasal cannula oxygen. The patient was admitted and started on enoxaparin twice daily. Her shortness of breath worsened on the third day and she was placed on a non-rebreather (NRB). On the fourth day, due to worsening dyspnea with O2 saturation of 94%, respiratory rate of 39, and blood pressure of 52/34, the patient was started on a dobutamine infusion. The patient expired on the fifth day of admission.
Diagnosis
Massive pulmonary embolism
Right atrial thrombus
Right ventricular failure and subsequent cardiogenic shock
Discussion
Though venous thromboembolism (VTE) contributes significantly to the global burden of disease, little data has been gathered about its incidence in low and medium income countries. One study of these countries found healthcare-associated VTE to be the primary cause of lost disability-adjusted life-years (DALYs). Reported incidence of VTE is higher in black populations, increases with age, and has an age-dependent interaction with sex. Major risk factors include recent hospitalization and surgery, immobilization, cancer, and specific genetic conditions and systemic autoimmune diseases.
A VTE may be fatal when manifesting as a pulmonary embolism (PE). A large pulmonary embolus can increase right ventricle (RV) afterload, causing an elevation in RV wall tension and oxygen demand that produces RV wall ischemia and decreased contractility. This damage decreases left ventricle preload and cardiac output, subsequently causing cardiogenic shock and death.
Features on echocardiogram (ECHO) for RV dysfunction resulting from pulmonary embolism include RV wall hypokinesis, RV dilation, and evidence of pulmonary hypertension. Echocardiographic features associated with increased mortality include patent foramen ovale and free-floating right heart thrombus. Treatment consists of anti-coagulation and many agents are currently available including heparin, warfarin, and direct oral anticoagulants. Patients in cardiac arrest and with hemodynamic instability (systolic blood pressure less than 90 mmHg) may be given fibrinolytic therapy, though treatment for stable patients with RV dysfunction on ECHO is controversial.
References
ISTH Steering Committee for World Thrombosis Day. Thrombosis: a major contributor to the global disease burden.

J Thromb Haemost

2014; 12: 1580-1590.




Rezaie S. The Critical Pulmonary Embolism Patient [Internet]. emDocs. 2018; Available from: http://www.emdocs.net/r-e-b-e-l-em-the-critical-pulmonary-embolism-patient/.




Nickson C. Bedside Echo in Pulmonary Embolism [Internet]. Life in the Fastlane. 2019; Available from: https://litfl.com/bedside-echo-in-pulmonary-embolism/.