Point-of-Care Ultrasound Diagnosis of High Grade Small Bowel Obstruction and Pneumatosis Intestinalis
Ryan C. Gibbons, MD, FAAEM, FACEP
Lewis Katz School of Medicine at Temple University
Clinical Presentation
History
A 54-year-old African American male with a history of chronic pancreatitis status post cystogastrostomy via midline incision, cholecystitis status post cholecystectomy, coronary artery disease (CAD) status post 5 vessel coronary artery bypass graft (CABG), and poorly controlled insulin dependent diabetes mellitus (IDDM) presented to the emergency department (ED) complaining of 3 days of diffuse abdominal pain, obstipation, and intermittent non-bilious, non-bloody emesis.
Physical exam
| Blood pressure | Pulse | Respiratory Rate | Pulse Oximetry | Temperature |
| --- | --- | --- | --- | --- |
| 115/71 | 118 | 20 | 97% | 97.7°F |
General: uncomfortable appearing, no evidence of trauma.
HEENT: dry mucosal membranes.
Neck: no jugular venous distention (JVD) or lymphadenopathy (LAD).
Cardiovascular: tachycardic, normal rhythm, no murmurs.
Respiratory: clear to auscultation bilaterally.
Abdomen: diffusely distended, tender to palpation with peritoneal signs.
Genitourinary: circumcised, no hernia or evidence of torsion.
Neurologic: awake and alert x4, following commands, moving all extremities.
Imaging and Laboratory Information Lactate 2.2

A subsequent computed tomography of the abdomen and pelvis (CT A&P) with intravenous (IV) contrast showed a high-grade small bowel obstruction (SBO) but failed to identify the pneumatosis intestinalis and portal venous air, only noting minimal pneumobilia.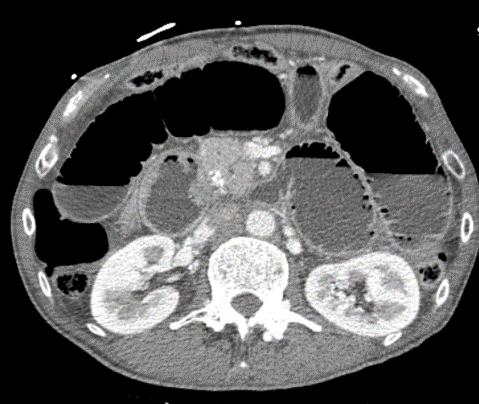 Dilated loops of small bowel with air fluid levels.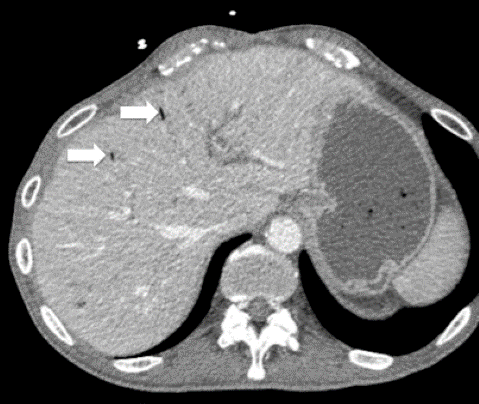 Clinical Differential Diagnosis
Mesenteric ischemia




Bowel obstruction




Bowel perforation




Abdominal aortic aneurysm or Aortic dissection




Pancreatitis




Diverticulitis




Colitis
Ultrasound Imaging Findings
The point-of-care ultrasound (POCUS) images demonstrate dilated loops of small bowel with near absent peristalsis, thickened bowel wall and plica circularis, as well as significant pneumatosis intestinalis (hyperechoic artifact within bowel wall with dirty shadowing), severe intrahepatic pneumobilia, and portal venous air.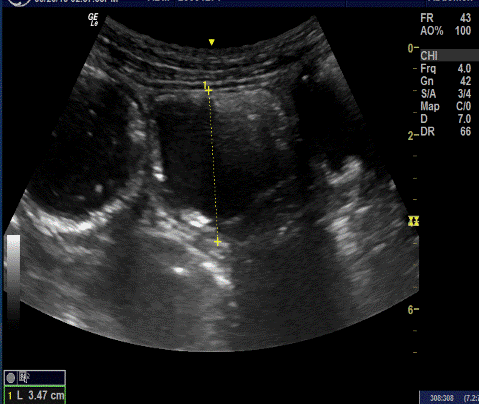 Dilated loops of small bowel >2.5cm.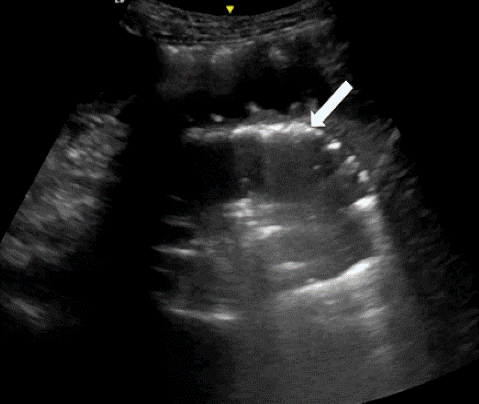 Pneumatosis intestinalis with dirty gray air shadowing.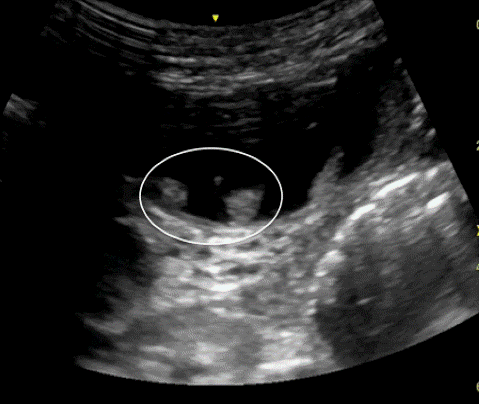 Edematous plica circulares.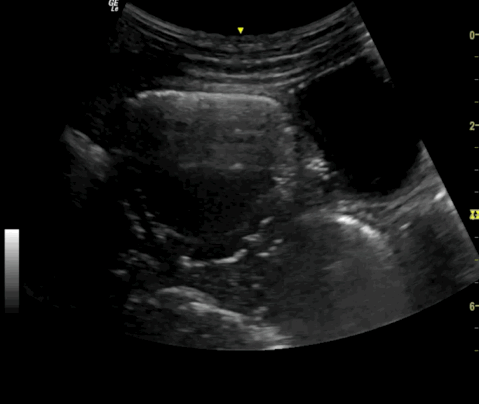 Pneumatosis intestinalis with A-lines.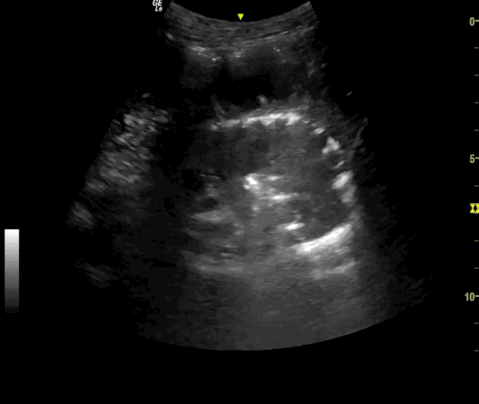 Pneumatosis intestinalis with aperistalsis.
Edematous plica circulares.
Differential Diagnosis Based on Imaging
Mesenteric ischemia

Bowel obstruction

Bowel perforation
Clinical Course and/or Management
The patient was admitted to the surgical intensive care unit (SICU) for a high-grade SBO, which failed to resolve with non-surgical management. The patient underwent an explorative laparotomy with lysis of adhesions (LOA) and partial small bowel resection, which had a focal perforation in the jejunum. The patient had a prolonged hospital stay complicated by septic shock and hypoxic respiratory failure requiring a tracheostomy. Eventually, the patient was discharged to skilled nursing facility (SNF) in stable condition.
Diagnosis
High-grade small bowel obstruction
Discussion
Small bowel obstructions account for 2% of all abdominal pain cases presenting to the ED and 15% of all admissions for abdominal pain. Signs and symptoms are nonspecific, but typically include the sudden onset of abdominal pain and distention, nausea and non-bilious to bilious emesis, and constipation progressing to obstipation. Adhesions (75%) are the most common etiology of SBOs. Other causes include inflammatory bowel disease, malignancy, and hernias.Complications include ischemia (30%), necrosis (15%), perforation, and sepsis. Delays in diagnosis (>24 hours), advanced age, and comorbidities increase the risk of complications.
CT abdomen and pelvis with IV contrast is the traditional diagnostic imaging modality given its sensitivity of 63-100% (newer generation scanners >90%) and its ability to identify the etiology of obstruction. Oral contrast is not routinely indicated except when an anastomotic leak is suspected. CTs have limitations though, including cost, radiation, delay in diagnosis, and transport of hemodynamically unstable patients. More recently, POCUS has become an accurate diagnostic modality. To date, 12 prospective, observational studies including 1395 patients have assessed the utility of POCUS in suspected SBO, demonstrating sensitivities of 92-100%, specificities of 94-100%, and a positive likelihood ratio (+LR) of 14-27. POCUS is a safe, rapid, accurate, and inexpensive means to diagnosis SBO without the need for patient transport, contrast, or radiation. Operator experience and body habitus are typical POCUS limitations. Furthermore, POCUS is unable to identify a cause in 50% of SBO cases.
Figure 1 depicts the standard POCUS scan to assess abdominal pathology. The low frequency curvilinear transducer is most frequently utilized. Nonetheless, the high frequency linear transducer is ideal for children and thinner individuals. Table 1 reviews the POCUS findings of SBO.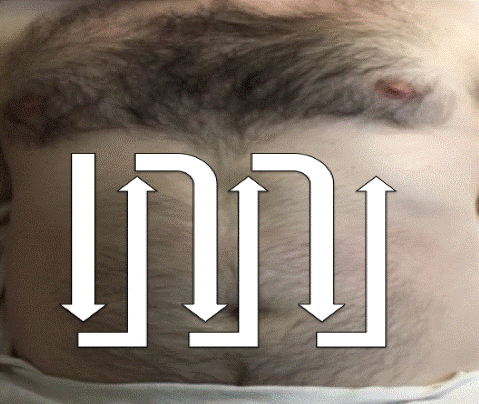 Figure 1 Lawnmower technique of abdominal point-of-care ultrasound.
Table 1 Point-of-Care Ultrasound Findings of Small Bowel Obstruction.
| | Small bowel obstruction | High-grade SBO |
| --- | --- | --- |
| Dilated loops of bowel (>2.5cm)* | X | X |
| Peristalsis | Hyperkinetic; "to & from" | aperistalsis |
| Edematous plica circulares (keyboard sign) | X | X |
| Free fluid (tanga sign) | | X |
| Free air | | X |
| Bowel wall edema (>3mm) | | X |
| Pneumatosis intestinalis | | X |
*Measured from outside wall to outside wall.
Conservative management is the mainstay of treatment given 65% of cases resolve with non-surgical management. Fluid resuscitation, nothing by mouth (NPO), surgical consultation, antiemetics, and a nasogastric tube (only for active emesis) area standard of care. Early antibiotics are essential for suspected perforations. Given the accuracy of POCUS and the utility of conservative management in the majority of cases, serial POCUS scans are a viable option in resource limited settings without access to CTs in order to avoid unnecessary and potentially costly and perilous patient transfers.
References
Taylor MR, Lalani N. Adult Small Bowel Obstruction. Acad Emerg Med. 2013;20:528- 544.




Gottlieb M, Peksa GD, Pandurangadu AV, et al. Utilization of ultrasound for the evaluation of small bowel obstruction: A systematic review and meta-analysis. Am J Emerg Med. 2018;36(2):234-242.




Becker BA, Lahham S, Gonzales MA, et al. A Prospective, Multicenter Evaluation of Point of care Ultrasound for Small bowel Obstruction in the Emergency Department. Acad Emerg Med. 2019;26(8):921-