Pneumocystis Pneumonia
Travis Kling, MD, Albert Mugisa, & Michael Schick, DO
UC Davis, Department of Emergency Medicine & Global Emergency Care, Uganda
Clinical Presentation
History
A 28-year-old female presents with rapidly progressive chest pain and shortness of breath over the past two days. She presents to a regional referral hospital in southern Uganda after being seen in a rural health clinic. Recently, she was diagnosed with AIDS with an unknown CD4 count and has not yet begun anti-retroviral therapy.
Physical exam
| Blood pressure | Pulse | Respiratory Rate | Pulse Oximetry | Temperature |
| --- | --- | --- | --- | --- |
| 115/68 | 110 | 25 | 60% RA | 38.3 C |
General: Young thin female in moderate respiratory distress.
Cardiovascular: Tachycardic with regular rhythm, no appreciable murmurs.
Respiratory: Mildly tachypneic with coarse breath sounds bilaterally.
Extremities: No lower extremity edema.
Imaging and Laboratory Information
Sputum TB Testing: Negative
Urine Pregnancy: Negative
Chest X-ray: Bilateral perihilar interstitial opacities in a "bat-like" distribution
Clinical Differential Diagnosis
Pulmonary Tuberculosis

Atypical Bacterial Pneumonia

Pneumocystis Pneumonia

Other Fungal Pneumonia

Congestive Heart Failure

Pulmonary Kaposi Sarcoma
Ultrasound Imaging Findings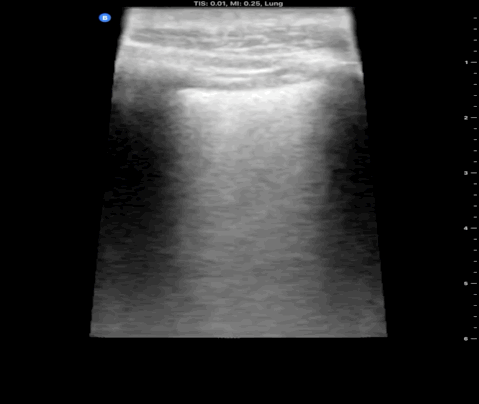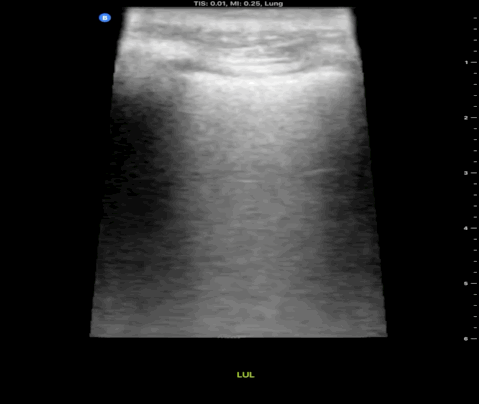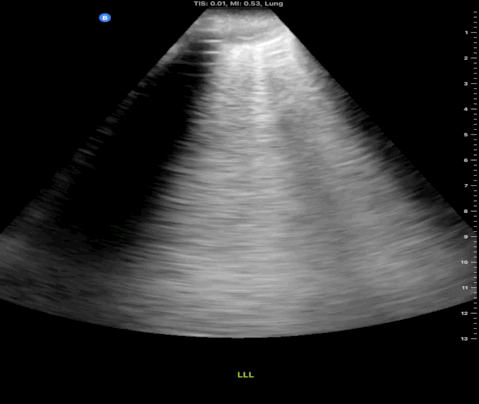 Lung windows demonstrate diffuse bilateral B-lines worse at the bases with intact lung slide. Pleural effusions are not demonstrated.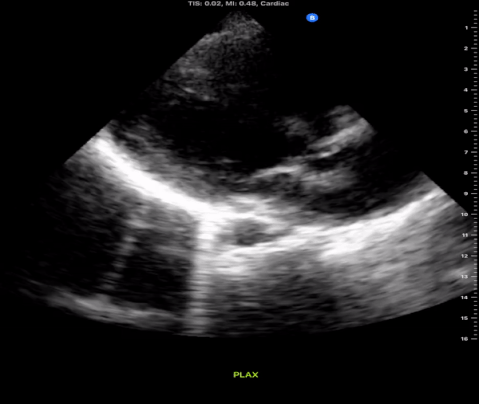 Parasternal long axis demonstrates a hyperdynamic heart with mild right ventricular dilation and elevated right ventricular pressure indicated by small amount of septal bowing. No pericardial effusion seen.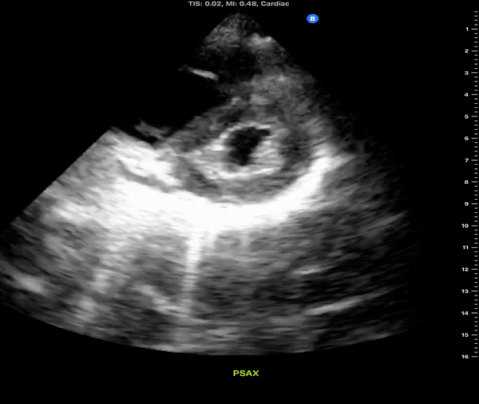 Parasternal short axis demonstrates right ventricular dilation with mild septal bowing indicating increased RV pressure.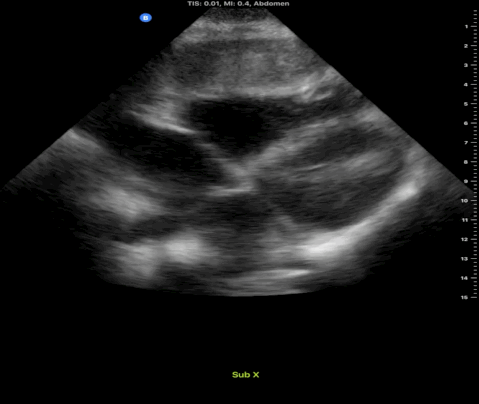 Subxiphoid cardiac view demonstrates a hyperdynamic left ventricle, slightly dilated right ventricle and no pericardial effusion.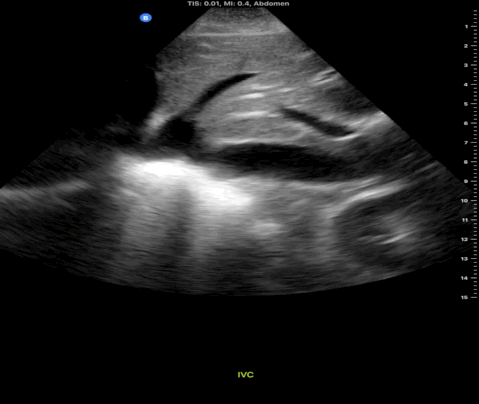 Subxiphoid view demonstrating a non-collapsible inferior vena cava.
Differential Diagnosis Based on Imaging
Pneumocystis Pneumonia vs Other Atypical Pneumonia
Clinical Course and/or Management
The patient was placed on supplemental oxygen via facemask and treated for Pneumocystis pneumonia given chest x-ray & ultrasound findings with sulfamethoxazole and trimethoprim. The patient's oxygenation slowly improved with treatment over a period of five days. She was able to be discharged to follow-up in the HIV clinic to receive management and treatment of her AIDS.
Diagnosis
Pneumocystis Pneumonia
Discussion
Pneumocystis pneumonia (PcP) is caused by the unicellular fungus Pneumocystis jirovecii which is a major source of pulmonary infection in those with untreated HIV and other immunocompromised states with CD4 counts <200. One of the major AIDS defining illnesses, PcP is estimated to affect 60-75% of those with untreated AIDS during their disease course. It is thought to be mainly transmitted via the airborne route from transiently colonized, asymptomatic immunocompetent individuals. Pulmonary symptoms such as cough & dyspnea as well as low-grade fever are typical symptoms. Hypoxia often progresses rapidly in immunocompromised patients, as seen in our case, leading to high mortality in populations with poor access to care.
Imaging plays a crucial role in the diagnosis of PcP, especially in settings without access to PCR assays necessary to identify the fungus on bronchoalveolar lavage or induced sputum samples. Radiographs may demonstrate bilateral perihilar infiltrates, classically in a "bat-like" distribution, and CT which demonstrates bilateral ground-glass opacities, ultrasound is a useful tool in evaluating HIV patients with suspected PcP. Ultrasound may demonstrates bilateral symmetric B lines, typically without pleural effusions. Bilateral subpleural consolidations are often present, while cystic changes within those consolidation increase the likelihood of PcP, as this finding is less specific to other etiologies.
Ultrasound plays an important role in reducing the probability of other diagnoses leading to hypoxia. Asymmetric pulmonary findings and intraparenchymal consolidations would be more consistent with bacterial consolidative pneumonia for example. Notably, pulmonary tuberculosis often demonstrates pleural & pericardial effusions, both of which are unusual in PcP. A degree of mild pulmonary hypertension was suggested on ultrasound findings in our case. While some individuals with HIV have been known to develop pulmonary hypertension as a sequelae of the disease process itself, it may also be linked to a number of pulmonary AIDS-defining illnesses, including PcP, though this remains an active area of research.
References
Japiassu A, Bozza F. Lung ultrasound can differentiate Pneumocystis jiroveci versus other etiologies among critically ill AIDS patients with pneumonia.

Crit Care

2012; 16: 86.

Magdalena S, Kicia M, Wesolowska M, Hendrich AB. Pneumocystis jirovecii—from a commensal to pathogen: clinical and diagnostic review.

Parasitol Res

2015; 114(10): 3577–3585.