Perforated Appendicitis
Stephen Vong, MD & Rebecca Stein-Wexler, MD
Department of Radiology, University of California, Davis
Clinical Presentation
History
A 5-year-old boy with no past medical history presented with fever and abdominal pain. One week prior, he had one episode of large volume emesis and periumbilical pain. The pain continued but he was able to eat and drink normally. Two days prior to admission, he developed fever with abdominal guarding.
Physical Exam
| Blood Pressure | Pulse | Respiratory Rate | Pulse Oximetry | Temperature |
| --- | --- | --- | --- | --- |
| 99/59 | 114 | 24 | | 38.3 C |
General: Awake, alert, hesitant to move.
Neuro: Age appropriate.
Cardiac: Regular rhythm, tachycardic, no murmur.
Lungs: Clear bilaterally, no retractions, no increased work of breathing.
Abdomen: Significant tenderness in the right lower quadrant with palpable right lower quadrant mass, Voluntary guarding.
Imaging and Laboratory Information
WBC: 17.8 K/MM3.
Clinical Differential Diagnosis for Abdominal Pain
Acute or perforated appendicitis




Intussusception




Gastroenteritis




Mesenteric lymphadenitis




Intestinal obstruction from other etiologies (e.g., hernia, adhesions)




Inflamed Meckel's diverticulum




Inflammatory bowel disease




Abdominal trauma
Ultrasound Imaging Findings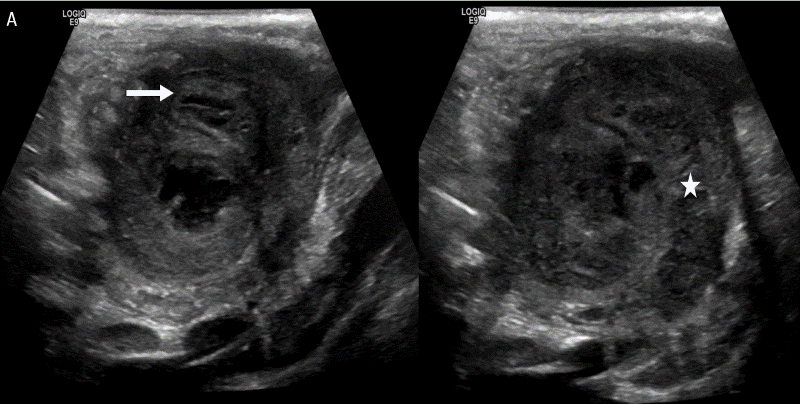 Grey scale images show a blind ending structure in the right lower quadrant with the tip (arrow) and body (star) seen. There is adjacent hyperechoic fat. The structure measured 8 mm in transverse dimension. Sonographer reported guarding during the exam.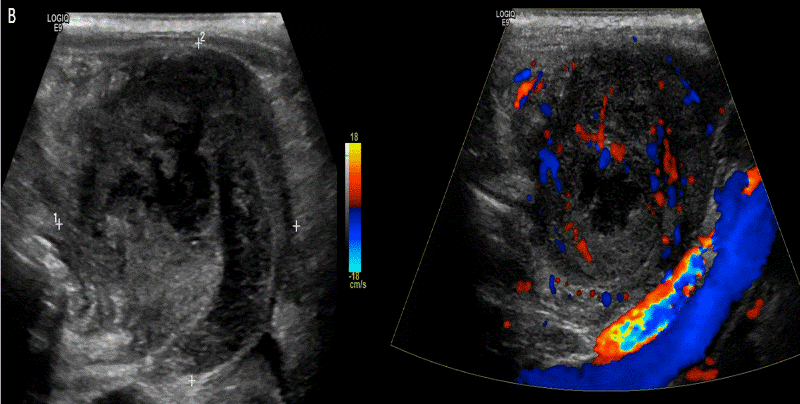 Grey scale and color doppler images demonstrate a 4.8 x 4.6 cm heterogenous fluid collection with peripheral hyperemia surrounding the blind ending tubular structure.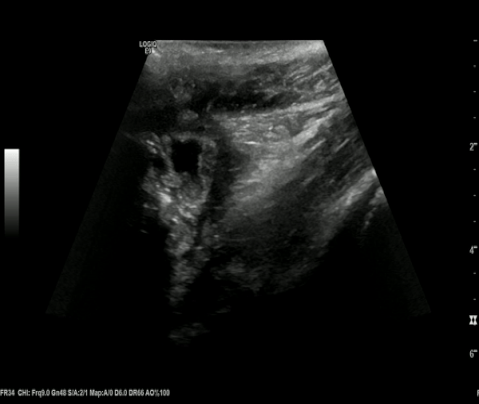 Grey scale cine clip demonstrates the blind ending structure in the right lower quadrant surrounded by a large heterogenous fluid collection.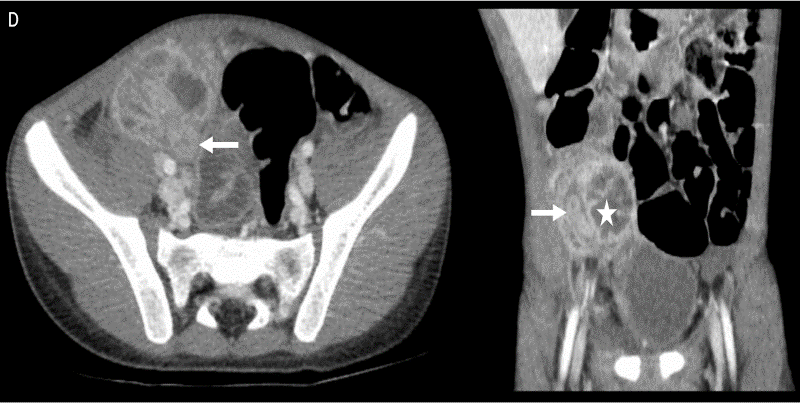 Axial and coronal contrast enhanced computer tomography demonstrate a dilated blind end tubular structure (arrow) surrounding by a large heterogeneously enhancing fluid collection (star).
Differential Diagnosis Based on Imaging
Acute appendicitis complicated by perforation and abscess formation




Peritonitis with abscess formation




Inflamed, perforated Meckel's diverticulum
Clinical Course and/or Management
The patient underwent ultrasound guided abscess drainage by Interventional Radiology. After three days of Ceftriaxone and Flagyl, his white blood cell count normalized. On hospital day 3, the drain was removed, and he was discharged home. He underwent outpatient appendectomy one month later.
Diagnosis
Acute appendicitis complicated by perforation and abscess formation.
Discussion
Appendicitis in the pediatric population is common, with incidence of 1.1/10,000 in preschoolers, 6.8/10,000 in ages 5-9 years, and 19.3/10,000 in ages 10-14 years. Misdiagnosis and higher incidence of perforation are seen in children 5 years or younger with incidence of perforation ranging from 43 to 72% of cases. This can be due to a variety of reasons, such as non-specific symptoms, challenges with communication, low index of suspicion, and overlap with other common childhood illnesses.
Imaging is vital in the diagnosis of appendicitis. In cases of uncomplicated acute appendicitis, there will be a non-compressible blind ending tubular structure in the right lower quadrant measuring greater than 6 mm in transverse dimension. The periphery of this structure may be hyperemic ("ring of fire"). A shadowing appendicolith may be identified within the lumen. There may also be adjacent hyperechoic fat (inflammatory changes) and scattered enlarged lymph nodes. In the setting of perforation, discontinuity of the appendiceal wall may be identified, or the inflamed appendix may be surrounded by significant phlegmonous/inflammatory changes and possible abscess formation. However, in some cases of perforation it may be impossible to identify the appendix, with the only finding being diffuse or localized intra-abdominal inflammation.
Reference
Almaramhy HH. Acute appendicitis in young children less than 5 years: review article. Ital J Pediatr. 2017;43:15.