Pediatric Skull Fractures
Victoria Shin, DO & Michael Schick, DO
Department of Family & Community Medicine, University of California, Davis
Clinical Presentation
History
An 18-month-old boy is brought into a rural emergency department in Uganda by his mother who states he has had abnormal irritability and fussiness for the past 2-3 hours. At home, he entered the residence crying and holding the right side of his head. He vomited once at that time. The mother noted a large bruise on the right side of his head and believes he must have been climbing outside the home and fallen. He often climbs on a brick wall that is approximately 2 feet in height, but the event was unwitnessed, and the mother does not know if he had a loss of consciousness.
Physical exam
| Blood pressure | Pulse | Respiratory Rate | Pulse Oximetry | Temperature |
| --- | --- | --- | --- | --- |
| 98/59 | 136 | 30 | 97% | 98.9 |
General: The patient appears to be crying, fussy.
Head : 2x3 cm hematoma on right parietal bone with swelling of overlying tissue and tenderness, without bleeding. No apparent underlying fracture. Other areas including frontal and occipital bones appear intact.
Eyes : Pupils equal, round, and reactive to light and accommodation. No peri-orbital bruising.
Ears : Tympanic membrane intact bilaterally, no hemotypanum. No posterior auricular ecchymosis.
Neurologic: GCS 15. He was able to move all four extremities in response to pain. Deep tendon reflexes were normal. No apparent focal deficits.
Laboratory Information

Clinical Differential Diagnosis
Linear skull fracture




Depressed skull fracture




Growing skull fracture




Traumatic brain injury




Concussion




Hematoma
Ultrasound Imaging Findings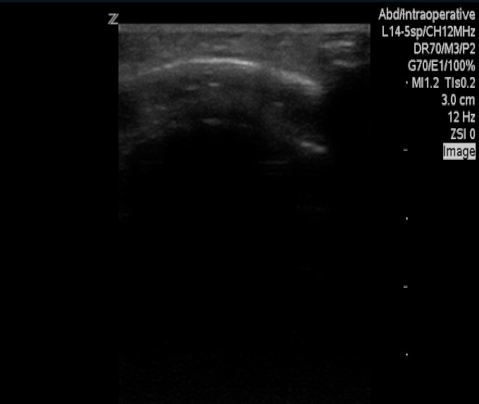 Normal pediatric skull. Smooth contours of hyperechoic skull beneath hypoechoic soft tissue.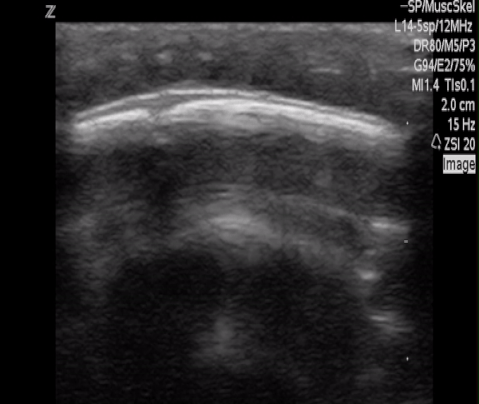 Normal pediatric skull. Smooth contours of hyperechoic skull give way to level discontinuity at the anterior fontanelle. The superior sagittal sinus and brain parenchyma can be visualized through the fontanelle.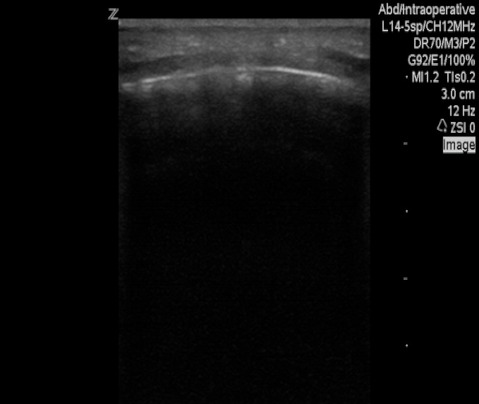 Ultrasound performed over hematoma of right parietal scalp shows an area of discontinuity and 1-2mm displacement in the periosteum of the skull, with minimal depression and a small overlying hematoma.
Differential Diagnosis Based on Imaging
Linear skull fracture




Depressed skull fracture




Traumatic brain injury




Concussion
Clinical Course and/or Management
Using both POCUS and the PECARN rule to help determine further management, the patient was deemed as medium or moderate risk and observed for 24 hours. During this time, he had no further episodes of vomiting, fussiness improved, had no significant extracranial injuries (as periosteal separation/displacement was less than 3 mm, and less than 1cm of depression) and had a normal neurologic examination (including ability to arouse easily and no evidence of basilar fracture.) Lastly, there was no concern for child abuse; and had reliable caretakers who could return if necessary.
Advised for follow up visit in one month. On next visit, the patient had a well-healed skull fracture and presented with normal behavior. Infants and young children under two years of age who have isolated skull fractures should be evaluated for growing skull fracture one to two months after the injury. Fractures that have healed are not palpable, whereas unhealed fractures are palpable as a localized, often pulsatile swelling, or a palpable skull defect.
Diagnosis
Skull fracture
Discussion
The Pediatric Head Injury/Trauma Algorithm or PECARN helps risk stratify pediatric patients with head trauma into groups who may be discharged without imaging, observed prior to imaging or should receive an immediate head CT. In a low resourced health setting, where CT imaging is unavailable, ultrasound may be a helpful adjunct to further risk stratify these patients. Per the PECARN rule, pediatric patients with normal exams, isolated frontal scalp hematomas, normal mental status, and a non-concerning mechanism of injury can be discharged without imaging. Patients with a high-risk mechanism, scalp hematoma in the temporal, parietal or occipital regions, GCS < 15 or change of mental status have a higher likelihood to have a clinically significant intracranial injury. Patients with any concerning symptoms ought to be observed for 4-6 hours at a minimum, with high risk patients receiving immediate head CT and neurosurgery evaluation.
Despite most skull fractures healing without intervention in the pediatric population, they carry a higher likelihood of intracranial injury. A palpable underlying skull fracture automatically gives the patient a 4.4% risk of having a clinically significant head injury and CT imaging is recommended. It is unclear how to risk stratify patients in low resourced settings who do not have palpable skull fractures, but have sonographic confirmed skull fractures and little access to CT imaging. In this case, the period of observation was increased to 24 hours as the practitioners could not assess the patient for underlying intracranial injury and the family could not afford transportation to an urban center for CT imaging. Extrapolating best practices from PECARN, patients with sonographic confirmed skull fractures ought to receive CT imaging to rule out underlying clinically significant injuries, but in the absence of the ability to perform CT, prolonged observation for clinical changes may be the best alternative.
Physicians can be taught to use ultrasound to identify pediatric skull fractures with a high specificity. A linear, high frequency probe is used at the shortest depth, with copious gel and light pressure, and the location of pain or hematoma is scanned in two perpendicular planes. Hyperechoic bone cortex beneath hypoechoic soft tissue and periosteum is visualized. Normal skull suture lines appear symmetric, regular, and can be followed as it leads to an associated fontanelle. Conversely, a fracture is distinguishable from a suture, as it is jagged and shows cortical disruption or displacement. The sensitivity of ultrasound for fracture is not yet sufficient to use it as the sole method for detecting injury, making treatment and disposition decisions.
References
Kuppermann, N et al. Identification of children at very low risk of clinically-important brain injuries after head trauma: a prospective cohort study. Lancet 2009 Oct 3;374(9696):1160-70. doi: 10.1016/S0140-6736(09)61558-0. Epub 2009 Sep 14.




Atabaki, S. "Skull fractures in children: Clinical manifestations, diagnosis, and management". R. Bachur; J. Wiley (Eds).

UpToDate.com.

Oct 2019.




Caton, R; Kotini-Shah, P; Ahmed, A; and Colla, J. "Identifying Pediatric Skull Fracture Using Point-of-Care Ultrasound".

Emergency Medicine

. 2017 Sep; 49(9) : 427-429.

https://www.mdedge.com/emergencymedicine/article/146470/imaging/identifying-pediatric-skull-fracture-using-point-care