Necrotizing Soft Tissue Infection
Ryan C. Gibbons, MD, FAAEM, FACEP
Lewis Katz School of Medicine at Temple University
Clinical Presentation
History
A 64-year-old African American male with a history of insulin dependent diabetes mellitus and hypertension presented to the emergency department with atraumatic right foot pain, swelling, and drainage for 1 week.
Physical exam
| Blood pressure | Pulse | Respiratory Rate | Pulse Oximetry | Temperature |
| --- | --- | --- | --- | --- |
| 180/96 | 103 | 16 | 96% | 100.6°F |
General: Comfortable appearing, no evidence of trauma.
HEENT: Dry mucosal membranes.
Neck: No jugular venous distention (JVD) or lymphadenopathy (LAD).
Cardiovascular: Tachycardic, normal rhythm, no murmurs.
Respiratory: Clear to auscultation bilaterally.
Abdomen: Soft, nontender, non-distended.
Neurologic: Awake and alert x4, following commands, moving all extremities.
Skin: Necrotic 2nd toe, open wound on right foot with purulent drainage, no crepitus noted, no pain out of proportion.
Imaging and Laboratory Information
Lactate: 2.4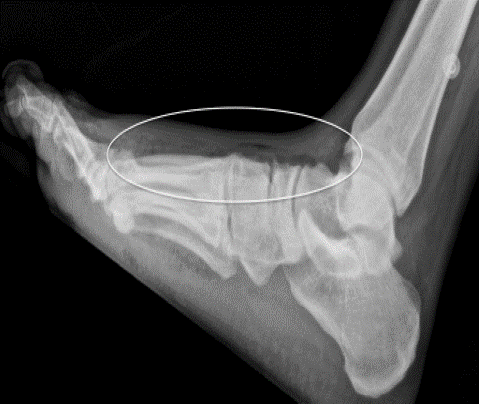 Subcutaneous air noted on plain films.
LRINEC score: 7
CRP: CRP: 50 (⩾ 15 = +4)
WBC: 20 (15-25 = +1)
Hgb: 12.5 (11-13.5 = +1)
Sodium: 135 (⩾ 135 = 0)
Creatinine: 1.39 (< 1.6 = 0)
Glucose: 380 (> 180 = +1)
Clinical Differential Diagnosis
Cellulitis




Abscess




Necrotizing soft tissue infection (NSTI)




Osteomyelitis




Septic arthritis




Deep venous thrombosis
Ultrasound Imaging Findings
The point-of-care ultrasound (POCUS) images demonstrate subcutaneous edema, known as cobblestones, and hyperechoic artifact within the soft tissue with dirty gray air shadowing and A-lines consistent with subcutaneous emphysema.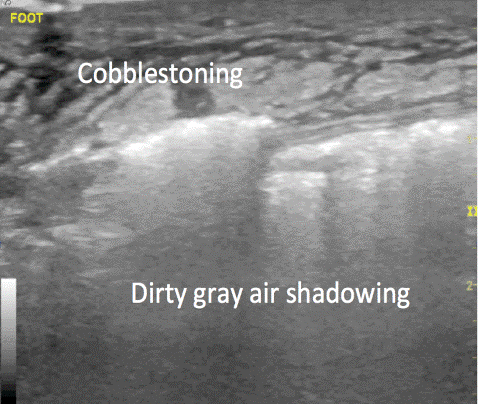 Point-of-care ultrasound findings of necrotizing soft tissue infection.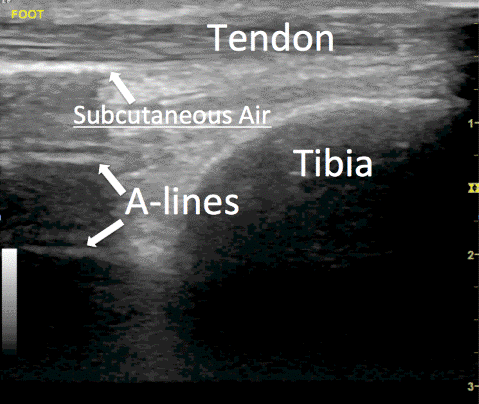 Point-of-care ultrasound findings of necrotizing soft tissue infection. A-lines.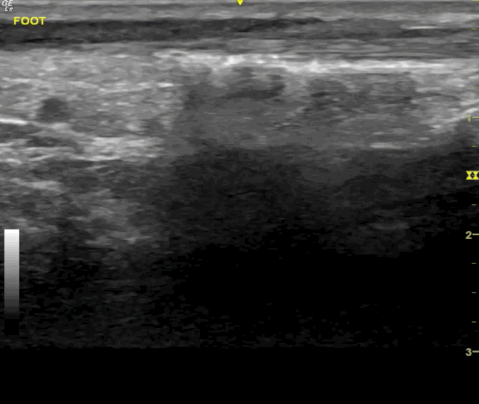 Necrotizing Soft tissue infection with A-lines (consistent with subcutaneous air).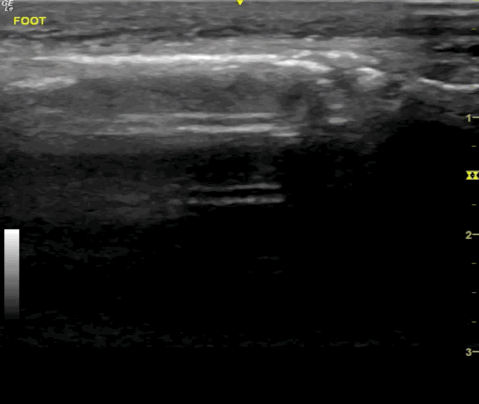 Necrotizing Soft tissue infection with A-lines (consistent with subcutaneous air).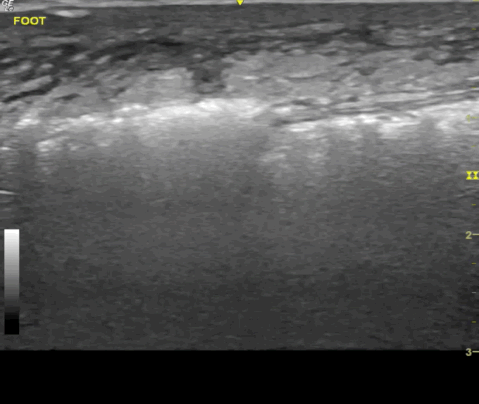 Necrotizing Soft tissue infection with cobblestones and dirty air shadowing.
Differential Diagnosis Based on Imaging
Necrotizing soft tissue infection




Cellulitis
Clinical Course and/or Management
The patient was given vancomycin, piperacillin/tazobactam, and clindamycin. Podiatry was consulted immediately and admitted the patient to the surgical intensive care unit (SICU) after performing a Chopart's amputation. The patient had an otherwise unremarkable hospital stay and was discharged home.
Diagnosis
Necrotizing soft tissue infection
Discussion
Necrotizing soft tissue infections (NSTI) are polymicrobial infections with considerable mortality ranging between 20-75%, especially when the diagnosis is missed or delayed. Traditionally, three types are described: cellulitis, fasciitis, and myositis. Typical risk factors include intravenous drug abuse (IVDA), uncontrolled diabetes, an immunocompromised state, recent surgery or trauma, chronic kidney disease (DKD), obesity, and alcohol abuse. Diagnosis is challenging given physical exam signs and symptoms vary from asymptomatic to septic shock. In fact, diagnosis based on physical exam alone misses >60% of cases. Localized findings include edema, ecchymosis, hemorrhagic blisters or bullae, crepitus, and tissue necrosis. Unfortunately, these findings are often seen late in the course of infection. Not to mention, the classic finding of "pain out of proportion" is typically absent. Therefore, it is imperative to maintain a high index of suspicion. A thorough skin exam, including the perineum, is essential in patients with unexplained fevers.
Laboratory values and imaging modalities are adjuncts for diagnosing NSTI. Classic laboratory abnormalities include significant leukocytosis, hyponatremia, and lactic acidosis. The LRINEC score was developed to aid in the diagnosis of NSTI but performed poorly during external validation. Plain films have similarly sensitivity to physical exam (<50%). Presently, computed tomography is the standard of care for the diagnosis of NSTI given its sensitivity >94%. Treatment includes adequate resuscitation, early administration of broad spectrum antibiotics (Vancomycin, Piperacillin/tazobactam, & Clindamycin), and immediate surgical consultation.
Data is limited, but point-of-care ultrasound appears to be an effective means to expedite the diagnosis and treatment of NSTI, especially in resource limited settings without access to CT. Sensitivity of POCUS approaches 90%. The high frequency linear transducer should be utilized. Characteristic findings include thickened subcutaneous tissue and/or fascia, fluid along the fascial plane, and subcutaneous emphysema. Be sure to compare the affected side to the unaffected one.
References
S.M. Fernando, A. Tran, W. Cheng, et al. Necrotizing soft tissue infection: diagnostic accuracy of physical examination, imaging, and LRINEC score: a systematic review and meta-analysis. Ann Surg 2019;269(1):58-65.Z.S.




Yen, H.P. Wang, H.M. Ma, et al. Ultrasonographic screening of clinically suspected necrotizing fasciitis. Acad Emerg Med 2002;9(12):1448-1451.




L. Oelze, S. Wu, & J. Carnell. Emergency ultrasonography for the early diagnosis of necrotizing fasciitis: a case series from the ED. Am J Emerg Med 2013;31(3):632-635.