Necrotizing Endomyometritis
Vincent Ndebwanimana, Ling Jing, & Uwamahoro Doris
Department of Emergency Medicine, University Teaching Hospital-Kigali (CHUK), Kigali, Rwanda; Case Western Reserve University School of Medicine, Cleveland, Ohio, United States.
Clinical Presentation
History
An 18-year-old previously healthy female consulted for progressively increasing abdominal distension, pain, vomiting, and weakness. She was passing flatus. She had no complaints of vaginal discharge or dysuria. Two weeks earlier, she had developed headache, fever, and abdominal pain and self-medicated with an anti-malarial drug (Coartem) without improvement. The patient recently moved from her rural residence to live with an aunt in Kigali.
Physical Exam
| Blood pressure | Pulse | Respiratory Rate | Pulse Oximetry | Temperature |
| --- | --- | --- | --- | --- |
| 108/53 | 133 | 24 | 94 | 37.2 |
General : Ill-appearing.
HEENT : Conjunctival pallor. Scleral jaundice.
Respiratory : Tachypnea with mild accessory muscle use, clear lungs.
Cardiovascular : Warm extremities, regular bounding pulses, tachycardia.
Abdominal : slightly distended, soft, hypogastric tenderness, no rebound tenderness, no guarding or organomegaly, bowel sounds present.
Genitourinary : Purulent vaginal discharge and cervical motion tenderness.
Imaging and Laboratory Information

HbsAb: positive
Pregnancy test: Negative
Clinical Differential Diagnosis
Appendicitis




Spontaneous peritonitis




Intestinal obstruction versus perforation




Pelvic Inflammatory disease




Acute cholangitis
Ultrasound Imaging Findings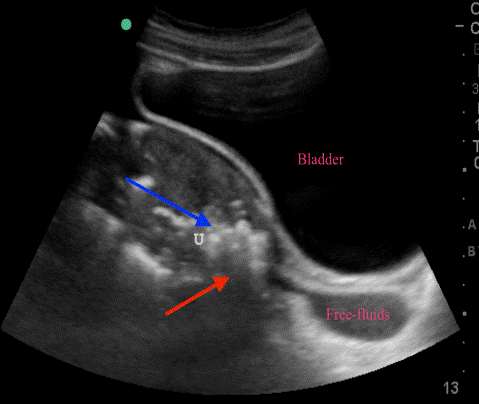 Longitudinal pelvic ultrasound image shows multiple foci of gas (blue arrow) with dirty shadowing (red arrow), obscuring the posterior myometrium. There is also free fluid in the cul-de-sac and adjacent to the bladder dome.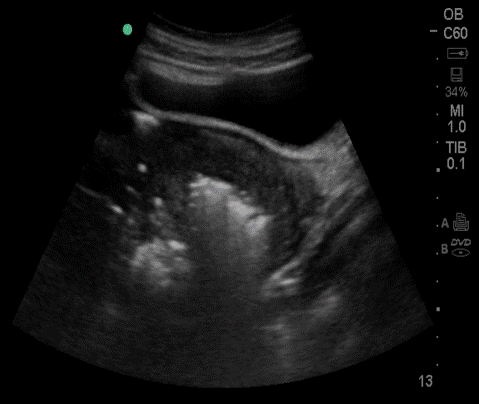 Transverse view also shows echogenic material posterior to the anterior myometrium with dirty shadowing.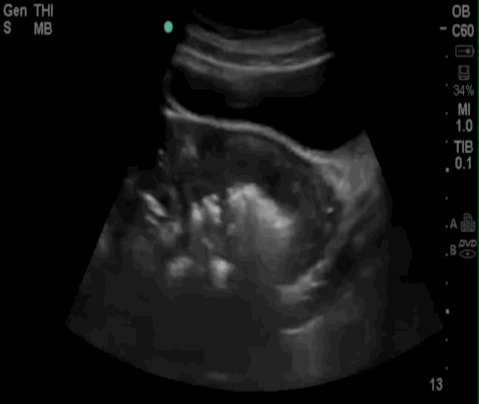 Longitudinal cine clip demonstrates similar findings. The uterine fundus is not well delineated.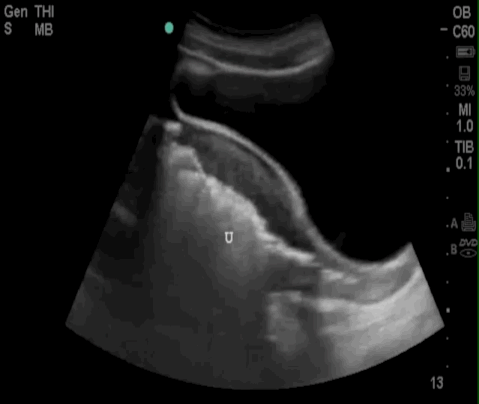 Transverse cine clip also shows gas posterior to the anterior uterine wall.
Differential Diagnosis Based on Imaging
Necrotizing endomyometritis causing peritonitis




Necrotizing leiomyoma




Necrotizing retained products of conception




Uterine perforation with peritonitis
Clinical Course and/or Management
History and physical exam favored sepsis secondary to spontaneous peritonitis or appendicitis. Despite attempted resuscitation, the patient's clinical status deteriorated. After consulting with obstetrics/gynecology (OB/GYN), surgery was performed for suspected uterine perforation and resultant peritonitis. Uterine infection and fundal dehiscence were identified at surgery, along with peritonitis. Debridement was performed, and the patient was eventually discharged home after 7 weeks of hospitalization.
Diagnosis
Uterine dehiscence with necrotizing fundal endomyometritis
Discussion
The differential diagnosis for female patients with abdominal pain is broad, including medical, surgical, and OB/GYN conditions. A common but serious cause of abdominal pain in female patients that can be readily identified by ultrasound is endomyometritis, or inflammation of the muscle and inner lining of the uterus following the spread of normal vaginal flora into the uterus. This may occur when instruments used during septic abortion introduce vaginal flora to the uterine cavity, a relatively common occurrence in low- and middle-income countries such as Rwanda, where abortion is illegal. In such countries, typical pathogens include Escherichia coli, Proteus, N. gonorrhea, and Streptococcus pneumonia.
Women with complications of unsafe induced abortion tend not to consult OB/GYN departments due to self-blame and feelings of guilt following the illegal procedure. To escape social stigma, they often present to the ED for a general consult. Patient history is often unhelpful and even misleading. Furthermore, pregnancy tests may be negative if the patient presents more than two weeks after the abortion. Ultrasound diagnosis is critical to accurately diagnose endomyometritis and trigger appropriate treatment to prevent severe complications, including septic shock and death. In the setting of septic shock, mortality approaches 60%.
Trans-abdominal ultrasound findings include uterine enlargement and echogenic intraluminal gas, with dirty shadowing. There may be intraluminal debris as well. If perforation has occurred, complex or simple free fluid may be present. Ultrasound is also useful to exclude other possible diagnoses, such as appendicitis, ovarian pathology, and Fournier gangrene. Determining the diagnosis of endomyometritis will help orient clinicians to the proper management and limit the need for other investigations and consultations, particularly when computed tomography is not readily available. Note that intrauterine gas can be normal for a short time after an induced abortion.
References
Adkins, K., Minardi, J., Setzer, E., & Williams, D. (2016). Retained Products of Conception: An Atypical Presentation Diagnosed Immediately with Bedside Emergency Ultrasound. Case Reports in Emergency Medicine, 2016, 1–3. doi:10.1155/2016/9124967

Rouse, C. E., Eckert, L. O., Muñoz, F. M., Stringer, J. S. A., Kochhar, S., Bartlett, L., … Gravett, M. G. (2019). Postpartum endometritis and infection following incomplete or complete abortion: Case definition & guidelines for data collection, analysis, and presentation of maternal immunization safety data. Vaccine, 37(52), 7585–7595. doi:10.1016/j.vaccine.2019.09.101

Van der Lugt, B., & Drogendijk, A. C. (1985). The Disappearance of Human Chorionic Gonadotropin from Plasma and Urine Following Induced Abortion: Disappearance of HCG after induced abortion. Acta Obstetricia et Gynecologica Scandinavica, 64(7), 547–552. doi:10.3109/00016348509156360