Miliary Tuberculosis
Jordan Rode, MD, Melony Chakrabarty, MD, and Michael Schick, DO
Department of Emergency Medicine, University of California, Davis
Clinical Presentation
History
A 35-year-old previously healthy Ugandan male, presents with cough for 3-4 months, dark sputum and intermittent fevers. The cough has been constant, and sputum production is thickening. In the past few days, he has noticed increasing fatigue and shortness of breath limiting his daily activities. He also, has had one week of worsening swelling of his neck. No known recent exposures, but he notes other people in this village have had similar symptoms. He denies having hemoptysis, chest pain, night sweats, or unintended weight loss.
Physical exam
| Blood pressure | Pulse | Respiratory Rate | Pulse Oximetry | Temperature |
| --- | --- | --- | --- | --- |
| 124/66 | 82 | 22 | 99% | 100.6 F |
General: Emaciated, but in no acute distress.
HEENT: Moist mucous membranes, no scleral icterus.
Neck: Prominent left sided anterior cervical lymphadenopathy. Range of motion is normal. No JVD.
Cardiovascular: Regular rate and rhythm. No rubs, murmurs or gallops. Normal PMI.
Respiratory: Tachypnea, bilateral rhonchi in all upper lung fields, bilateral lower lung fields diminished.
Abdomen: Soft, Diffuse tenderness to palpation, no rebound or guarding,no organomegaly.
Neurologic: Alert and oriented x 4, no focal neurologic findings.
Imaging and Laboratory Information
Chest X-ray: unavailable
Rapid malaria test: negative
Widal test: negative
Rapid HIV test: negative
Rapid tuberculosis test (NAAT): positive
Clinical Differential Diagnosis
Tuberculosis




HIV




Sarcoidosis




Primary bronchioalveolar carcinoma




Pneumonia




Tumor metastasis




Pyogenic infection from remote site




Congestive heart failure



Ultrasound Imaging Findings
Long axis view of the left lateral neck with the high frequency transducer. Demonstrates multiple prominent, enlarged lymph nodes.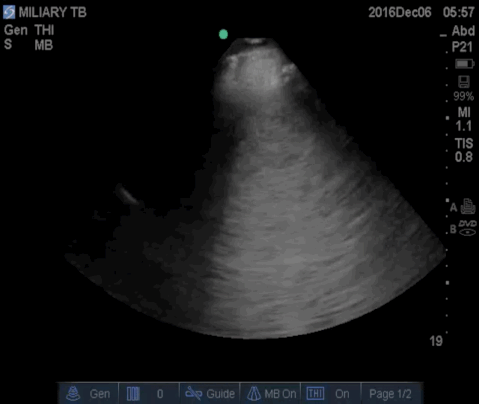 Bilateral long axis views of the lung with the low frequency probe. Demonstrates bilateral diffuse B-lines.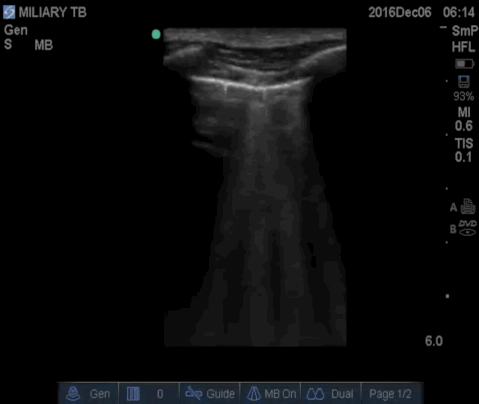 Long axis view of the lung with the high frequency linear array. Demonstrates normal pleural sliding, subpleural nodules with tripartite B-lines.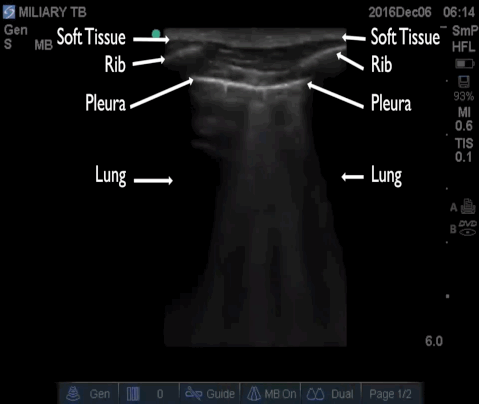 Annotated long axis image of the lung with the high frequency linear array.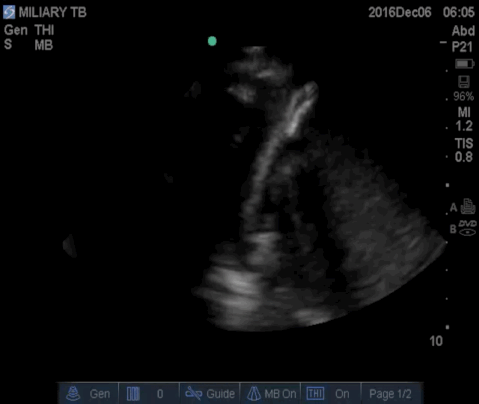 Right flank demonstrating a small pleural effusion and ascites.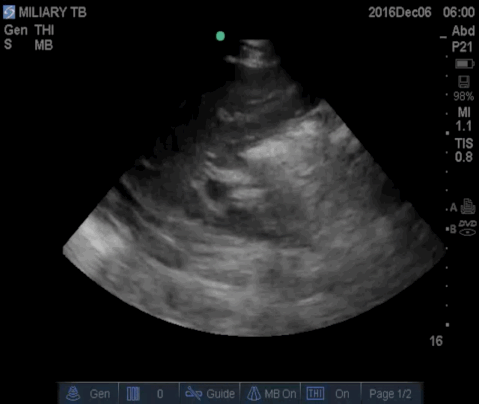 Left flank demonstrating a small left pleural effusion.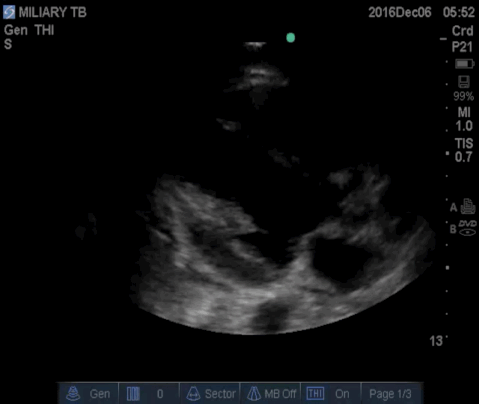 Parasternal long view of the heart demonstrating normal left ventricular systolic function and no apparent pericardial effusion.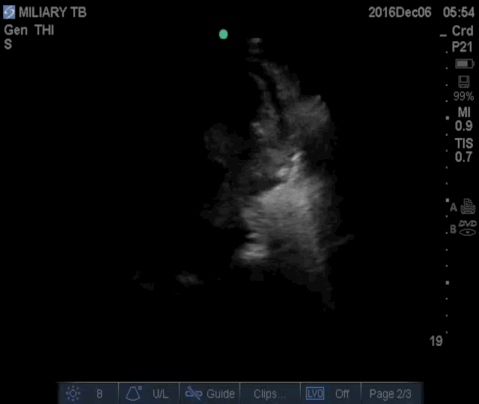 Apical 4 chamber view demonstrating a small pericardial effusion.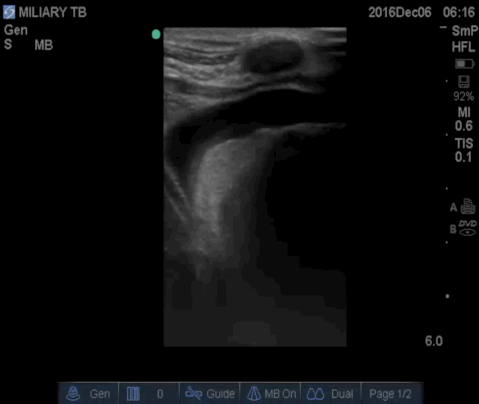 Linear high frequency array used to confirm and evaluate the small pericardial effusion.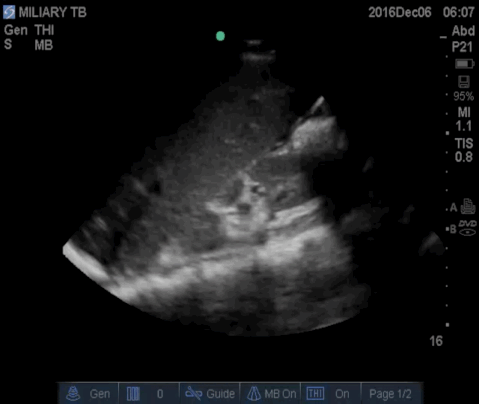 Right upper quadrant of the abdomen demonstrating trace fluid in the hepatorenal recess.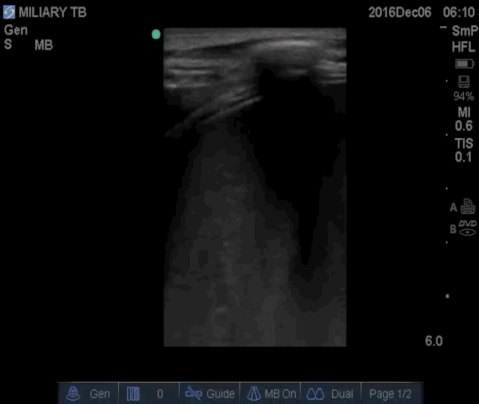 Linear high frequency video of the spleen used to rule out microabscesses.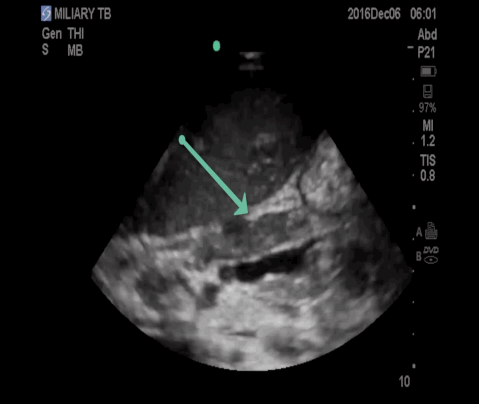 Transverse view of the proximal aorta demonstrating a single peri-aortic lymph node adjacent to the pancreas.
Differential Diagnosis Based on Imaging
Tuberculosis, possibly dissemination




Sarcoidosis




HIV




Pyogenic infection from remote site
Clinical Course and/or Management
POCUS was consistent with miliary tuberculosis. The patient was admitted to the tuberculosis ward and started on RIPE therapy. His symptoms gradually improved and was discharged to follow up in the TB clinic.
Diagnosis
Miliary Tuberculosis
Scrofula (Tuberculous lymphadenitis)
Discussion
Tuberculosis remains a prevalent disease in many low resource settings around the world and is the leading cause of death from a single infectious pathogen. As of 2017 the estimated incidence is 201/100,000 with a treatment success rate of 77%. Tuberculosis is acquired through inhalation of airborne droplet nuclei containing the tubercle bacilli. Airflow favors deposition of bacilli in the terminal air spaces in the midlung zone and subpleural space, leading to a primary focus of infection. This primary focus of infection and associated draining lymph node is known as a Ghon complex. In acute primary infection, Ghon complexes can disseminate through lymphohematogenous spread and manifest as miliary pulmonary tuberculosis with or without extrapulmonary disease. This is most frequently seen in children less than five years of age and young adults. Miliary tuberculosis in the elderly is most commonly associated with reactivation of latent infection in the setting of immunosuppression or comorbidities such as alcoholism, cirrhosis, or neoplasm.
Sub-pleuritic nodules are generally a sign of miliary TB, comprising only 1-3% of infections but resulting in greater chance of dissemination. It can be seen in acute TB infections or with those at risk for chronic infection (children, immunosuppressed patient, and patients with multiple comorbidities). This patient showed signs of dissemination which is likely from lymphatic or hematogenous spread most commonly to highly vascular organs including the liver, spleen, basilar meninges, pericardium, thoracic vertebrae and bone marrow. In addition to symptoms most often associated with TB, patients may experience fulminant multi-organ failure, liver or spleen microabsesses, ascites, pericardial effusions, septic shock, acute respiratory distress syndrome, cardiogenic shock, pancytopenia, renal insufficiency, joint pain, encephalitis, or adrenal dysfunction. Extrapulmonary tuberculosis is less commonly seen, and accounted for 15% of incident cases in 2018. Tuberculous lymphadenitis (scrofula) is the most common form of extrapulmonary tuberculosis and is commonly associated with draining sinus tracts.
In high prevalence settings, the FASH (Focused Ultrasound with Sonography for HIV + TB) ultrasound exam may be instituted to search for dissemination. This exam looks at the lungs, heart, abdomen and lymph nodes for signs of extrapulmonary TB throughout the most commonly impacted organ systems. Sub-pleuritic nodules, pleural effusions, pericardial effusions, hepatic and splenic micro or macro abscesses, ascites, intra-abdominal lymph nodes, hydronephrosis due to renal lesions may be visualized. POCUS is an important tool in the diagnosis and management of TB in low resourced health environments.
References
Sharma SK, Mohan A. Miliary Tuberculosis. Microbiology spectrum. https://www.ncbi.nlm.nih.gov/pubmed/28281441. Published March 2017. Accessed December 24, 2019.




Hunter L, Belard S, Janssen S, van Hoving D.J., Heller, T. Miliary Tuberculosis: Sonographic pattern in chest ultrasound. Infection. Pubmed. Published November 2015. Accessed December, 24, 2019.




Akhan O, Pringot J. Imaging of abdominal tuberculosis. European Radiology. https://link.springer.com/article/10.1007/s003300100994. Published February 2002. Accessed December 24, 2019.




Global tuberculosis report 2019. Geneva: World Health Organization; 2019.




[edited by] John E. Bennett, Raphael Dolin, Martin J. Blaser. (2015). Mandell, Douglas, and Bennett's principles and practice of infectious diseases. Philadelphia, PA :Elsevier/Saunders.