Midgut Volvulus
Kristopher de Ga, MD & Rebecca Stein-Wexler, MD
Department of Radiology, University of California, Davis
Clinical Presentation
History
An otherwise healthy 10-month-old female presents with 1 day of bilious emesis and fussiness. The father reports one episode of emesis during the night and multiple episodes that morning after attempted feeding. Urine output is subjectively decreased, and the child appears intermittently uncomfortable. She has had similar symptoms before. A previous ultrasound had demonstrated a possible enteric duplication cyst in the left lower abdomen.
Physical exam
| Blood pressure | Pulse | Respiratory Rate | Pulse Oximetry | Temperature |
| --- | --- | --- | --- | --- |
| 95/55 | 133 | 36 | 100% | 36.3 °C |
General: In mild distress with dry mucous membranes. Well-developed and well-nourished.
Respiratory: Tachypneic, lungs clear to auscultation bilaterally.
Abdomen: Normal bowel sounds, non-tender, non-distended, no hernia.
Imaging and Laboratory Information:
none
Clinical Differential Diagnosis
Midgut volvulus/malrotation




Viral gastroenteritis




Intussusception




Gastroesophageal reflux disease




Incarcerated hernia




Elevated intracranial pressure- tumor, hemorrhage




Inborn error of metabolism



Ultrasound Imaging Findings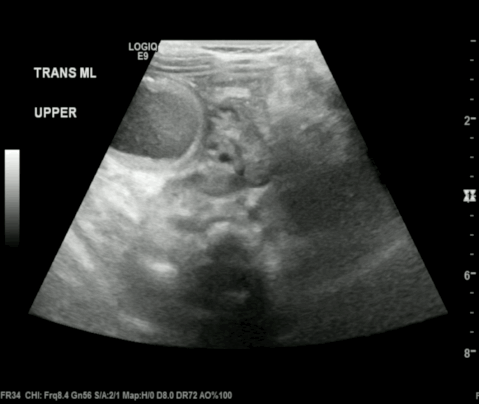 Greyscale ultrasound cine clip of the right upper quadrant demonstrates swirling of the mesentery in a clockwise direction with dilated and thickened small bowel loops proximally.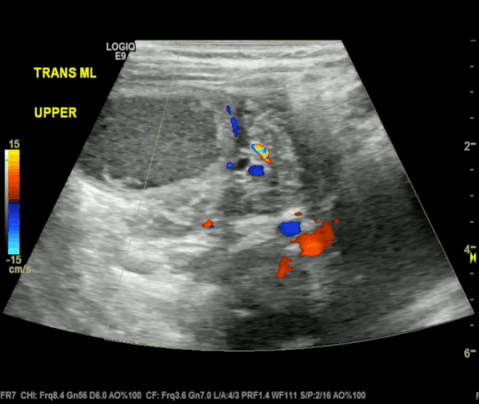 Color Doppler ultrasound cine clip of the right upper quadrant shows the characteristic "whirlpool" appearance of the small bowel and mesentery.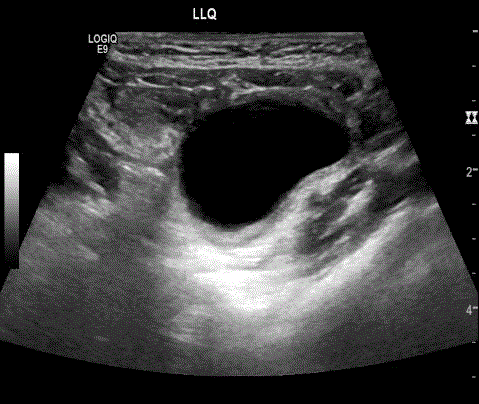 Transverse greyscale ultrasound of the left lower quadrant shows a cystic mass without apparent communication to the surrounding bowel or bladder, suspected to be an enteric duplication cyst.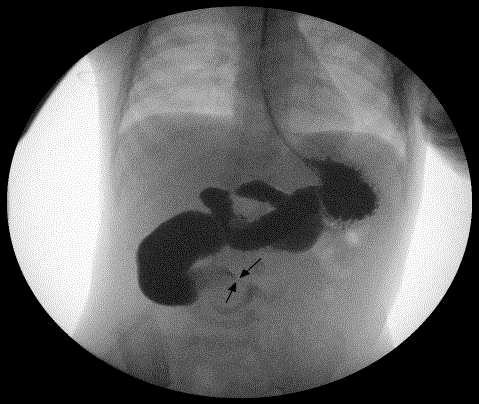 Fluoroscopic upper gastrointestinal exam image shows "beak-like" narrowing at the proximal jejunum with minimal progression of contrast (arrows). There was a normal retroperitoneal course of the duodenum (not shown).
Differential Diagnosis Based on Imaging
Midgut volvulus
Clinical Course and/or Management
Fluoroscopic upper gastrointestinal exam confirmed midgut volvulus but demonstrated no intestinal malrotation. At emergent exploratory laparotomy, 1096 degrees of midgut volvulus was observed. Bowel was twisted around the mesentery, with a large enteric duplication cyst as the suspected lead point. There was no evidence of intestinal malrotation or bowel necrosis. The duplication cyst and a short segment of torsed small bowel loop were resected and anastomosis was performed. Surgical pathology confirmed the presence of a gastrointestinal duplication cyst. The patient made a full recovery without complication.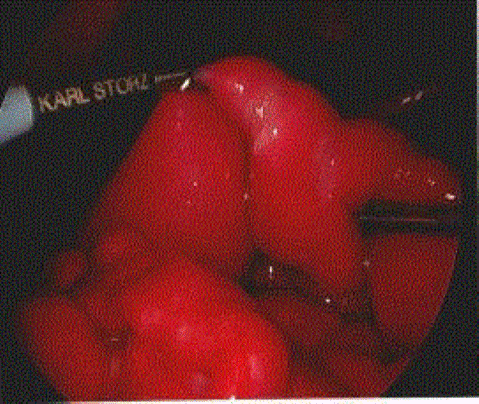 Intraoperative image demonstrates a loop of small bowel twisted around the mesentery.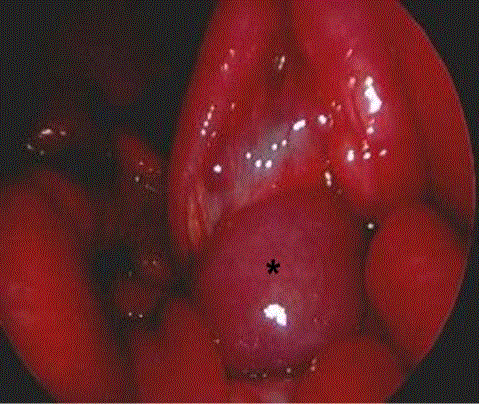 Intraoperative image shows a jejunal enteric duplication cyst (asterisk), likely the lead point of midgut volvulus.
Diagnosis
Segmental midgut volvulus secondary to enteric duplication cyst
Discussion
Midgut volvulus is a life-threatening condition resulting from twisting of small bowel around the mesentery. This leads to obstruction and may quickly restrict blood supply to the bowel. Midgut volvulus is most commonly associated with midgut malrotation, an embryologic disruption of normal intestinal rotation that then predisposes the bowel to twist around its mesentery. Alternatively, volvulus may be caused by a mass as in this case or an adhesive band serving as a lead point, also referred to as segmental volvulus.
The mortality rate of midgut volvulus is estimated at 10%. However this decreases to 1% when the diagnosis is made prior to intestinal necrosis. Approximately 70% of cases present within the first month of life. Volvulus due to a lead point often presents later in childhood and sometimes in adulthood. Midgut volvulus should be suspected in any infant who presents with bilious emesis or duodenal obstruction, and prompt diagnosis is essential to reduce morbidity and mortality.
The "whirlpool" sign is a sensitive and specific sonographic finding of midgut volvulus. It describes swirling of the bowel and mesenteric vessels in a clockwise direction. In volvulus due to malrotation, the mesenteric vessels may demonstrate an abnormal orientation, with the superior mesenteric vein either to the left of or anterior to the superior mesenteric artery. Dilated and thick-walled bowel loops proximal to the whirlpool sign help confirm an obstructive process. Evaluation of vascular flow and pneumatosis of the twisted bowel loops should be performed at the time of ultrasound examination. Findings of volvulus can be confirmed with upper gastrointestinal fluoroscopy, which may show a corkscrew appearance of the proximal small bowel or beak-like stenosis at the obstruction point.
References
Chao HC, Kong MS, Chen JY, Lin SJ, Lin JN. Sonographic features related to volvulus in neonatal intestinal malrotation.

Journal of Ultrasound in Medicine

. 2000;19(6):371-376. doi:10.7863/jum.2000.19.6.371




Kitano Y, Hashizume K, Ohkura M. Segmental small-bowel volvulus not associated with malrotation in childhood.

Pediatr Surg Int

. 1995;10(5):335-338. doi:10.1007/BF00182217




Pracros JP, Sann L, Genin G, et al. Ultrasound diagnosis of midgut volvulus: the "whirlpool" sign.

Pediatr Radiol

. 1992;22(1):18-20. doi:10.1007/BF02011603