Meningitis
Rebecca Stein-Wexler, MD
Department of Radiology, University of California Davis
Clinical Presentation
History
1-month premature infant presented with rhythmic jerking of all 4 extremities at age six weeks. He had been born by Caesarian section due to fetal bradycardia and placental abruption. His hospital course was complicated by Group B Streptococcus pneumonia, for which he received 10 days of ampicillin and gentamicin. He also had anemia of prematurity and thrombocytopenia.
Physical exam
| Blood pressure | Pulse | Respiratory Rate | Pulse Oximetry | Temperature |
| --- | --- | --- | --- | --- |
| 60/36 | 187 | 51 | Unknown | Afebrile |
General: The patient appeared lethargic, with arms and legs flexed.
Neurologic: He was able to move all four extremities, jerking them in clusters of 3 to 5 jerks, every 10 to 20 seconds. Hypertonia was noted between episodes, especially at the right lower extremity. The anterior fontanelle was soft, and deep tendon reflexes were normal. The grasp reflex was weak and inconsistent.
Imaging and Laboratory Information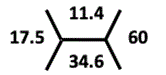 Lumbar puncture yielded bloody fluid that grew no organisms.
Clinical Differential Diagnosis
Seizures secondary to hypoxic-ischemic encephalopathy

Hemorrhage

Meningitis/cerebritis

Mass

Seizure disorder

Toxic/metabolic encephalopathy

Accidental trauma

Non-accidental trauma
Ultrasound Imaging Findings
Coronal head ultrasound shows markedly dilated lateral and third ventricles that are filled with heterogeneous moderately echogenic material. Parenchyma is compressed.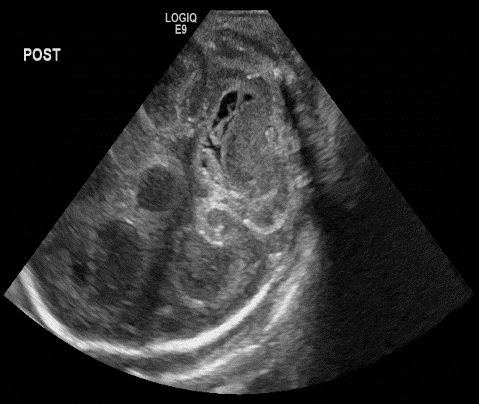 Axial image through mastoid fontanelle shows the fourth ventricle is also dilated and filled with complex fluid.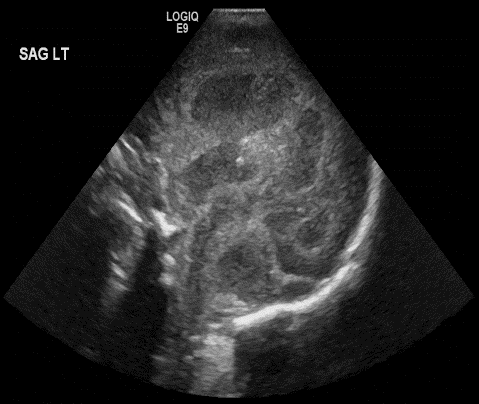 Sagittal head shows markedly dilated ventricles that are filled with heterogeneous moderately echogenic material.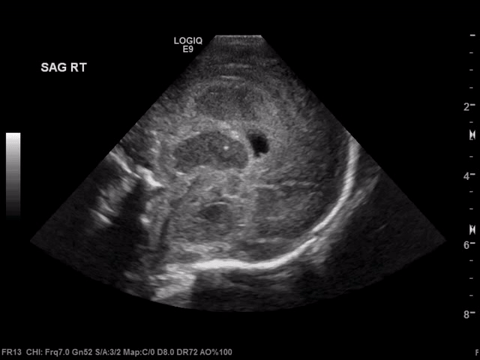 Coronal video clip demonstrates the full extent of ventricular dilation and parenchymal compression.
Differential Diagnosis Based on Imaging
Intraventricular hemorrhage versus purulent meningitis/ependymitis.
Clinical Course and/or Management
The patient was started on phenobarbital, with resolution of tonic-clonic seizure activity. Right ventricular tap was performed to relieve intracranial pressure, with drainage of purulent material, which eventually grew Escherichia coli. IV vancomycin and Meropenem were administered. The patient expired four days later.
Diagnosis
Escherichia coli meningitis
Discussion
Meningitis is a common cause of hydrocephalus and neurological problems worldwide. In resource-limited countries, the incidence is 1-6/1000, and the mortality ranges between 40% and 60%. The disease usually results from hematogenous spread in the setting of sepsis. Meningeal inflammation leads to vasculitis, cortical infarcts, and diffuse cerebral edema. In infants, Group B streptococcus, Escherichia coli, Strep pneumonia, and Listeria monocytogenes are responsible for most cases of meningitis/ventriculitis and cerebritis.
If US is performed in the acute phase, it may demonstrate thick, echogenic meninges, prominent cortical vessels, and unusually wide sulci. Increased subarachnoid fluid may be seen. As the disease progresses, the ventricles may fill with exudate that is less echogenic than acute hemorrhage. It evolves to appear more uniformly complex and lacy than chronic hemorrhage, allowing differentiation. Intraventricular cysts and isolated entrapped ventricles may form secondary to adhesions, leading to progressive, severe hydrocephalus.
Reference
Orman G, Benson JE, Kweldam CF, et al. Neonatal head ultrasonography today: A powerful imaging tool.

J Neuroimaging

2015; 25: 31-55.