Lymphatic Filariasis
Benjamin Verseman, MD & Michael Schick, DO
University of California, Davis, School of Medicine
Clinical Presentation
History
A 30-year-old male presents with bilateral testicular discomfort slowly progressing over 4 weeks. He also states he noticed slight increase in the size of his bilateral testicles. No recent scrotal trauma, urinary symptoms, or other constitutional symptoms. He has no past medical or surgical history. Denies recent sexual intercourse. He has no history of sexually transmitted infections. He recently returned from a trip to Tanzania and Kenya one month ago.
Physical exam
Vital: Within Normal Limits.
Abdomen: Soft, nontender, nondistended, no rebound or guarding.
Genitourinary: No testicular swelling or scrotal skin changes and scrotal sac appears symmetric. No apparent hydrocele or hernias. Mild pain with palpation. Normal bilateral cremasteric reflexes. Circumcised, normal appearing penis.
Imaging and Laboratory Information
Urinalysis: normal
Clinical Differential Diagnosis
Orchitis

Epididymitis

Hydrocele

Varicocele

Filariasis

Torsion of appendage

Testicular torsion

Tumor

Hernia
Ultrasound Imaging Findings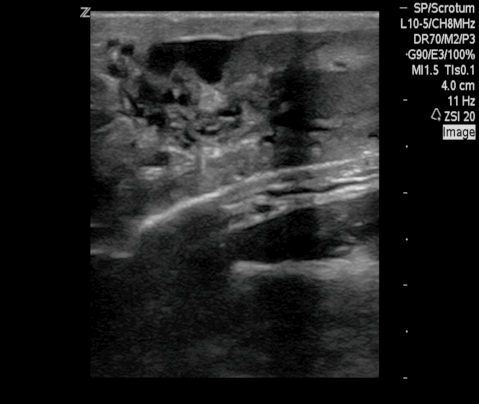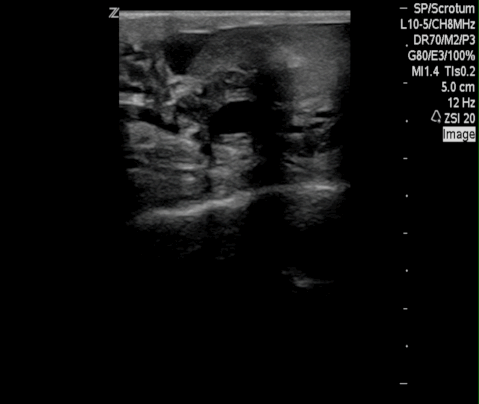 Bilateral small hydroceles and normal appearing testicles.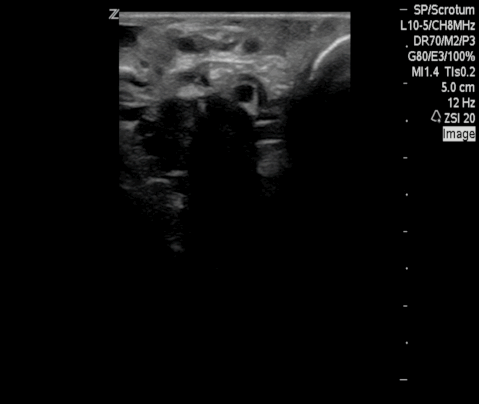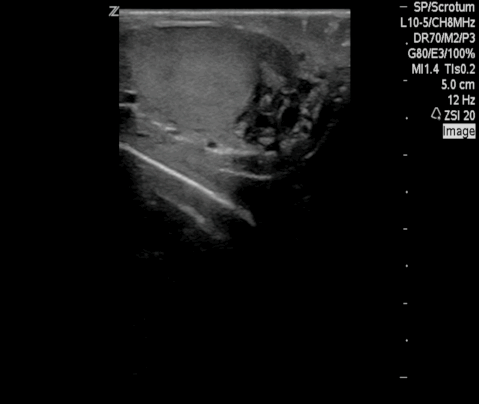 Bilateral dilated lymphatics at the 4-5 o'clock position visualized as anechoic vascular like structure. Note that color doppler was applied, which demonstrated no flow within the vascular like structures and therefore suggesting lymphatics. Unfortunately, the color flow clip was not saved.
Differential Diagnosis Based on Imaging
Lymphatic Filariasis

Varicocele
Clinical Course and/or Management
Peripheral blood smear was performed and showed adult worms in the blood. The patient was treated with diethylcarbamazine and ivermectin which achieved complete resolution of his symptoms.
Diagnosis
Lymphatic Filariasis
Discussion
Lymphatic Filariasis is a neglected tropical disease prevalent in Africa and Asia that is spread by mosquitoes. Symptoms may or may not present and generally take 3-6 months to develop.
Diagnosis is made clinically in resource poor areas and with PCR, Antigen, or ultrasound if available. Classic findings on ultrasound include enlarge lymphatics, fluid collections, and adult worms "dancing" inside lymphatic vessels.
Treatment is done with diethylcarbamazine, which in the United States must be obtained from the Center for Disease Control, or ivermectin + albendazole depending on the suspected organism.
References
Fox LM, Furness BW, Haser JK, Brissau JM, Louis-Charles J, Wilson SF, Addiss DG, Lammie PJ, Beach MJ. Ultrasonographic examination of Haitian children with lymphatic filariasis: a longitudinal assessment in the context of antifilarial drug treatment. Am J Trop Med Hyg. 2005; 72(5): 642-8.

Hoerauf A. (2008). Filariasis: new drugs and new opportunities for lymphatic filariasis and onchocerciasis.

Current opinion in infectious diseases

,

21

(6), 673–681. https://doi.org/10.1097/QCO.0b013e328315cde7