Lobar Pneumonia
Travis Kling, MD & Michael Schick, DO
Department of Emergency Medicine, University of California, Davis
Clinical Presentation
History
A partially-vaccinated 6-year-old female with no significant past medical history presents to a district emergency department in rural Uganda. Her mother reports that she has had 4 days of progressively worsening cough and appears to have difficulty breathing at times. She has also had a fever at home which has been managed with paracetamol. Of note, the patient is on school break and has had no known sick contacts.
Physical exam
| Blood Pressure | Pulse | Respiratory Rate | Pulse Oximetry | Temperature |
| --- | --- | --- | --- | --- |
| 105/64 | 130 | 30 | 90% RA | 39.7 C |
General: Ill-appearing female in mild respiratory distress otherwise acting age-appropriate.
Cardiovascular: Tachycardic with regular rhythm, no appreciable murmurs.
Respiratory: Mildly tachypneic with some intercostal retractions. Right lower lobe with appreciable rhonchi. No wheezing heard.
Skin: No noted rashes or lesions. Normal skin tone, no pallor.
Imaging and Laboratory Information
CBC : WBC 17.2, Hb 12, platelets normal
Rapid malaria : negative
Clinical Differential Diagnosis
Bacterial Pneumonia




Viral Pneumonia




Empyema




Sepsis




Foreign Body Aspiration




Asthma Exacerbation




Malignancy




Pneumonitis



Ultrasound Imaging Findings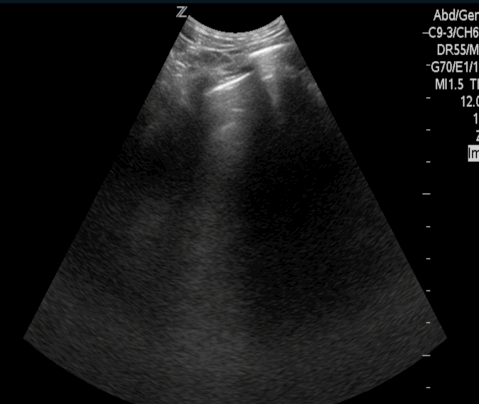 Right lung windows demonstrate normal upper lung fields with a transition to diffuse B-lines in the right lower lung (consolidation junction), indicating a focal interstitial process.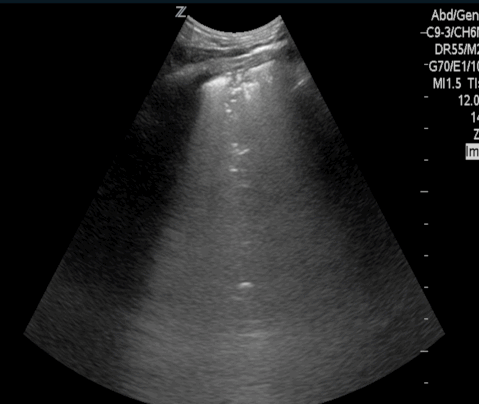 Right lower lung with appreciable air bronchograms, suggesting a consolidative process rather than a lobar collapse.
Hepatization of the right lower lung with air bronchograms along with a positive spine sign indicate a consolidative process.
Differential Diagnosis Based on Imaging
Lobar Pneumonia




Malignancy
Clinical Course and/or Management
The patient was placed on supplemental oxygen via nasal cannula with improvement in oxygenation and work of breath. Sepsis treatment was initiated with empiric antibiotics against likely pathogens given an ultrasound diagnosis of sepsis secondary to bacterial community-acquired pneumonia. She was discharged on hospital day 4 and has resolution of symptoms noted during her follow up pediatric appointment two weeks later.
Diagnosis
Consolidative bacterial pneumonia
Discussion
Pneumonia is a leading cause of death, especially in resource-poor settings, with young children & the elderly being particularly at risk. In children under the age of five, pneumonia is the leading infectious cause of death worldwide, with approximately 15% of all deaths annually in this age group being attributed to the disease. Despite the advent of vaccines against many strains of S. pneumonia & H. influenzae, these two organisms are still the leading etiologies of pneumonia worldwide, especially in populations with poor access to care. Additionally, factors such as indoor air pollution, exposure to smoke, and comorbid HIV make those living in developing communities more likely to contract & succumb to pneumonia.
The most often utilized radiographic modality to diagnose pneumonia is chest X-ray (CXR), though this is noted to have limitations in regards to its ability to differentiate between consolidative processes (such as pneumonia) vs other interstitial processes (such as atelectasis). Additionally, findings on CXR usually lag behind clinical symptoms by 24-48 hours. While literature comparing thoracic ultrasound and CXR against CT imaging is sparse, most sources agree that thoracic ultrasound is at least comparable, if not superior to CXR. In studies comparing the two modalities against CT, ultrasound has been noted to have a sensitivity from 90-100% with a specificity ranging from 80-90%, which is superior to CXR sensitivity and specificity of approximately 75-85% & 50-75%, respectively. Ultrasound has been found to be particularly useful in revealing sub-centimeter consolidations, increasing its sensitivity and differentiating consolidative pneumonia from atelectasis, increasing its specificity. Where ultrasound is less effective, however, is in the diagnosis of pneumonias that do not extend to the pleura, as surrounding well-aerated lung tissue does not allow for ultrasound beams to visualize the consolidation.
Findings on ultrasound which suggest a consolidative pneumonia include the presence of air bronchograms in a focal area of lung as well as unilateral asymmetric findings, both of which help differentiate pneumonia from other infiltrative processes such as effusion. Ill-defined margins are also suggestive of a consolidative pneumonia with transition from usual A-lines formed by the scattering of ultrasound beams by air to "hepatization" or liver-like density due to penetration of beams into diseased lung. Finally, the "spine sign", or continued visualization of vertebral bodies above the diaphragm, is suggestive of consolidation, as the spine is only visible when a consolidative process has replaced well-aerated lung.
In resource-limited settings, the utility of ultrasound is indispensable in the diagnosis of pneumonia. Its portable nature allows it to be utilized at the bedside with treatment decisions made much more quickly than when patients must be sent for CXR. Additionally, ultrasound testing is cheaper and more widely available than X-ray equipment, which allows for more cost-efficient care in cash-strapped health delivery systems. With greater training in & utilization of ultrasound amongst practitioners in these settings, this tool has the potential to improve diagnostic speed and accuracy in the treatment of pneumonia.
References
Amatya Y, Rupp J, Russell RM, Saunders J, Bales B, House DR. Diagnostic use of lung ultrasound compared to chest radiograph for suspected pneumonia in a resource-limited setting.

Int J Emerg Med

2018; 11:8.

Sobh E, Oraby S, Gamal F. Role of thoracic ultrasound in the diagnosis of pneumonia.

Eur Resp J

2017; 50: PA4113

Stadler JAM, Andronikou A, Zar HJ. Lung ultrasound for the diagnosis of community acquired pneumonia in children.

Pediatr Radiol

2017; 47(11): 1412–1419.