Infantile Beriberi
Kirsten Douglass, MD & Rebecca Stein-Wexler, MD
University of California, Davis
Clinical Presentation
History
5-month-old Laotian female presented with intractable vomiting. She was exclusively breastfed, and her mother followed the Hmong postpartum restrictive diet of eating predominantly polished white rice.
Physical Exam
| Blood pressure | Pulse | Respiratory Rate | Pulse Oximetry | Temperature |
| --- | --- | --- | --- | --- |
| 85/60 mmHg | 136 bpm | 37/minute | 99% | 36.9°C |
General : Alert.
Growth : Appropriate.
Head : Normal fontanels, PERRL, no head lag/ptosis.
Cardiovascular : Tachycardia, RRR, no murmur.
Respiratory : Clear breath sounds, crying and grunting, hoarse voice.
Gastrointestinal : Abdomen soft, non-tender.
Neurological : Moving all extremities, normal tone, responds to voice and pain, makes eye contact. No muscle twitching.
Extremities : No edema.
Imaging and Laboratory Information: none
Clinical Differential Diagnoses
Brief Resolved Unexplained Event




Malaria




Meningitis




Sepsis




Hydrocephalus




space occupying lesion (hemorrhage, abscess, extra-axial fluid collections)




metabolic abnormality




Reflux




Gastroenteritis




congenital heart disease




Heart failure




Arrhythmia




Malnutrition




Vitamin deficiency



Ultrasound Imaging Findings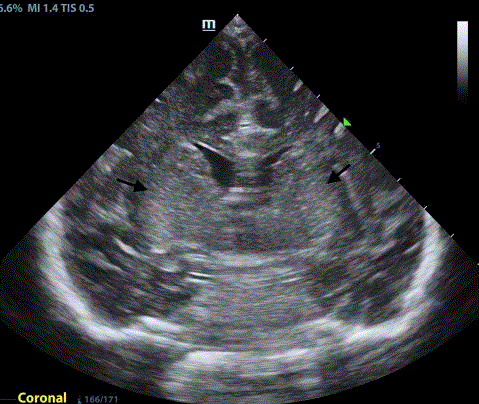 Figure 1: Coronal ultrasound shows hyperechoic putamina. Basal ganglia (BG) appear swollen, compressing lateral ventricles.
Figure 2: Coronal image demonstrates echogenic caudate nuclei compressing the lateral ventricles.
Differential Diagnosis based on imaging
Infantile beriberi

Severe hypoxic-ischemic injury

Encephalitis

Inborn error of metabolism
Clinical Course and/or Management
4 hours after receiving IV thiamine, symptoms improved; by 48 hours the patient was normal. 6 weeks later the putamina and caudate nuclei appear less swollen, although there is still some residual increased echogenicity.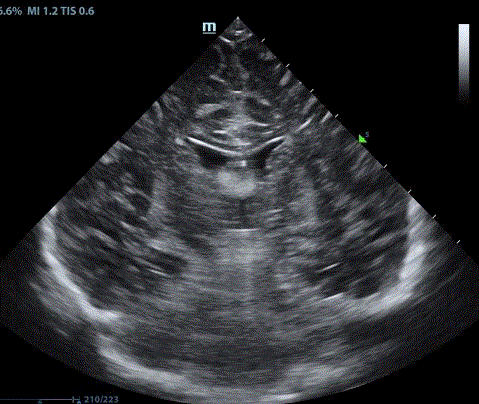 Figure 3: Coronal image after 6 weeks of thiamine supplementation show the putamina are less swollen, although they still demonstrate residual increased echogenicity.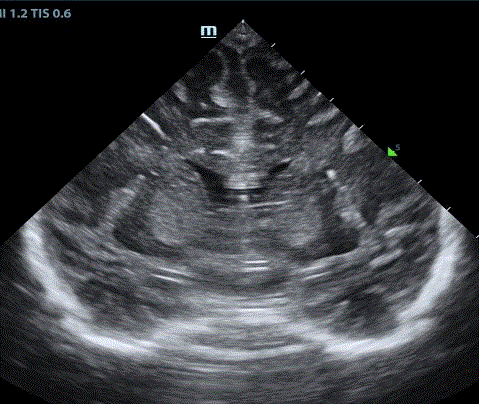 Figure 4: Coronal image after 6 weeks of thiamine supplementation shows caudate is less swollen and less echogenic. Ventricles no longer appear compressed.
Diagnosis
Infantile Beriberi
Discussion
In resource-limited settings, thiamine (vitamin B1) deficiency (TD) usually results from inadequate dietary intake. This can be seen in parts of Southeast Asia, India, and to a lesser extent Africa, specifically in regions where diet is monotonous and consists predominantly of polished white rice and cassava. It is also encountered where food access is limited, such as refugee populations. Pregnant women have an increased dietary need for thiamine, and exclusively breastfed infants of thiamine-deficient mothers who follow a postpartum restrictive diet are at highest risk to develop TD. TD also occurs in alcoholics.
Thiamine is essential for carbohydrate metabolism and energy production. It helps convert pyruvate to acetyl coenzyme A (CoA), which initiates nerve impulse propagation. TD may cause cardiac ("wet") or neurological ("dry") or beriberi. Symptoms for dry beriberi in infants are initially nonspecific: anorexia, vomiting or gastroesophageal reflux, malaise, and weakness. Some of the earliest more specific findings—hoarse cry and grunting—result from vocal cord dysfunction due to impaired nerve propagation. Infants may present with seizure, nystagmus, ptosis, moaning, and altered consciousness. With wet beriberi, symptoms include cardiomegaly, tachycardia, and palpitations. Since the presentation of TD in infants is nonspecific, this easily treated but potentially fatal diagnosis is often overlooked in favor of infectious or congenital causes. TD can be diagnosed by evaluating blood levels, but this is unreliable and not available in many settings. The diagnosis may be made if symptoms improve a few hours after thiamine administration.
The primary sonographic finding is bilateral symmetric hyperechogenicity in the BG, possibly due to edema. Before age 2 months, the BG may be only mildly hyperechoic. Later they may appear as echogenic as the choroid plexus. The putamina are affected in all patients, whereas the caudate and thalamus show variable involvement. Patchy increased echogenicity in the parenchyma is rare. Ultrasound findings may resolve entirely, or there may be residual echogenic foci in the basal ganglia as in this case. Hemorrhage may occur in the BG, but is usually unilateral and more rounded. With global ischemia, echogenic periventricular white matter is more striking than with TD. Encephalitis may cause focal edema.
References
Rolfe M et al. Urban beri-beri in The Gambia, people in Africa. Machakos, Kenya, 1994. West Africa. The Transactions of the Royal Society of Tropical Medicine and Hygiene, 1993, 87:114-115.

Hiffler, L., Rakotoambinina, B., Lafferty, N., & Martinez Garcia, D. (2016). Thiamine Deficiency in Tropical Pediatrics: New Insights into a Neglected but Vital Metabolic Challenge.

Frontiers in Nutrition

,

3

. doi: 10.3389/fnut.2016.00016

Wani, N. A., Qureshi, U. A., Ahmad, K., & Choh, N. A. (2016). Cranial Ultrasonography in Infantile Encephalitic Beriberi: A Useful First-Line Imaging Tool for Screening and Diagnosis in Suspected Cases.

American Journal of Neuroradiology

,

37

(8), 1535–1540. doi: 10.3174/ajnr.a4756

Johnson CR, Fischer PR, Thacher TD, Topazian MD, Bourassa MW, Combs GF, Jr. Thiamin deficiency in low- and middle-income countries: Disorders, prevalences, previous interventions and current recommendations. Nutr Health 2019;25:127-51.