Hyper-reactive Malarial Splenomegaly
Amanda Ferguson, MD and Rebecca Stein-Wexler, MD
Department of Radiology, University of California, Davis
Clinical Presentation
History
A 19-year-old male who has just emigrated from Papua New Guinea to the United States presents for evaluation to his primary care provider for an abdominal pain and swelling as well as weight loss. The patient notes that he has had this abnormal mass for several months but the worsening pain prompted him to come in for further evaluation. He notes that he had fevers and chills when in Papua Nu Guinea 6 months prior to immigration to the United States.
Physical exam
| Blood pressure | Pulse | Respiratory Rate | Pulse Oximetry | Temperature |
| --- | --- | --- | --- | --- |
| 110/90 | 70 | 10 | 99 | 98.4 |
General: Pale appearing young man.
Abdomen: Palpable left sided mildly tender abdominal mass that extends from the left upper quadrant to the pelvis. There was also mild hepatomegaly.
Musculoskeletal: No cervical, axillary, or inguinal lymphadenopathy
Imaging and Laboratory Information

Immunoassay
EBV IgM: negative
Cytomegalovirus IgM: negative
Malaria IgM: positive
Clinical Differential Diagnosis
Atypical infectious process




EBV-Mononucleiosis




Hematological malignancy
Ultrasound Imaging Findings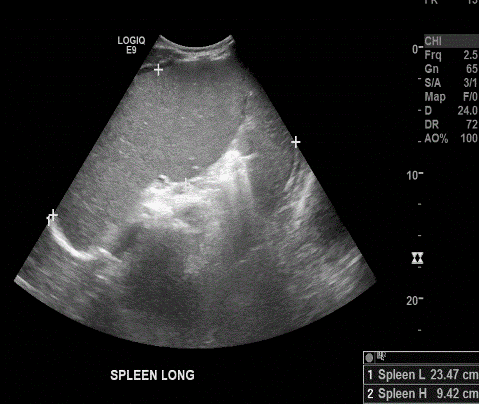 Sagittal ultrasound image demonstrates massive splenomegaly, with spleen length measuring 23.5 cm (normal 13 cm). No free fluid.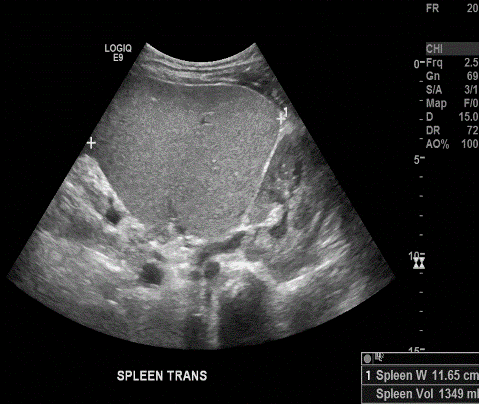 Transverse image confirms massive splenomegaly, with a markedly increased volume of 1349 ml (normal 200 ml).
Differential Diagnosis Based on Imaging
Atypical infectious process




Hematologic malignancy
Clinical Course and/or Management
The patient was started on chloroquine since the serology for malaria was IgM positive, and he was followed closely for several months. Splenomegaly gradually improved, and Malarial IgM values decreased.
Diagnosis
Hyper-reactive Malarial Splenomegaly Syndrome, aka Tropical Spleen Syndrome
Discussion
Hyper-reactive Malarial Splenomegaly Syndrome, also known as Tropical Spleen Syndrome, is the leading cause of massive splenomegaly in malaria-endemic countries. Its etiology is not well understood. The condition is thought to result from an exaggerated immunological response to chronic antigenic stimulation by the malarial parasite. Diagnostic criteria vary. Fakunle's criteria are most commonly used: persistent splenomegaly, positive malaria IgM, and improvement following treatment with anti-malarial medication.
Complications include acute infectious illness, hemolytic anemia, and splenic rupture, which can be fatal if untreated. The presence of free fluid or subcapsular fluid may indicate splenic rupture or subcapsular hematoma. In addition it is thought that this condition is a precursor to several hematologic malignancies including splenic lymphoma and hairy cell leukemia. The serologic similarities between the diseases can make them indistinguishable.
Treatment of this condition involves long-term antimalarial drugs. If spleen size does not decrease or malaria IgM levels do not improve, alternative diagnoses such as underlying hematologic malignancy should be considered.
References
Bisoffi, Z.

et al.

Chronic malaria and hyper-reactive malarial splenomegaly: a retrospective study on the largest series observed in a non-endemic country.

Malar J

15

, (2016).




Ajao, O. G. Enlarged Spleen Syndrome.

J Natl Med Assoc

72

, 323–325 (1980).




Leoni, S., Buonfrate, D., Angheben, A., Gobbi, F. & Bisoffi, Z. The hyper-reactive malarial splenomegaly: a systematic review of the literature.

Malar. J.

14

, 185 (2015).