Hydrocephalus
Stephen Vong, MD & Rebecca Stein-Wexler, MD
Department of Radiology, University of California, Davis
Clinical Presentation
History
Term infant born via cesarean section for breech presentation and hypoglycemia, found to have macrocephaly. No prenatal imaging was available for review. Pregnancy was complicated by maternal Hashimoto's thyroiditis. Complete prenatal work-up for infection (rubella, syphilis, gonorrhea, chlamydia, Hepatitis B, and Group B Streptococcus) was negative.
Physical Exam
| Blood Pressure | Pulse | Respiratory Rate | Pulse Oximetry | Temperature |
| --- | --- | --- | --- | --- |
| 61/24 | 122 | 61 | 95% | 36.7 C |
General: Well appearing infant.
Head: Macrocephalic (head circumference 39.5 cm).
Lungs: Symmetric chest excursion with spontaneous abdominal breathing.
Neurologic: Active with stimulation, bilateral equal Moro reflex, positive plantar and palmar grasp.
Imaging and Laboratory Information
POC Glucose: 29 mg/dL
Clinical Differential Diagnosis for Macrocephaly
Congenital hydrocephalus




Hydranencephaly




Neurofibromatosis Type 1




Achondroplasia




Tuberous sclerosis complex




Metabolic storage diseases (mucopolysaccharidoses)



Ultrasound Imaging Findings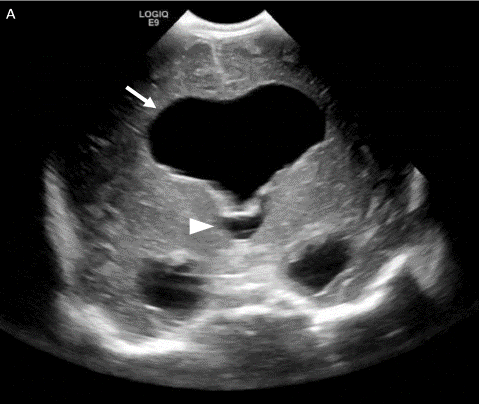 Coronal grey scale image demonstrates bilateral lateral ventriculomegaly (arrow) with bifrontal diameter at the level of the foramen of Monro measuring 5.4 cm. Additionally, there is dilation of the third ventricle (arrowhead).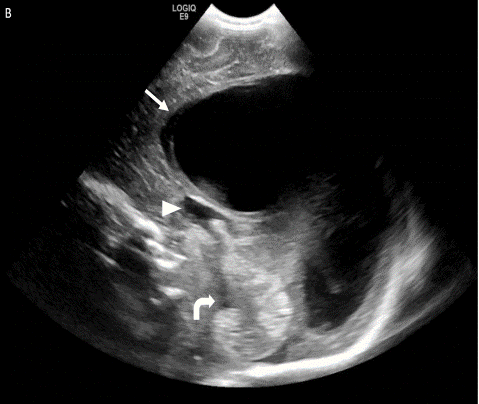 Sagittal grey scale image demonstrates lateral ventriculomegaly (arrow) and fluid within the third ventricle (arrowhead). The 4th ventricle appears normal (curved arrow).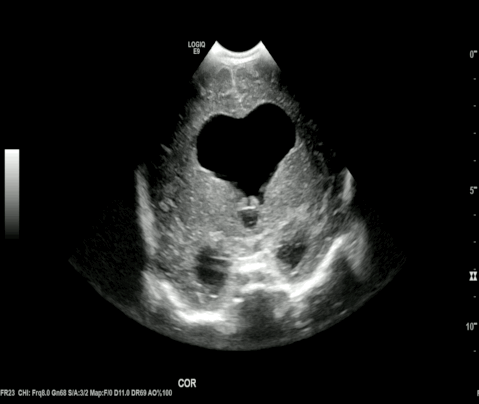 Coronal grey scale cine clip demonstrates the extent of bilateral lateral ventriculomegaly and better delineates the mildly dilated third ventricle.
Differential Diagnosis Based on Imaging
Primary aqueductal stenosis




Sequelae of intraventricular hemorrhage




Chiari malformation




Intrauterine infection




Intraventricular mass




X-linked hydrocephalus



Clinical Course and/or Management
Neurosurgery was consulted for hydrocephalus. Given lateral and third ventricular dilation with no significant fourth ventricular dilation, absence of additional structural abnormalities, and no evidence of hemorrhage or infection, findings suggested primary aqueductal stenosis. This was confirmed on follow-up MRI. No acute surgical intervention was warranted given the patient's stability. The patient was discharged for outpatient neurosurgical follow-up and subsequent endoscopic third ventriculostomy.
Diagnosis
Hydrocephalus secondary to primary aqueductal stenosis
Discussion
Hydrocephalus is a common neonatal neurological disorder, affecting approximately 1.1 per 1000 infants. Enlarged head circumference may be an isolated finding, or there may also be clinical manifestations, such as poor feeding and irritability. Clinically, macrocephaly is observed if there is significant hydrocephalus. Etiology may be congenital or acquired. Some of the more common causes of congenital hydrocephalus include aqueductal stenosis, neural tube defects, arachnoid cyst, and Dandy-Walker syndrome. Acquired hydrocephalus may be caused by intraventricular hemorrhage, meningitis, traumatic injury, and posterior fossa tumors. Depending on the etiology, treatment varies significantly with neurosurgery consultation often warranted.
Imaging is vital in the initial diagnosis, monitoring, and evaluation for underlying etiology. Ultrasound allows delineation of the severity and extent of ventricular dilatation, and sequential imaging may demonstrate progressive increase or decrease in the degree of hydrocephalus. It is important to determine whether or not the fourth ventricle is dilated. It is also important to look for other findings that may explain the etiology of the hydrocephalus. Examples include increased echogenicity of intraventricular fluid (which may be due to hemorrhage or infection), thickened meninges (suggesting meningitis), and structural abnormalities.
Sometimes ventriculomegaly is identified in the setting of a normal or small head circumference. This should trigger concern for brain atrophy. In addition, mild ventriculomegaly, a mild increase in extra-axial fluid, and macrocephaly may be seen with benign increased extra-axial fluid of infancy—but that diagnosis rests on the patient being entirely normal neurologically.
Reference
Tully HM and Dobyns WB. Infantile hydrocephalus: a review of epidemiology, classification, and causes. Eur J Med Genet. 2014;57(8):359-368.