Human Dirofilariasis
Amanda Ferguson, MD & Rebecca Stein-Wexler, MD
Department of Radiology, University of California, Davis
Clinical Presentation
History
A 45-year-old male with a history of HIV presented with a three-week history of a painless subcutaneous nodule in his left forearm. He noted a moderate amount of left arm swelling for 3 weeks prior to the development of the nodule. The patient reported he had just returned from month-long trip to Croatia visiting family. In addition to the forearm nodule he noted blurred vision for 1 week. The patient denied any fevers.
Physical exam
| Blood pressure | Pulse | Respiratory Rate | Pulse Oximetry | Temperature |
| --- | --- | --- | --- | --- |
| | 80 | 16 | | 98.6 |
General: Well appearing man
HEENT: Eyes appear unremarkable
Skin: 2 cm subcutaneous nodule in the left forearm, deeply seated within the soft tissues.
Laboratory Information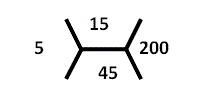 Clinical Differential Diagnosis
Bacterial Infection




Atypical infection




Soft tissue tumor
Ultrasound Imaging Findings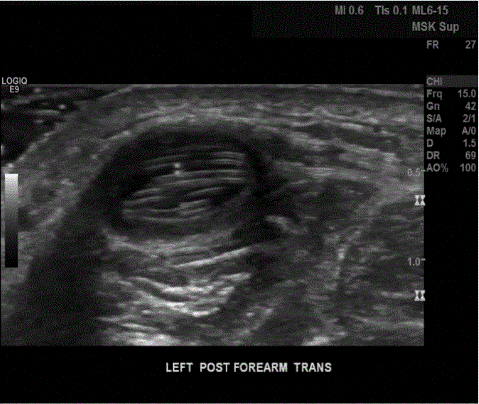 There is a well-circumscribed lesion in the subcutaneous soft tissues of the forearm in the area of palpable abnormality. Inside of a thick capsule there is a tubular structure with echogenic walls and central lucency.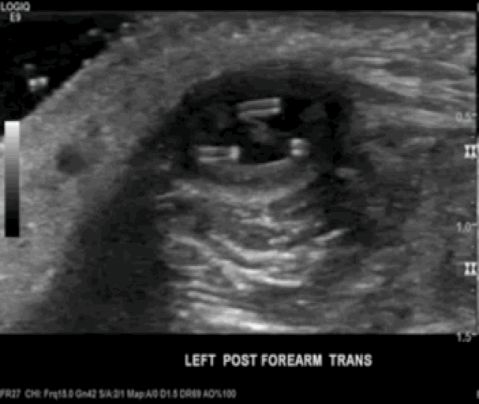 During the sonographic exam (see cine) the tubular structure moved independently.
Differential Diagnosis Based on Imaging
Parasitic infection
Clinical Course and/or Management
The patient was taken for surgical excision of the capsule, which was sent to pathology. During surgery, a long, tubular structure compatible with a nematode was removed. The patient was also referred to ophthalmology to evaluate for ocular involvement given complaint of blurred vision.
Diagnosis
Human Subcutaneous Dirofilariasis
Discussion
Human subcutaneous dirofilariasis is a zoonotic filariasis caused by infection from the Dirofilaria family of nematodes, commonly Diafilaria repens. This worm is endemic to many areas of the world, including sub-Sarahan Africa, Asia, and Europe (especially Italy and Eastern Europe). Its primary reservoir is dogs, where the worm forms a subcutaneous cyst before releasing microfilariae into the bloodstream. These microfilariae can be transferred to humans via mosquitoes. A microfilaria can develop into a nematode in humans, but it does not reach full adulthood, never maturing to release microfilariae. However, it may live for a significant amount of time within a human host, where it forms a cyst.
Some of the most common locations where this nematode has been found in humans include the skin of the extremities, the genital area, and the eyes. Clinical presentation varies based on where the nematode encysts. Subcutaneous dirofilariasis most often presents as a nodule, which may be tender.
Diagnosing human dirofilariasis may be difficult when a patient presents in a non-endemic area. History of recent travel to high-risk locations is key to diagnosis. Ultrasound shows a tubular structure that has echogenic walls and a lucent center. Treatment of this infection is usually local excision without pharmacologic therapy.
References
Genchi, C. & Kramer, L. Subcutaneous dirofilariosis (Dirofilaria repens): an infection spreading throughout the old world.

Parasit Vectors

10

, (2017).




Kramer, L. H.

et al.

Human Subcutaneous Dirofilariasis, Russia.

Emerg Infect Dis

13

, 150–152 (2007).




Sukumarakurup, S.

et al.

Subcutaneous human dirofilariasis.

Indian J Dermatol Venereol Leprol

81

, 59–61 (2015).