Fournier's Gangrene
R. Wahome, MD and D. Mirsch, MD
Mbarara University of Science and Technology and University of Buffalo
Clinical Presentation
History
70-year-old man with HIV (compliant with HAART for over 5 years) with a recent surgical admission (10 days prior) for testicular hydrocelectomy, presented to the emergency department with scrotal pain for 1 week and associated fever for 5 days. After the surgery, he was given antibiotics and sent home with standard post-operative instructions after 1 day of observation in hospital, only to present later with the symptoms above. No other associated symptoms such as cough, abdominal pain or headaches.
Physical exam
| Blood pressure | Pulse | Respiratory Rate | Pulse Oximetry | Temperature |
| --- | --- | --- | --- | --- |
| 108/67 | 104 | 17 | 94% | 37.8 c |
General: Fair condition, ambulatory but in pain.
Abdomen: No abdominal tenderness or masses. No distension or apparent ascites.
Genitourinary: Scrotal swelling noted markedly on the left side, incision site had marked tenderness with light palpation of the testis, but was healing and no discharge at the incision site. Pain was not positional or relieved by raising the testes. No identifiable masses. Trans-illumination showed free fluid. No urethral discharge. Mild Inguinal lymphadenopathy noted, non-tender, and mobile.
Laboratory Information
Complete blood count : leukocytosis of 14, with a neutrophilia.
Serum electrolyte, renal function, urinalysis testing was normal.
Clinical Differential Diagnosis
Testicular torsion




Incarcerated hernia




Epididymitis-orchitis




Fournier's gangrene




Scrotal abscess




Urinary tract infection




Testicular tumor
Ultrasound Imaging Findings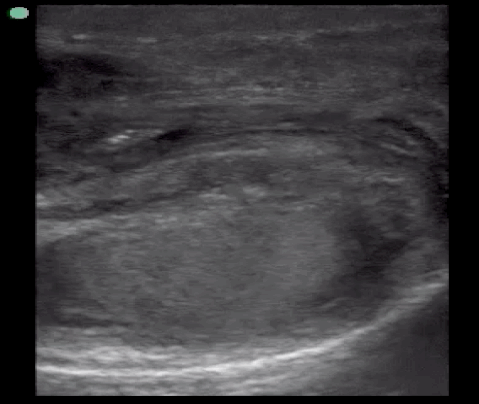 Thickened soft tissues, anterior ring down artifact concerning for gas, without apparent hydrocele.
Normal appearing testicular blood flow with color doppler. Thickened soft tissues, anterior ring down artifact concerning for gas, without apparent hydrocele.
Differential Diagnosis Based on Imaging
Fournier's gangrene




Epididymitis-orchitis




Cellulitis




Abscess
Clinical Course and/or Management
Started on broad spectrum antibiotics as well as tetanus immunization. Surgical exploration was done with samples takenfor cytology, culture and sensitivity. Cultures grew streptococcus pyogenes.
Diagnosis
Fournier's gangrene
Discussion
Fournier's gangrene is a form of necrotizing fasciitis of soft tissues of the perineal and genital area, mostly found in men. It is a rapidly progressing polymicrobial infection of the soft tissues leading to vascular thrombosis, eventual ischemia and necrosis (extension of 2-3cm/hr).
It is usually associated with elderly men with either a history of instrumentation/surgical exploration, infections around the genital area or comorbidities such as diabetes and immunosuppression. Illness may initially be painless with minimal visual cues. Systemic manifestations such as fever, chills, nausea, and vomiting may be present. This rapidly progresses to cause severe pain in the genital area as well as swelling, redness, crepitus, skin discoloration and discharge.
Work up includes complete blood count, renal function, electrolytes, blood glucose, urinalysis as well as culture and sensitivity. Ultrasound is usually the fastest and most available form of imaging with sensitivities of up to 99% which is ideal because most patients are not stable enough to undergo other diagnostic modalities. The emphasis is on ruling out incarcerated hernias as well as testicular torsion. Treatment is usually with early extensive tissue debridement of necrotic tissue while sparing functional testicular anatomy and early triple therapy antibiotics of 3rd generation cephalosporin, penicillin, and metronidazole.
References
Lin, C.-N., et al.,

The Relationship Between Fluid Accumulation in Ultrasonography and the Diagnosis and Prognosis of Patients with Necrotizing Fasciitis.

Ultrasound in Medicine and Biology, 2019.

45

(7): p. 1545-1550.




Tim Montrief, M.J.A., MD,

Fournier's Gangrene: ED presentations, evaluation, and management.

EMDOCS, UL 1ST, 2019.




David M. Cline, M., O. John Ma, MD, Rita K. Cydulka, MD, MS, Garth D. Meckler, MD, MSHS, Stephen H. Thomas, MD, MPH, Daniel A. Handel, MD, MPH,

Tintinalli's Emergency Medicine Manual

. Vol. 7th edition. 2012: The McGraw-Hill Companies.