Focal Seizure and Use of Optic Nerve Sheath Diameter
Charles McElyea, MD, MPH & Michael Schick, DO
Department of Emergency Medicine, University of California, Davis
Clinical Presentation
History
A 7-year-old female presented to the Emergency Department in status epilepticus. According to the patient's mother, she has no prior history of seizures and no other medical problems; she has, however, been feeling ill for several days with subjective fevers and headaches.
Physical exam
General: Febrile, non-responsive.
HEENT: Pupils are equal, sluggish, no signs of trauma.
Neck: No nuchal rigidity.
Neurologic: Focal right-sided tonic-clonic movements.
Clinical Differential Diagnosis
Meningitis

Brain Abscess

Intracranial Hemorrhage

Brain Mass

Epilepsy

Toxic ingestion
Ultrasound Imaging Findings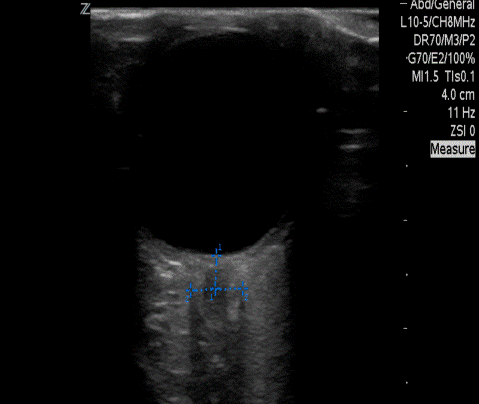 The patients Optic Nerve Sheath Diameter (ONSD) measures 7.2 mm on the left and 7.1 mm on the right.
Differential Diagnosis Based on Imaging
Brain Mass

Intracranial Hemorrhage

Brain Abscess

Meningitis
Clinical Course and/or Management
The patient was treated with IM diazepam and intubated. After obtaining IV access, a dose of IV lorazepam was given with slow resolution of seizure activity. The PICU attending, at bedside, requests a lumbar puncture to rule out meningitis; however focal seizures are concerning for mass, abscess, or a focal bleed. The patient would be at risk of brain herniation if a lumbar puncture were performed in the setting of elevated intracranial pressure. No CT scanner is available in the facility.
Lumbar puncture was ultimately deferred in the setting of ONSD findings consistent with elevated intracranial pressure (ICP). Empiric antibiotics were given. The following day, the patient was sent to a nearby facility for CT brain imaging, which showed a large left-sided brain mass with associated acute hemorrhage. She continued to decompensate and was placed on comfort care the following day.
Diagnosis
Brain Mass with Hemorrhage
Discussion
The optic nerve sheath (ONS) consists of cerebrospinal fluid (CSF) and dura mater surrounding the optic nerve. The diameter of the ONS is influenced by variations in CSF pressure due to its direct communication with the subarachnoid space. The current gold standard for measuring ICP involves placement of an intracranial monitor by a neurosurgeon and carries with in increased risks of bleeding, infection, and mechanical malfunction. Neuroimaging has also long been used as a means of measuring intracranial pressure, but may lead to patient safety issues given the time sensitive nature of certain pathologic processes. Furthermore, neuroimaging suites are not universally available - as demonstrated in the above case – lending further utility to bedside point-of-care ultrasound.
Ultrasonography may be used as a rapid, non-invasive means of measuring ICP, though the exact cutoff value for a normal ONSD is not universally agreed upon. One prospective analysis of an emergency practitioner who ultrasounded 27 patients within 24 hours of placement of an external ventricular device found that an ONSD of >5.1 had an 83.3% sensitivity and 100% specificity for an ICP >20 mmHg. Previously, Amini et al. (2013) had found a sensitivity of 100% for elevated ICPs with an ONSD of >5.5 mm in a study of 50 non-trauma patients when ultrasound was performed prior to LP with opening pressures. The sensitivity of ONSD for finding elevated ICP of 90% and specificity of 85% in a pooled analysis of six studies in which the threshold for defining elevated ICP varied from 5.0 mm to 5.9 mm.
Overall, ONSD has been demonstrated as a reliable means of identifying elevated ICP in numerous studies; however, despite a growing body of evidence, the threshold for the upper limit of normal ONSD has yet to be clearly defined. Nevertheless, measuring the ONSD is easy to perform, noninvasive, and can readily and rapidly inform clinical decision making as demonstrated in the case above.
References
Amini, Afshin et al. Use of sonographic diameter of optic nerve sheath to estimate intracranial pressure.

American J of Emergency Medicine

31, 236-239 (2013)

Dubourg, Julie et al. Ultrasonography of optic nerve sheath diameter for detection of raised intracranial pressure: a systemic review and meta-analysis.

Intensive Care Med

37:1059-1068, 2011.

Frumin, Erica et al. Prospective Anaylsis of Single Operator Sonographic Optic Nerve Sheath Diameter Measurment for Diagnosis of Elevated Intracranial Pressure. Western J of EM XV, no2, 217-220 (2014)