Echinococcus Granulosus Hydatid Cyst
Danielle Langan, DO, Josh Greenstein, MD, & Barry Hahn, MD
Department of Emergency Medicine, Staten Island University Hospital Northwell Health
Clinical Presentation
History
A 69-year-old female with a history of hypertension presented to the emergency department with malaise, right upper quadrant pain, and nausea intermittently for two months, worsening over the past three days. She recently immigrated to the United States from Argentina. She reported an unintentional 20-pound weight loss over the past year. She denied any past surgical history.
Physical exam
| Blood pressure | Pulse | Respiratory Rate | Pulse Oximetry | Temperature |
| --- | --- | --- | --- | --- |
| 135/90 | 112 | 16 | 98% | 100.7F |
General: Well appearing, no acute distress.
Skin: No rashes, no jaundice.
Cardiac: Tachycardic, no murmurs.
Respiratory: Clear to auscultation, no wheezes, rales, or rhonchi.
Abdomen: Soft, nondistended, tenderness to palpation of RUQ, hepatomegaly.
Imaging and Laboratory Information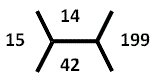 The patient had 20% eosinophilia, and transaminitis (AST 89, ALT 120).
Clinical Differential Diagnosis
Hepatic carcinoma




Cysticercosis




Liver abscess




Biliary obstruction




Portal hypertension




Pyogenic hepatic abscess




Budd-Chiari syndrome




Biliary colic



Ultrasound Imaging Findings
15.0 x 12.5 x 16.6 cm multilocular cystic lesion in the right hepatic lobe highly suspicious for a hydatid cyst.
CT Imaging Findings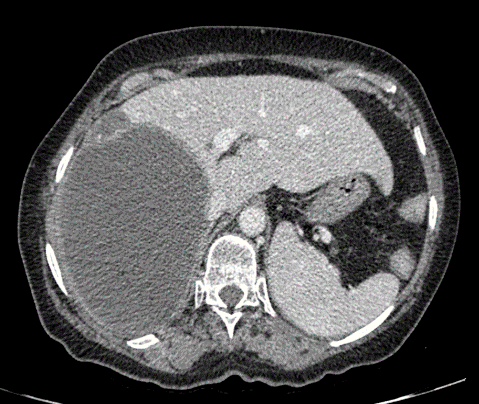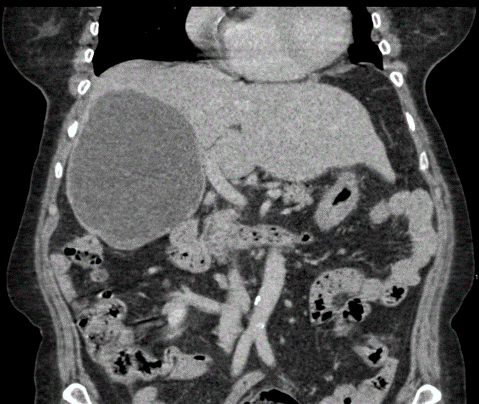 CT of the abdomen/pelvis shows a circumscribed multilocular cystic lesion containing multiple smaller cysts in the right hepatic lobe associated with bulging of the capsule.
Differential Diagnosis Based on Imaging
Hepatic hydatic cyst

Cystic or necrotic metastases

Pyogenic hepatic abscess

Simple cyst

Cystadenoma
Clinical Course and/or Management
After imaging was performed in the emergency department, the patient was admitted for further management. Serologic testing confirmed the diagnosis of Echinococcus granulosus hydatid cyst. The patient was given albendazole and showed mild improvement of symptoms after several days of treatment. The patient was discharged with gastrointestinal and surgical follow up for elective cyst removal and cholecystectomy.
Diagnosis
Echinococcus granulosus hydatid cyst
Discussion
Echinococcosis is a rare parasitic disease caused by a tapeworm that can present in two forms: cystic echinococcosis (hydatidosis) and alveolar echinococcosis. The most common strains include Echinococcus granulosus and Echinococcus multilocularis. The pathogen is typically acquired during childhood with a long asymptomatic incubation period lasting until adulthood. Geographic location serves as a risk factor with cases endemic in South America, the Middle East, sub-Saharan African, and western China.
The life cycle of Echinococcus commonly involves dogs as the definitive host and sheep as the intermediate host. The pathogenesis of incidental human infection involves fecal-oral transmission of parasite eggs. Clinical manifestation of symptoms is based on cyst location, size, and amount of pressure exerted on the surrounding tissues. Approximately 70% of cysts develop in the liver and 25% in the lungs. Cysts typically expand at a rate of about 1 to 5 centimeters per year in the liver and at a slightly faster rate in the lung, with higher mortality rates demonstrated with alveolar involvement.
Ultrasound is the best initial diagnostic test with 90-95 percent sensitivity. Findings typically include a single anechoic, smooth and round cyst with or without septations and possibly the presence of daughter cysts. A thick or irregular wall may be present. "Eggshell" calcification is a common ultrasonographic finding. Ultrasound can be used for cyst staging and classification. Computed tomography is preferred for evaluation of extrahepatic cysts. Treatment options include antiparasitic medications, image-guided percutaneous drainage, or resection depending on cyst size and clinical presentation. Caution is given when performing surgical intervention due to the risk of spilling of cyst contents leading to anaphylactic shock and or secondary seeding of infection.
References
Pawlowski ZS, Eckert J, Vuitton DA, et al. Echinococcosis in humans: clinical aspects, diagnosis and treatment. In: Eckert J, Gemmel MA, Meslin F-X, Pawlowski ZS, eds. WHO/OIE manual on Echinococcosis in humans and animals: a public health problem of global concern. Paris: World Organization for Animal Health. World Health Organization, 2001: 20-71.

Brunetti E, Tamarozzi F, Macpherson C, et al. Ultrasound and Cystic Echinococcosis.

Ultrasound Int Open

. 2018;4(3):E70-E78. doi:10.1055/a-0650-3807.