Cavitary Lesion of the Lung
Christine McBeth, DO, MSPH
Department of Emergency Medicine, University of California, Davis
Clinical Presentation
History
A 25-year-old male with past medical history of HIV presents with shortness of breath and fevers for three days. He has not been taking his prescribed medications. He has had a productive cough with yellow and blood-tinged sputum. He endorses pleuritic chest pain, abdominal distention and diarrhea.
Physical exam
| Blood pressure | Pulse | Respiratory Rate | Pulse Oximetry | Temperature |
| --- | --- | --- | --- | --- |
| 98/45 | 130 | 35 | Unknown | 101.7 |
General: Cachectic, ill-appearing, temporal muscle wasting, diaphoretic.
Cardiovascular: Tachycardic, regular, no murmurs, no JVD.
Respiratory: Tachypneic, speaking full sentences, right lung clear, left lung markedly diminished breath sounds, scattered rhonchi.
Imaging and Laboratory Information
Chest X-ray: normal heart size, right lung normal, complete opacification left lung
Clinical Differential Diagnosis
Pleural effusion




Pneumonia




Atelectasis




Tuberculosis




Congestive heart failure




Pneumothorax
Ultrasound Imaging Findings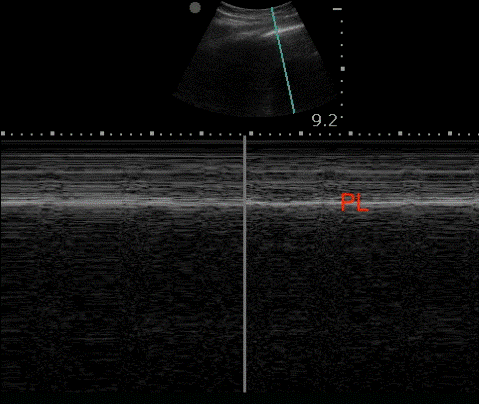 M-mode left lung: Given decreased breath sounds on the left side, ultrasound was performed to rule out pneumothorax. This image shows evaluation lung sliding using M-mode. This shows "stratosphere sign" with lung sliding to rule out pneumothorax in contrast to a "bar code sign" which would be concerning for a pneumothorax. PL=pleural line.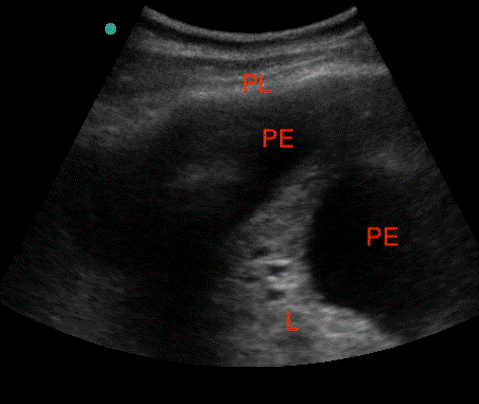 Left lower lung: Small pleural effusion surrounding left inferior lung. PL=pleural line, PE=pleural effusion, L=lung.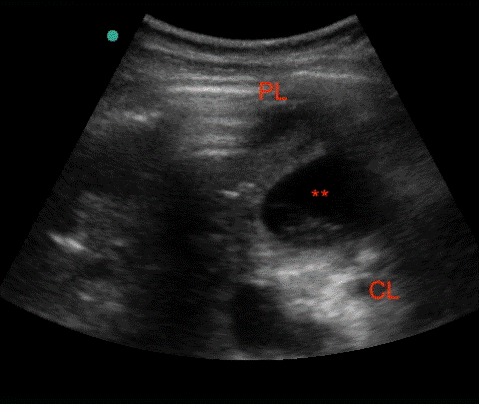 Left upper chest: Area of normal lung with pleural line noted left upper anterior chest. Deep to that is a large cavitary lesion with anechoic fluid and dependent debris. Deep to that is consolidated lung. PL=pleural line, **=cavitary lesion, CL=consolidated lung.
Differential Diagnosis Based on Imaging
Pulmonary tuberculosis




Aspergillosis




Abscess




Pneumonia




Necrotizing pneumonia




Cancer




Cyst




Empyema
Clinical Course and/or Management
Prior to our evaluation, the patient had already been admitted to the hospital for what was presumed to be a large pleural effusion (seen as "white out" on chest x-ray). He was receiving broad-spectrum antibiotics without improvement. The emergency clinicians were consulted to evaluate the patient with ultrasound to see why chest tubes were not getting fluid return. There had been multiple attempts at a left-sided chest tube placement with minimal output. On evaluating with POCUS, a small effusion was noted at the left base. However, ultrasound also found that the majority of the lung was consolidated with scattered cavitary lesions, especially at the superior apex of the lung. This explained the minimal output, prevented further unnecessary procedures, and initiated airborne precautions for now presumed tuberculosis. Plans for RIPE therapy were made. Unfortunately, the patient expired the following day.
Diagnosis
Cavitary lesion of the lung
Discussion
Point-of-care ultrasound helps in the rapid assessment of the undifferentiated dyspneic patient in both high- and low-resource settings. Combining lung, cardiac and inferior vena cava findings can help narrow the differential diagnosis quickly. In this case, POCUS immediately changed the patient's management and narrowed the differential diagnosis. Ultrasound can rapidly differentiate between a pleural effusion and consolidated lung. Identifying a cavitary lesion on ultrasound in a patient with poorly-controlled HIV made tuberculosis the most likely etiology. However, there is no known diagnostic protocol in identifying pulmonary tuberculosis specifically.
There is evidence that ultrasound is superior to chest x-ray in identifying findings consistent with TB in children. The most common findings were consolidations greater than 0.5cm, pleural effusions and enlarged mediastinal lymph nodes. While enlarged lymph nodes were also seen in other respiratory disease, they appeared to be larger in children with pulmonary TB. The size of lymph nodes were shown to decrease with treatment, so following size could theoretically be used as a marker of treatment success.
One of the most common findings of pulmonary TB described in adult patients are pleural effusions, which can be a secondary sign of underlying infection. Effusions can be simple appearing, but often have septations or fibrin strands within them. Importantly, ultrasound's sensitivity is well established to be superior to chest x-ray and can be used to direct thoracentesis. Other potential pulmonary ultrasound findings include pleural thickening, focal B-lines, and subpleural consolidations (or shred sign). However, similar findings can be seen in other disease processes and further research is required.
References
Lichtenstein DA, Mezière GA. Relevance of lung ultrasound in the diagnosis of acute respiratory failure: the BLUE protocol [published correction appears in Chest. 2013 Aug;144(2):721].

Chest

. 2008;134(1):117‐125. doi:10.1378/chest.07-2800




Guttikonda SNR, Vadapalli K. Approach to undifferentiated dyspnea in emergency department: aids in rapid clinical decision-making.

Int J Emerg Med

. 2018;11(1):21. Published 2018 Apr 4. doi:10.1186/s12245-018-0181-z




Di Gennaro F, Pisani L, Veronese N, et al. Potential Diagnostic Properties of Chest Ultrasound in Thoracic Tuberculosis-A Systematic Review.

Int J Environ Res Public Health

. 2018;15(10):2235. Published 2018 Oct 12. doi:10.3390/ijerph15102235




Heuvelings CC, Bélard S, Andronikou S, et al. Chest ultrasound compared to chest X-ray for pediatric pulmonary tuberculosis.

Pediatr Pulmonol

. 2019;54(12):1914-1920. doi:10.1002/ppul.24500




Ndege R, Weisser M, Elzi L, et al. Sonography to Rule Out Tuberculosis in Sub-Saharan Africa: A Prospective Observational Study.

Open Forum Infect Dis

. 2019;6(4):ofz154. Published 2019 Apr 25. doi:10.1093/ofid/ofz154