Ascariasis
Wayne Fu, MD, Josh Greenstein, MD, Amit Ramjit, MD
Department of Emergency Medicine, Staten Island University Hospital Northwell Health & Department of Radiology, Staten Island University Hospital Northwell Health
Clinical Presentation
History
7-year-old male presented with fever and diarrhea, worsening diffuse abdominal pain and weight loss over the past 2 weeks after travelling from Honduras 3 weeks ago.
Physical exam
| Blood pressure | Pulse | Respiratory Rate | Pulse Oximetry | Temperature |
| --- | --- | --- | --- | --- |
| 114/75 | 110 | 18 | 100% | 99.7 F |
General: The patient appears dehydrated and is dry heaving.
ENMT: Airway patent, dry oropharynx, neck supple with full range of motion, no cervical adenopathy.
Cardiac: Regular rate and rhythm, heart sounds S1 S2 present, no murmurs, rubs or gallops.
Respiratory: No respiratory distress, no stridor, lungs sounds clear with good aeration bilaterally.
Abdomen: Soft, mildly distended, diffusely tender, with no guarding, and no rigidity. No palpable abdominal mass. Hyperactive bowel sounds.
Imaging and Laboratory Information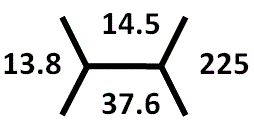 Eosinophilia 13%. Liver function tests were normal.
Clinical Differential Diagnosis
Inflammatory bowel disease

Gastroenteritis

Colitis

Colorectal Cancer

Intestinal nematode infection
Ultrasound Imaging Findings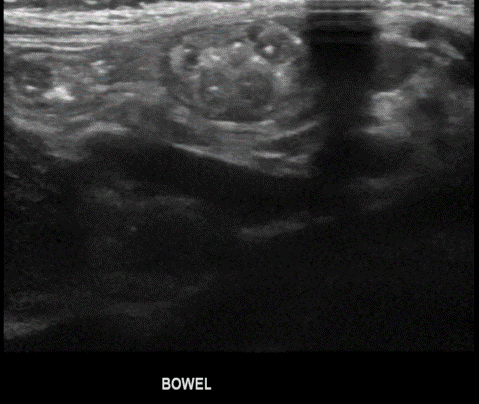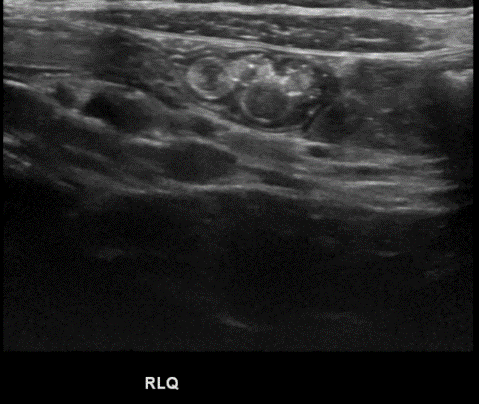 Transverse abdominal images showing a loop of bowel containing multiple smaller diameter circular structures with isoechoic wall and hypoechoic lumen. These structures represent intraluminal parasites in cross section
Differential Diagnosis Based on Imaging
Intestinal nematode infection

Food content

Chron's Disease

Ulcerative Colitis

Meckel's Diverticulum
Clinical Course and/or Management
The patient was treated with albendazole 100 mg twice a day for 3 days and responded well to treatment. Repeat stool sample on outpatient testing showed no evidence of parasitic infection and the patient experienced no further complications.
Diagnosis
Ascaris lumbricoides
Discussion
Ascariasis is a chronic parasitic infection caused by the nematode Ascaris lumbricoides that affects nearly 1.5 billion people globally. As the leading worldwide helminthic infection, it is disproportionally found in low-income communities in Asia, Africa, and South America with poor hygiene and poor fecal sanitation. Infection begins with ingestion of water or food contaminated eggs, which migrate to the lungs and upper respiratory tract as larvae, and eventually swallowed again into the small bowel where they develop into adults. Ascariasis is a largely asymptomatic infection that is incidentally identified on routine endoscopic procedures or radiologic imaging. Symptomatic patients usually present in those with high worm loads. Common clinical manifestations include intestinal obstruction, eosinophilic pneumonia (i.e. Loeffler's Syndrome), hepatobiliary injury, and pancreatitis.
Small bowel ultrasonography is a rapid and noninvasive tool that can be used to diagnosis intestinal ascariasis. Using a high-frequency linear probe in long section, adult worms appear as paired echogenic bands separated by anechoic area. A cross-sectional view shows an echogenic ring shadow, often described as a bull's eye or target sign.
Reference
De Silva, N. R., Brooker, S., Hotez, P. J., Montresor, A., Engels, D., & Savioli, L. (2003). Soil-transmitted helminth infections: updating the global picture. Trends in parasitology, 19(12), 547-551.

World Health Organization. (2006). Preventive chemotherapy in human helminthiasis. Coordinated use of anthelminthic drugs in control interventions: a manual for health professionals and programme managers. World Health Organization.

Lynser, D., Handique, A., Daniala, C., Phukan, P., & Marbaniang, E. (2015). Sonographic images of hepato-pancreatico-biliary and intestinal ascariasis: A pictorial review. Insights into imaging, 6(6), 641-646.