Arterial-Venous Fistula: An A&E case from Masaka, Uganda
Leigha J. Winters MD
University of California at Davis, Department of Emergency Medicine
Clinical Presentation
History
A 20-year-old male with no significant past medical history presented to the Accident and Emergency (A&E) department with proximal right forearm swelling for 1-2 months. The patient was sent in by a radiologist for reported forearm abscess seen on outside imaging, with recommendations for incision and drainage.
The patient reported he was stabbed immediately distal to his right elbow 2.5 months prior to presentation; the wound was closed with stitches at the A&E on the day of the original injury. Over the next 1-2 months, the patient noticed increasing right forearm swelling and pain.
He denied any recent fevers, chills, new trauma, or purulent discharge from the forearm. He noted he was right-hand dominant.
Physical exam (It is only necessary to complete the relevant elements)
| Blood pressure | Pulse | Respiratory Rate | Pulse Oximetry | Temperature |
| --- | --- | --- | --- | --- |
| 125/80 | 75 | 16 | 99% | 37C |
General: Well-appearing young male in no acute distress.
HEENT: PERRL, atraumatic.
Neck: No midline tenderness to palpation, no neck swelling.
Cardiovascular: regular rate and rhythm, no murmurs, rubs or gallops. 2+ (normal) left radial pulse, 1+ (weak) right radial pulse.
Respiratory: Clear to auscultation bilaterally.
Musculoskeletal: Normal strength and sensation in bilateral upper extremities. Decreased right elbow range of motion secondary to pain and swelling of proximal forearm.
Extremity: Swelling to proximal right ventral forearm, no palpable fluctuance.
Neurologic: 5/5 grip strength in bilateral hands.
Skin: No needle marks visible. No erythema, warmth or purulent discharge of right upper extremity. No rash.
Clinical Differential Diagnosis
Abscess




Cellulitis




Hematoma




Pseudoaneurysm with traumatic arteriovenous (AV) fistula




Pyomyositis




Retained foreign body
Ultrasound Imaging Findings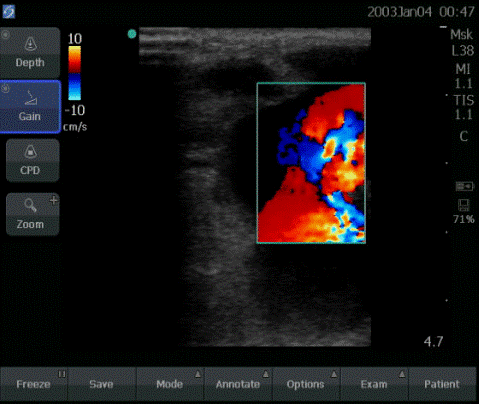 Right forearm ultrasound with color doppler screenshot – turbulent flow visible in round, previously anechoic structure in proximal right forearm. Most concerning for vascular structure.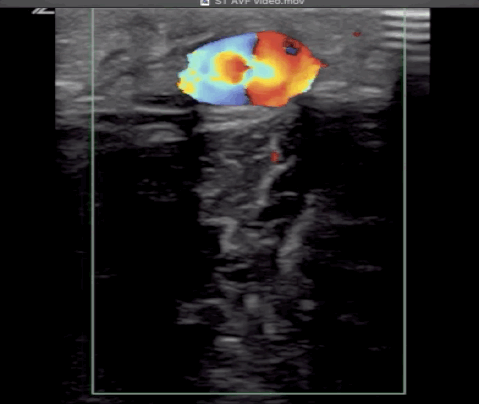 Right forearm ultrasound with color doppler video – Ying-Yang sign of turbulent flow visible within vascular structure, most concerning for pseudoaneurysm.
Differential Diagnosis Based on Imaging
Given intravascular flow, practitioners ruled out abscess and hematoma. There was no hyperechoic structure or artifact, so practitioners doubted retained foreign body. Lack of hypoechoic fluid collection in the muscle ruled out pyomyositis. Ultrasound finding of the "Ying-Yang" sign was most concerning for pseudoaneurysm (and traumatic AV fistula) versus aneurysm.
Clinical Course and/or Management
History, exam and ultrasound findings were most concerning for pseudoaneurysm of the radial artery with a traumatic AV fistula between the cephalic vein and radial artery. As there was no evidence of an abscess on ultrasound, the A&E providers elected to defer incision and drainage or antibiotic treatment of the likely forearm AV fistula. The patient appeared uncomfortable, but the injury appeared stable and subacute; no pain medication was administered, and there was no indication for hospital admission.
The A&E practitioners consulted the staff physician in the A&E, and the team agreed to refer the patient to the nearest vascular surgeon in the capitol city of Kampala, a three-hour drive from Masaka.
The patient was discharged from the A&E with instructions to follow up with the outpatient vascular surgeon for management of the traumatic AV fistula. Unfortunately, upon review one year after the initial A&E visit, the patient still had not presented to Kampala for definitive management.
Diagnosis
Pseudoaneurysm with traumatic AV fistula
Discussion
Pseudoaneurysm with delayed traumatic AV fistula development is an uncommon but serious potential complication of penetrating injuries. Pseudoaneurysms result from a tear in the vessel wall due to trauma with subsequent periarterial hematoma formation, as opposed to true aneurysms which involve thinning of all layers of the arterial wall (1). Upper extremity peripheral artery pseudoaneurysms are more rare than lower extremity pseudoaneurysms (2). As seen in this case, post-traumatic pseudoaneurysm development is generally a late sequela of trauma. It is important to identify these injuries as delays in treatment can cause severe disabilities, including thromboembolic complications, nerve injury and upper extremity and/or finger loss.
During initial evaluation of extremities after penetrating trauma, it is vital that practitioners evaluate for neurovascular injury. Physical exam should include assessing for symmetry of the bilateral peripheral pulses as well as evaluating strength and sensation distal to the wound. Additional evaluation with ultrasound, especially in low-resource settings, is incredibly useful in helping differentiate cellulitis versus abscess versus vasculature. Color doppler should be utilized to differentiate abscess from vasculature. Turbulent flow is pathognomonic for pseudoaneurysm after trauma and can be visualized as the "Ying-Yang" sign with ultrasound color doppler.
Management of pseudoaneurysms and traumatic AV fistulas requires surgical referral for definitive treatment. In patients with forearm swelling with a history of penetrating trauma, it is important that practitioners exercise extreme caution and evaluate the wound with imaging before attempting incision and drainage (I&D). This is especially true in low-resource settings, where resources for vascular injury stabilization (cross clamps, thrombin injection, stents, vascular surgeons, operating rooms) are limited. While I&D is the appropriate treatment of abscess formation, incising a traumatic AV fistula could lead to catastrophic bleeding, extremity amputation and even death.
References
Cordova AC, Sumpio BE. Visceral artery aneurysms and pseudoaneurysms – should they all be managed by endovascular techniques? Ann Vasc Dis 2013;6:687-693.




Yetkin U, Gurbuz A. Post-traumatic pseudoaneurysm of the brachial artery and its surgical treatment. Tex Heart Inst J 2003;30:293-7.




Bagir M, Sayit E, Tanrivermis SA. Pseudoaneurysm of the radial artery on the hand secondary to stabbing. Ann Vasc Surg 2017 May;41:280.