Appendico-cecocolic Intussusception
Anamika Jha MD, Sasmita Tuladhar MD, & Bishnu Gautam MD
Department of Radiology and Imaging, Institute of Medicine, Tribhuvan University Teaching Hospital, Kathmandu, Nepal
Clinical Presentation
History
A 4-year-old boy presented with 4 days of intermittent abdominal pain and vomiting. There was no history of bloody diarrhea, constipation, or fever. No significant past medical or surgical history.
Physical exam
| Blood pressure | Pulse | Respiratory Rate | Pulse Oximetry | Temperature |
| --- | --- | --- | --- | --- |
| 90/50 mmHg | 110 bpm | 24/minute | 95% | Normal |
General: Irritable and lethargic.
Abdomen : Distended, with bulging flanks and a palpable right lower quadrant (RLQ) soft, tender mass. Normal bowel sounds.
Clinical Differential Diagnosis
Intussusception




Mesenteric adenitis




Infantile colic




Appendicitis




Meckel's diverticulitis




Incarcerated hernia
Ultrasound Imaging Findings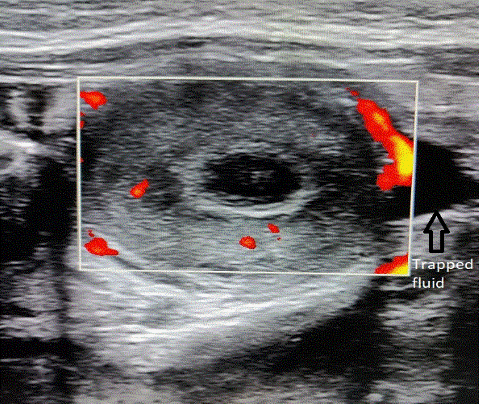 Axial image of right mid-abdomen with power Doppler shows a well-defined, round, heterogeneous mass with a target appearance due to multiple concentric rings of bowel. Normal bowel wall vascularity. Minimal free fluid within the lateral aspect of the mass.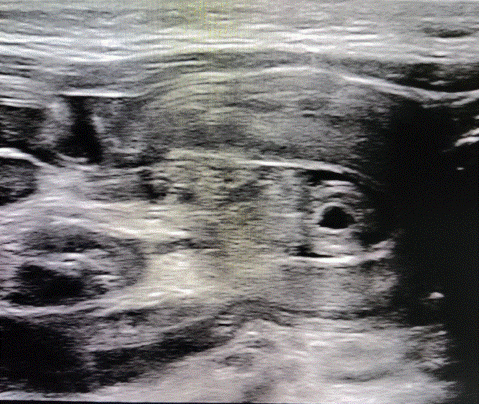 Longitudinal image shows invagination of the appendix and cecum into the ascending colon. Minimal free fluid in the peritoneal cavity.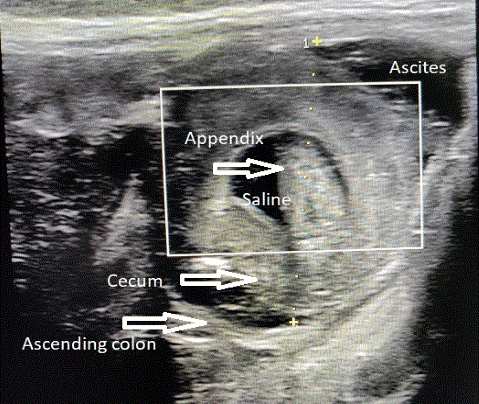 Axial image of the same area after attempted hydrostatic reduction shows saline separating the two layers of bowel wall with the appendix still within the cecal lumen.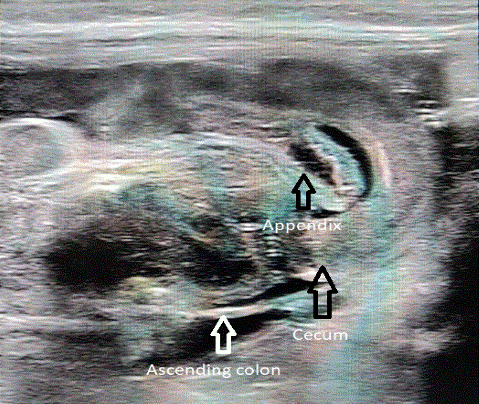 Longitudinal image after attempted hydrostatic reduction shows saline separating the bowel loops and edematous cecum preventing reduction.
Differential Diagnosis Based on Imaging
Intussusception (appendico-cecocolic type)
Clinical Course and/or Management
An unsuccessful attempt at ultrasound-guided hydrostatic reduction was made in the emergency room. Due to the presence of ascites, a repeat procedure was delayed until immediate surgical backup was available. This additional attempt at hydrostatic reduction was also unsuccessful. At surgical reduction, a normal appendix and cecum were seen telescoping into the ascending colon; mesenteric lymphadenopathy was also present. Bowel loops were viable, so simple reduction and appendicectomy were performed.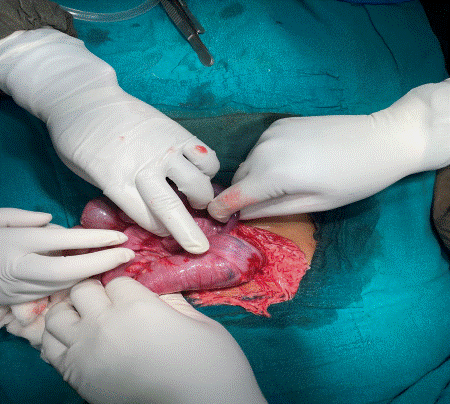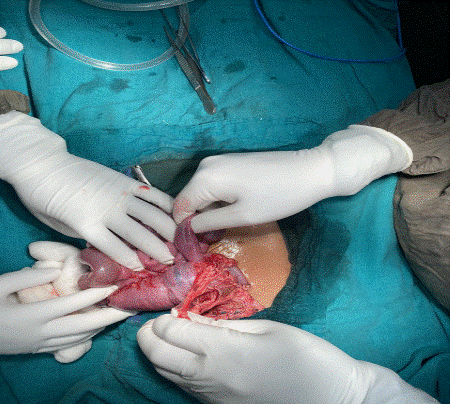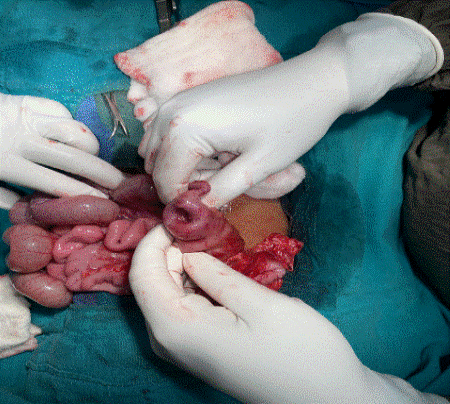 Intraoperative images showing invagination of caecum and appendix into ascending segment.
Diagnosis
Intussusception (appendico-cecocolic type)
Discussion
Intussusception is a common cause of acute abdomen in children, with lead points seen in only a few cases. It is defined as telescoping of a segment of bowel along with its mesentery into the lumen of a contiguous portion of bowel. The condition commonly occurs between the ages of 3 months and 3 years. Intussusception is classified by location as ileocolic, ileoileocolic, colocolic, ileoileal, mixed, and retrograde types. The vast majority are ileocolic. Colocolic intussusception is uncommon and usually associated with a pathological lead point, such as a juvenile polyp. The appendix is usually part of the common ileocolic intussusception but is the lead point in only 0.01% cases, where it is more often pathological. In adults, colocolic intussusception is almost always a complication of pre-existing colonic disease such as carcinoma or poylpoid tumor.
Radiographs are usually nonspecific, although a soft tissue mass and bowel obstruction may be seen. Ultrasound is highly sensitive and specific for diagnosing and guiding treatment of intussusception. Transverse images show multiple alternating concentric hyper and hypoechoic rings create the 'target' or 'bull's eye' sign. Mesentery dragged into one side of the intussusceptum creates the 'crescent in donut' sign. Longitudinal images show the 'pseudokidney' and 'sandwich' sign. Trapped fluid in the intussusception correlates significantly with ischemia and irreducibility but does not contraindicate image guided reduction.
Non-surgical fluoroscopic or sonographic-guided reduction using water soluble contrast, saline, or air enema is often successful. Surgical reduction is indicated if the child is medically unstable with clinical signs of perforations and peritonitis, or if intussusception is irreducible.
References
Del-Pozo G, Albillos JC, Tejedor D, Calero R, Rasero M, De-La-Calle U, et al. Intussusception in children: Current concepts in diagnosis and enema reduction. Radiographics. 1999;19(2):299–319.




Joshi SB, E H, Kinhal V, Kola SK, K SV. Intussusception in Children with a Pathological Appendix Acting as a "Lead Point" - A Series of 3 Cases.

J Clin Diagn Res

. 2015;9(7):PD03‐PD4. doi:10.7860/JCDR/2015/9325.6214




Abrahams. Pediatric Colocolic Intussusception With Pathologic Lead Point: A Case Report. J Med Cases. 2012;3(1):84–8.