Aortic Dissection
Papa Kojo Mbroh, MD, Chris Oppong, MD, and Ideen Zeinali , MD
Komfo Anokye Teaching Hospital, Kumasi, Ghana; Department of Emergency Medicine, Baylor College of Medicine
Clinical Presentation
History
A 66-year-old male with a past medical history of congestive heart failure (CHF) presents to Komfo Anokye Teaching Hospital (KATH) for evaluation of worsening shortness of breath on exertion and vague abdominal discomfort. Two months prior to this presentation, a CXR showed a widened mediastinum, but he was unable to do a CT angiogram due to financial constraints.
Physical exam
| Blood pressure | Pulse | Respiratory Rate | Pulse Oximetry | Temperature |
| --- | --- | --- | --- | --- |
| 107/73 | 78 | 26 | 89% RA | 37.2 |
General: Elderly male in respiratory distress.
Cardiovascular: BP (left arm) 102/73, BP (right arm) 107/70, radio-radial delay, radio-femoral delay, apex beat at 7th left intercostal space along the mid-axillary line, S1+ S2+ pan-systolic murmur.
Respiratory: Bibasilar crackles.
Abdomen: Soft, nontender, nondistended, +hepatomegaly.
Extremities: Bilateral lower extremity pitting edema.
Neurologic: GCS 15, normal gait, 5/5 power in both upper and lower limbs.
Clinical Differential Diagnosis
Decompensated congested heart failure




Valvular heart disease




Acute coronary syndrome




Aortic Dissection (Thoracic/Abdominal)




Pulmonary embolism
Ultrasound Imaging Findings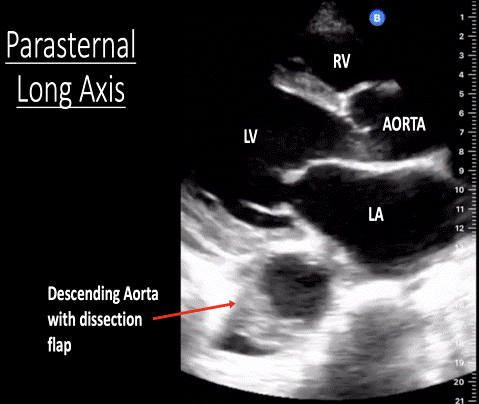 Parasternal long axis view showing dissection flap in descending thoracic aorta. Decreased Ejection Fraction (EF) noted with an enlarged left ventricle and left atria.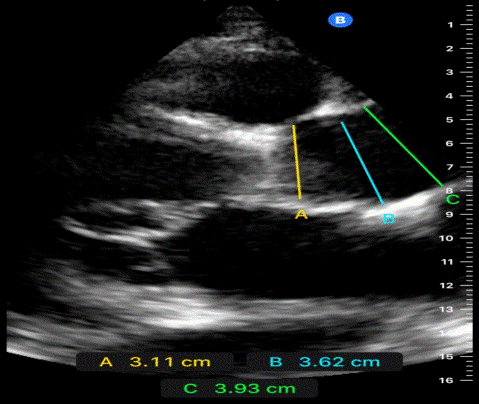 Still image at level of parasternal long showing aortic root measurements taken at Aortic Annulus (yellow), Sinus of Valsalva (blue), and Sinotubular Junction (green). All measurements are less than 4cm, which does not indicate a dilation of the aortic root.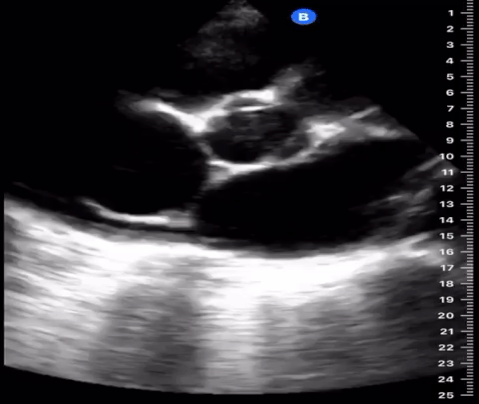 Apical 5 chamber view showing a tri-leaflet aortic valve along with signs of cardiomyopathy.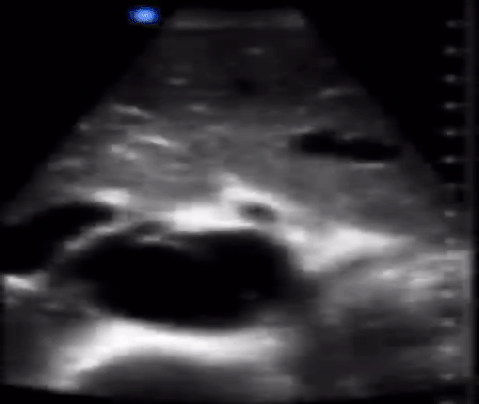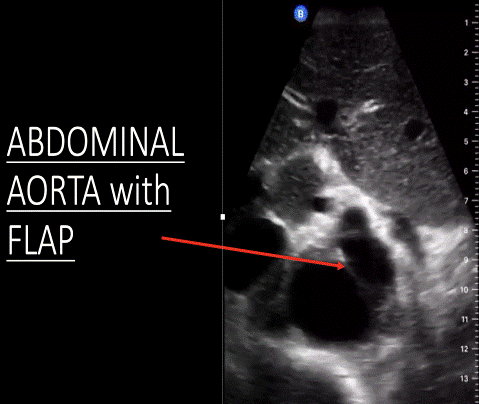 Transverse cross-section of the abdominal aorta showing a flap in the aorta.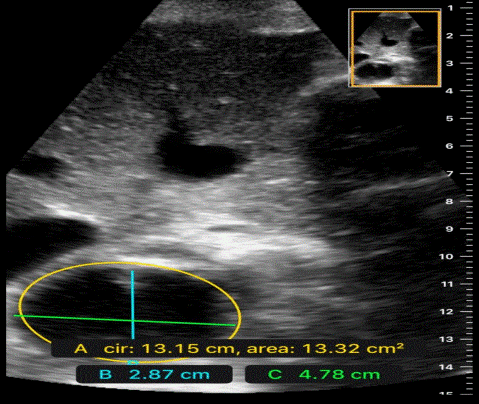 Transverse cross-section image of the mid aorta from Video 3 measuring the diameter, which indicate the aorta is aneurysmal.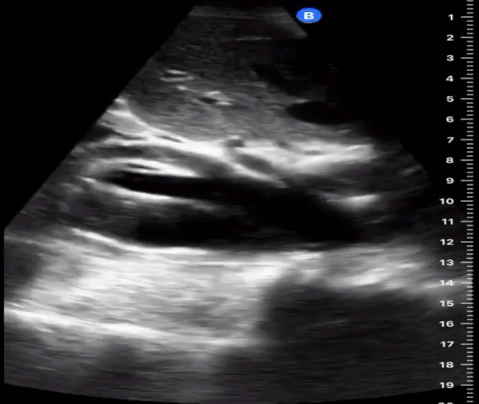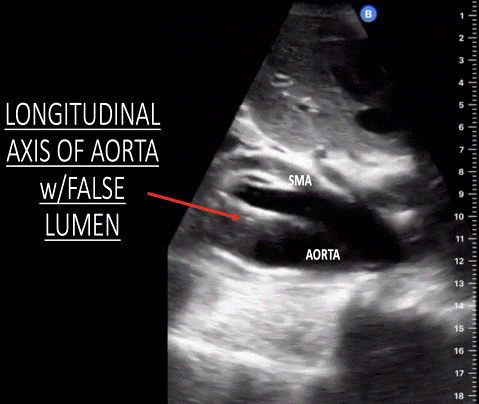 Longitudinal view of abdominal aorta showing a free-flowing flap in its lumen.
Differential Diagnosis Based on Imaging
Congestive Heart Failure




Stanford Type B Aortic Dissection
Clinical Course and/or Management
Upon presenting to KATH, the patient was propped up in bed, put on a cardiac monitor, started on intranasal oxygen and given IV furosemide. Initial examination was suspicious of aortic dissection. Bedside ultrasound confirmed heart failure and a high suspicion for a Stanford Type B aortic dissection. Medical management of Type B dissection was initiated in the ED, and the cardiology, cardiothoracic and ICU teams were consulted.
A few physicians working in the ED contributed funds for the patient to have a CT angiogram done. The CT angiogram was performed at an outside facility two days after the patient's initial presentation. CT angiogram showed an extensive Stanford B aortic dissection extending to the bifurcation of the iliac vessels. The patient was managed in the ED until admitted to the ICU on day four.
The patient remained asymptomatic in the ICU. He was offered surgical options, but he declined due to financial constraints. He was discharged on day seven after extensive counselling and education on the importance of lifestyle changes and blood pressure control.
Diagnosis
Stanford Type B Aortic Dissection
Discussion
Aortic dissection is an uncommon diagnosis yet has very catastrophic outcomes when diagnosis is missed or delayed. It is associated with a high mortality rate of about 1-2% per hour for the first 24-48 hours. The incidence is about 2.6- 3.5 per 100,000 person-years with peak incidence in the 5th and 6th decade and more common in males with a male to female ratio of about 3:1. A very high index of suspicion is usually required by the clinician to aid in the early diagnosis of this disease due to how illusive it's clinical presentation may be. Signs and symptoms include chest pain, back pain, abdominal pain, unequal pulses, and stroke symptoms. Hypotension is noted to be a grave prognostic factor and a myocardial infarction happens in 1-2% of patients with the right coronary artery being the most common vessel involved.
There are two types of Aortic Dissections; Stanford Type and Type B. Type A is more common (65%), is associated with higher rates of mortality requires surgery. Type B is usually medically managed at the ICU using impulse and BP control with a target heart rate of 60 and a systolic BP between 100 and 120mmHg. Risk factors of aortic dissection include hypertension, cocaine abuse, smoking, bicuspid aortic valve, and previous cardiac surgery.
Diagnostic methods for diagnosing a dissection include a CT angiogram, MRI, and a transesophageal ECHO (TEE), of which the latter has a sensitivity and specificity > 97%. In low resource centers, such as KATH, the bedside ultrasonography is a noninvasive means of rapidly assessing the patient and making more accurate diagnoses that would otherwise have been missed or delayed. Transthoracic ECHO has a specificity of more than 95%, but a sensitivity of about 70%. ECHO findings of aortic dissection include an intimal flap in the aorta and color flow doppler to identify true vs false lumen. Features suggestive of type A dissection include aortic regurgitation, dilation of aortic root, pericardial effusion or tamponade. CT scan, though available, is usually not immediately affordable by many, thus depending solely on it often delays definitive diagnosis and treatment.
References
Wittels, K. Aortic Emergencies.

Emerg Med Clin N Am

2011; 29, 789–800 doi:10.1016/j.emc.2011.09.015. Accessed at

https://edus.ucsf.edu/sites/edus.ucsf.edu/files/wysiwyg/12.7.16%20US%20Journal%20Club%20-%20Wittels.pdf

Sheikh, AS; Ali, K; Mazhar, S. "Acute aortic syndrome".

Circulation

2013;

128

(10): 1122–7.

doi

:

10.1161/circulationaha.112.000170

.

PMID

24002714

Braverman, AC. Aortic Dissection: Prompt diagnosis and emergency treatment are critical. Cleveland Journal of Medicine 2011; 17 (10) 685-696. Doi:10.3949/ccjm.78a.11053. Accessed at

https://www.mdedge.com/ccjm/article/95420/cardiology/aortic-dissection-prompt-diagnosis-and-emergency-treatment-are