Amoebic Liver Abscess
R. Wahome, MD & D. Mirsch, MD
Mbarara University of Science and Technology & University of Buffalo
Clinical Presentation
History
A 24-year-old female presents to an emergency department in southern Uganda with a chief complaint of three weeks of night sweats. Her symptoms progressed gradually with increasing abdominal pain, localized to the right upper quadrant, and a six-day history of abdominal swelling. 24 hours prior to presentation she began to have postprandial vomiting, fever and inability to pass stool or flatus. Previous bowel and urine habits were normal. She reports bouts of diarrhea approximately once every month for the last year. The diarrhea was treated with over the counter antibiotics with resolution of symptoms. She is a newly diagnosed diabetic (2 months) and her only medication is insulin.
Physical exam
| Blood pressure | Pulse | Respiratory Rate | Pulse Oximetry | Temperature |
| --- | --- | --- | --- | --- |
| 87/65 | 114 | 29 | 98% | 38.2 |
General: Sick appearing, pale, jaundiced, with diffuse lymphadenopathy and moderate pitting edema.
Cardiovascular: Capillary refill is prolonged, weak peripheral pulses and a temperature gradient. Precordium is hyperactive but without any extra sounds. Jugular venous pressure is flat.
Respiratory: No obviousdistress. + tachypnea, trachea is central with equal bilateral air entry. Normal percussion and vesicular breath sounds bilaterally.
Abdomen: Grossly distended. Marked global tenderness with light palpation, localization to the RUQ. Enlarged liver noted with a span of 18 cm. Negative murphy's sign (both physical and sonographic). No shifting dullness or fluid thrill. Reduced bowel sounds on auscultation.
Extremities: Moderate pitting non-tender edema bilaterally.
Imaging and Laboratory Information
Chest X-ray: normal
Complete Blood Count: leukocytosis of 16 with a neutrophilia, Hb of 10gm/dl normocytic normochromic, and a platelet count of 236
Random blood sugar: 9.7 mmol/l
Liver function tests of note (limited panel): bilirubin levels three times normal, mainly conjugated bilirubin, ALP and AST 2 times normal
Negative for Hepatitis B & C, malaria and HIV
Clinical Differential Diagnosis
Acute choledocholithiasis/cholecystitis




Hepatic tumour




Intestinal obstruction




Pancreatic tumour




Salmonella typhi infection




Liver abscess




Perforated ulcer



Ultrasound Imaging Findings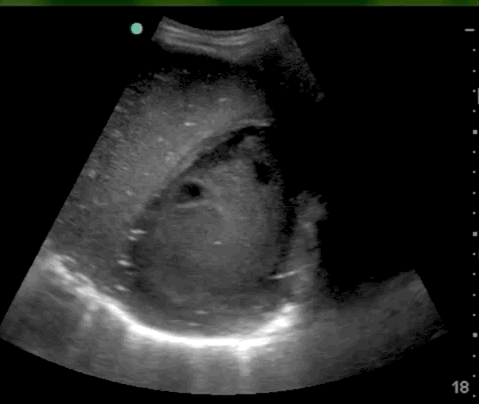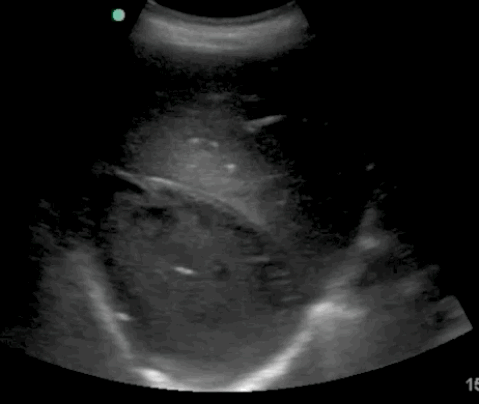 Two video clips of a large solitary mass in the right lobe of the liver. The mass has mixed echogenicity with distinct borders abutting the diaphragm.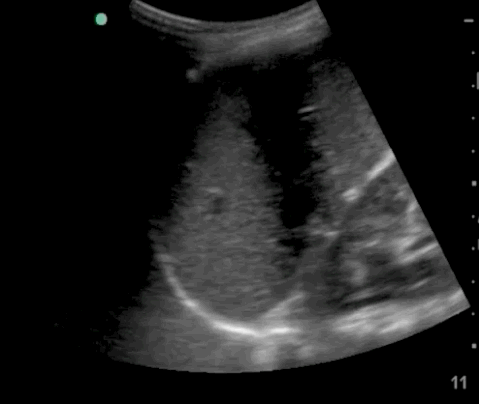 Right upper quadrant of the abdomen. No appreciable free fluid in the abdomen or pleural space.
Differential Diagnosis Based on Imaging
Amoebic liver abscess with sepsis




Pyogenic liver abscess with sepsis




Metastatic or primary tumour with hemorrhagic transformation/co-infection



Clinical Course and/or Management
The patient underwent an explorative laparotomy, which found a ruptured amebic abscess slowly leaking into the peritoneal cavity. The abscess was drained in the operating theater and the patient was started on broad spectrum antibiotics including metronidazole. The patient was admitted to the intensive care unit due to unstable vital signs and despite extensive resuscitation died 24 hours after her operation.
Diagnosis
Amoebic liver abscess, peritonitis and septic shock.
Discussion
Amebiasis is one of the most common infections worldwide, affecting up to 10% of the entire population. It is caused by the protozoa Entamoeba Histolytica, with fecal-oral transmission mainly through contaminated food and water, but can also be sexually transmitted. It majorly causes intestinal disease, but extra intestinal manifestations also can occur in multiple organs. The liver is the most common extra intestinal organ affected.
Infections are most common in men ages 18-50. Once the cysts are ingested, they germinate into trophozoites which attach to the intestinal epithelium while some invade the colon to spread to the liver and peritoneum. These trophozoites cause hepatic inflammation and necrosis leading to formation of an abscess. The infection typically develops 2-4 weeks after exposure. Usually beginning with fever, dull epigastric or right upper quadrant pain and nausea. Symptoms can progress with diarrhea or constipation, vomiting, abdominal distension, weight loss or even dry cough from diaphragmatic irritation. On examination, hepatomegaly may be found with right upper quadrant tenderness. Jaundice is a rare finding mainly associated with pyogenic abscesses. The most feared complication is rupture of the abscess into the pericardial or pleural spaces.
Ultrasound has been a key method of diagnosing amebic liver abscesses and new recommendations encourage point of care ultrasound. It is also used to track resolution of abscesses during treatment. Abscesses are most commonly found in the right lobe of the liver as solitary peripherally based masses, with hypoechoic centers and no appreciable rims or capsules. Ultrasound guided biopsy typically yields the characteristic 'anchovy' sauce color and consistency. Other investigative modalities include CT and MRI, while stool analysis and ELISA can assist diagnosis confirmation. Treatment depends on the size of the abscess. Large abscesses are drained either percutaneously under ultrasound guidance or operatively. Metronidazole is the antibiotic of choice.
References
Marx JA, Hockberger RS, Walls RM. Rosen's Emergency Medicine Concepts and Clinical Practice. 8th edition ed. Biros MH, Ling LJ, Danzl DF, J.Newton E, Gausche-hill M, Zink BJ, et al., editors. Philadelphia: Elsevier Saunders; 2014.




Bélard S, Tamarozzi F, Bustinduy AL, Wallrauch C, Grobusch MP, Kuhn W, et al. Point-of-Care Ultrasound Assessment of Tropical Infectious Diseases—A Review of Applications and Perspectives. The American Journal of Tropical Medicine and Hygiene. 2016;94(1):8-21.




Prakash V, Jackson-Akers JY, Oliver TI. Amebic Liver Abscess. [Updated 2019 Nov 7]. In: StatPearls [Internet]. Treasure Island (FL): StatPearls Publishing; 2020 Jan-. Available from: https://www.ncbi.nlm.nih.gov/books/NBK430832/